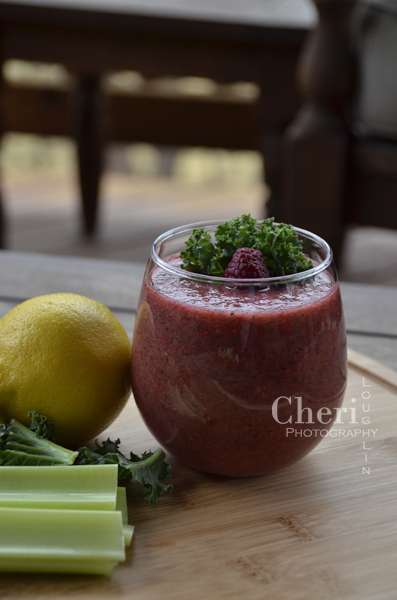 What started out as a green smoothie turned into a red and green confetti smoothie. A plain green smoothie just didn't have the flavor I was looking for. It was kind of bland and needed a little more flavor *pop* for my taste preference. Not sugar, just some good umph!
Raspberries or blueberries seemed like the perfect option for this recipe. Berries add flavor, a pop of color and they are full of antioxidants. That's what I hear anyway. I am not making any health or scientific claims. Berries taste good and are pretty terrific in smoothies…milkshakes, cocktails, flavored waters…the list could go on and on.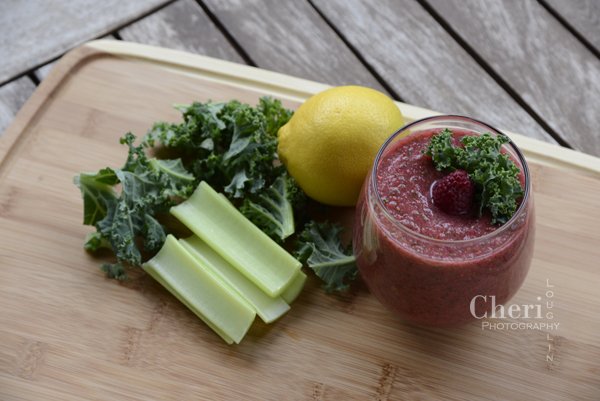 This Green Confetti Smoothie can no longer make an all green smoothie claim to fame with its red raspberry hue. But it does make a fun-fetti color instead. This smoothie makes one large single size portion or you could share it between two smaller glasses. It is filling, but I will admit to a pretty healthy appetite. A green smoothie for breakfast has never stopped me from having lunch!
Green Confetti Smoothie Recipe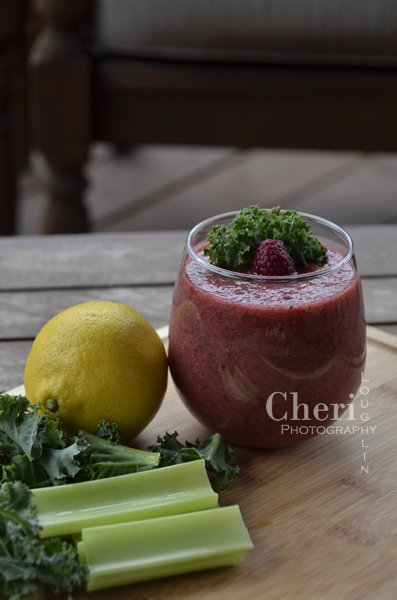 Green Confetti Smoothie – recipe by Cheri Loughlin, The Intoxicologist
1/2 Banana – I like mine with a little green still on the edges, peel and cut into bite sized pieces
1 Pear – I prefer the Asian pears with texture similar to a crisp apple, cleaned, cut into chunks, and leave the skin on
3 Celery Stalks – cleaned, cut into 2 to 3 inch chunks
2 Cups Kale – cleaned and torn into manageable pieces, packed into the measuring cup
Juice of 1 Lemon – let it warm to room temperature to get the most juice from it
3/4 to 1 cup Frozen Unsweetened Raspberries – I use frozen rather than fresh to add cold to the smoothie. Flash freeze fresh raspberries if you like
1/2 cup Cold Water – a little more or a little less depending on the consistency you want for your smoothie
Agave Syrup to Taste – I used approximately 2 teaspoons. Use honey or another sweetener of choice according to preference
Place everything in a blender. I use a Ninja blender. It blends smoothies super smooth in seconds. It crushes ice smooth like no one's business. My margaritas are always blended super smooth without lumps of ice. Blend on level 3 or high until the mixture is smooth. Pour into a glass and enjoy. A secondary note about the Ninja: I have the one that will blend an individual size portion or a full size blender size. The individual size portions have on the go lids to take with you. It's so handy. And just so you know, this isn't an advertisement for Ninja products. I bought mine, use it a lot and like it. It's a good choice if you're in the market for a new blender.
All content ©2014 Cheri Loughlin, The Intoxicologist. All Rights Reserved. Chat with Cheri @Intoxicologist on Twitter and facebook.com/Intoxicologist or str8upcocktails@gmail.com