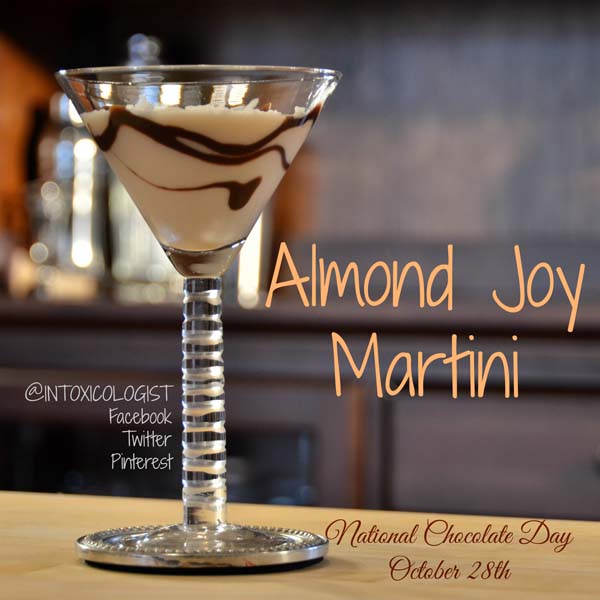 While the kids prepare for the sweetest day of the year, you can prepare for your own sugar fest. National Chocolate Day hits the calendar a few days ahead of Halloween. Coincidence? I think not.
Call National Chocolate Day an adult trial run to sample a few Halloween candies. We have to make sure the chosen Trick-or-Treat candies meet expectations after all. It would be just awful to hand out a cauldron full of sub-par treats.
Host an adult night out tasting party before the ghouls and goblins come knocking at your door. Grab a handful of chocolate treats and pair them with a few well-chosen candy bar cocktail recipes. This Almond Joy Martini is a lighter flavored version of the real Almond Joy® candy bar with which this has no affiliation. It tickles the lips with light, balanced sweetness.
Almond Joy Martini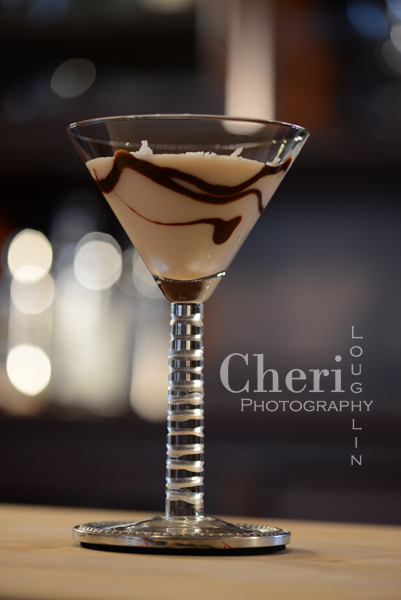 Almond Joy Martini – recipe by Cheri Loughlin, The Intoxicologist
1-1/2 ounce Shellback Silver Rum
1/2 ounce Amaretto Liqueur
1/2 ounce Chocolate Liqueur (Godiva Original)
1/2 ounce Cream of Coconut
1 ounce Half & Half
Chocolate Syrup
Shredded Coconut
Swirl chocolate syrup inside a chilled martini glass. Refrigerate while preparing cocktail if possible. Place liquid ingredients in a cocktail shaker filled two-thirds full of ice. Shake to blend and chill liquids. Strain into chocolate swirled martini glass. Top with small sprinkle of shredded coconut.
A few more candy bar sips you might enjoy: Butterfinger layered shot, Joyous Almond, Tootsie Roll Shot or Gummy Worm Martini, Mini Mint shot, and the Smoretini.
Subscribe to the monthly Newsletter
The Almond Joy Martini recipe was commissioned by representatives of Shellback Rum as part of The Intoxicologist Corporate Mixology program. Find more recipes created by Cheri Loughlin for Shellback Rum on this site and at ShellbackRum.com and by following Shellback Rum on Facebook.
All content ©2014 Cheri Loughlin, The Intoxicologist. All Rights Reserved. Chat with Cheri @Intoxicologist on Twitter and facebook.com/Intoxicologist
National Chocolate Day Almond Joy Martini