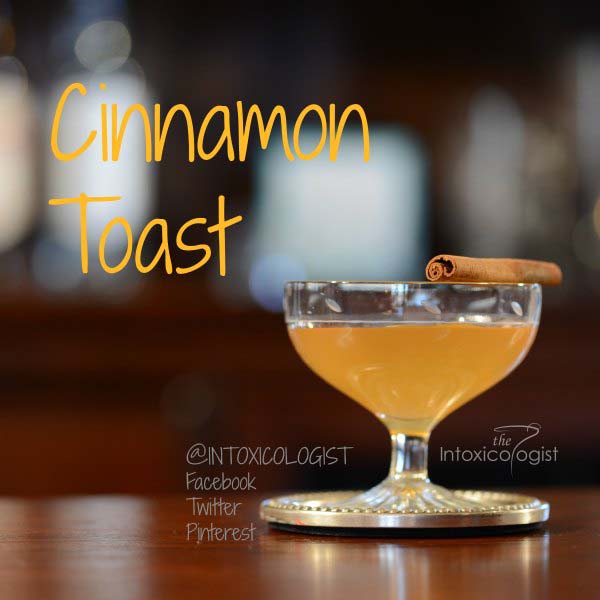 I'm not a huge breakfast eater, but one of my favorites as a child was cinnamon toast. The toaster always took way too long; an excruciatingly long two or three minutes for a child. One side of the toast was always a little browner than the other. But then the ding sounded when the bread popped from the toaster. The ding was magic.
After placing the toast on wax paper, I'd slather on lots and lots of butter. Because I'm a huge fan of butter and still am. And then slowly sprinkle a mixture of cinnamon and sugar back and forth, back and forth across the buttery toast until every last bit of its surface was covered. Then lightly tap excess sugar from the toast onto the wax paper and…time to devour!
Cinnamon toast making isn't as magical as it once was in childhood, but it's still a delicious treat once in a while. It's also why I thought the flavors of cinnamon toast would make a wonderful full flavored wintertime cocktail.
Cinnamon Toast Martini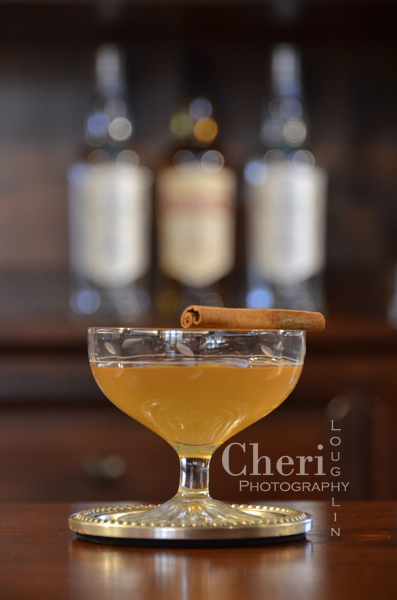 The Cinnamon Toast Martini is extremely warming and definitely reminiscent of childhood cinnamon toast. This is heavily laced with ginger and cinnamon with buttery notes. It remains light on sweetness level and has a lovely golden color.
Cinnamon Toast Martini – recipe by Cheri Loughlin, The Intoxicologist
1 ounce Silver Rum
1 ounce Applejack
1/2 ounce Dry Vermouth
1/2 ounce Ginger Vanilla Syrup* (easy homemade recipe)
Cinnamon Stick
Place all liquid ingredients in a cocktail shaker filled two-thirds with ice. Shake to blend and chill liquids. Strain into a chilled cocktail glass. Garnish with a cinnamon stick across the top of the cocktail.
The Cinnamon Toast Martini makes a great addition to holiday celebrations. It falls within the fall to winter cocktails category for its warming notes. Pairs nicely with Thanksgiving and Christmas holiday times.
Subscribe to the monthly Newsletter
I used Shellback Rum while creating the Cinnamon Toast Martini. However, feel free to use your rum of choice to recreate this drink at home. Find more of my cocktail recipe creations using Shellback Rum on this site. Happy sipping!
All content ©2014 Cheri Loughlin, The Intoxicologist. All Rights Reserved. Chat with Cheri @Intoxicologist on Twitter and facebook.com/Intoxicologist