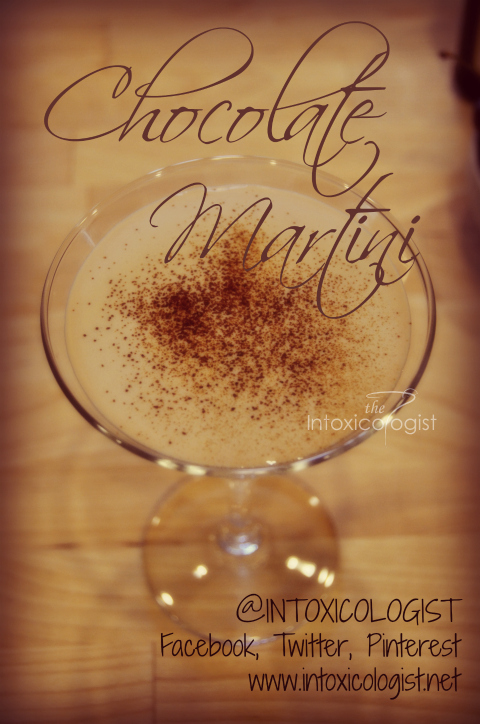 Sometimes I just don't know what to say about a cocktail so I'll just say one word… Chocolate. Okay, a few more.
There is a time and place for many things and chocolate definitely has it's time and place. Anytime. Anywhere. It just so happens that this Chocolate Martini is perfect for life's happiest hours. It also pairs well with moments we would otherwise find ourselves buried spoon deep in tub of chunky chocolate chip ice cream. Chocolate just doesn't judge.
Chocolate Martini Recipe
Chocolate Martini
1-1/2 ounce Baileys Original Irish Cream Liqueur
1 ounce Vanilla Vodka
1 ounce Crème de Cacao
Chocolate Shavings or Sprinkles
Combine liquids in a cocktail shaker with ice. Shake until well chilled. Strain into a chilled martini glass. Garnish with chocolate shavings or sprinkles over the top.
There are only three liquid ingredients in this chocolate martini, so it's pretty quick and easy to make. The ingredients are easy to find and not too expensive.
If you prefer a brand other than the one called for in this recipe, use it. Keep in mind not all brands taste exactly the same or have the same consistency, so make adjustments to the recipe as needed. The Irish cream in this recipe is rich and creamy with a lot of sweetness. Some other brands are a little thinner with a little less sweet. I like a variety of brands. Use what you like!
Subscribe to the monthly Newsletter
All content ©2014 Cheri Loughlin, The Intoxicologist. All Rights Reserved. Chat with Cheri @Intoxicologist on Twitter and facebook.com/Intoxicologist
Baileys Chocolate Martini