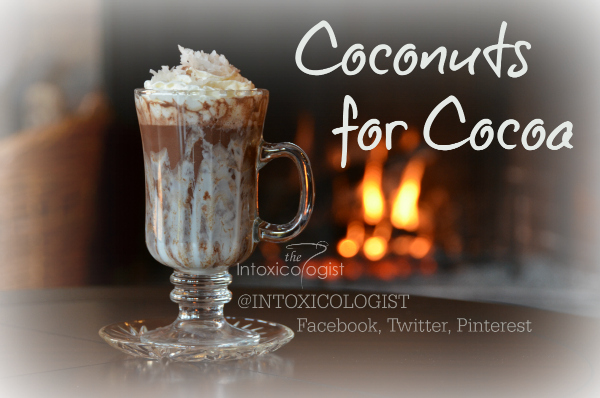 When I was young it was frowned upon to play with my food. I loved blowing bubbles in my chocolate milk and fitting plain cooked tubular pasta on the ends of my fingers. And of course there were the chocolate milk or whipped cream mustache faces that seemed way funnier than they probably were. Things were simpler and much more amusing as a child.
I still like to play with my food. Only now I play with it by finding ways to make it both visually appealing and delicious.
Swirling chocolate, caramel or thick berry syrups inside of a glass adds a splash of color and layer of decadence to a drink. Since we seldom use clear coffee mugs, swirled syrups are often forgotten in hot drinks. I say swirl away anyway. Swirled syrups and creams slowly melt into hot drinks layering flavor while you sip. Even if you can't see the cool swirl, you can taste it!
Coconuts for Cocoa has swirled marshmallow cream inside the glass. This brings lush creamy texture to the drink, giving it amazing dessert flavor quality. Dark rum and light coconut is reminiscent of vacation and relaxation. Think of it as a lightly flavored Mounds® candy bar. I love that! If you're using a clear glass mug you can see the marshmallow cream begins to drip inside the glass as it melts from the heat of the cocoa. This creates a sort of web effect. It's ideal for Halloween if you want to wait that long to enjoy this wonderful concoction.
Coconuts for Cocoa Hot Chocolate Recipe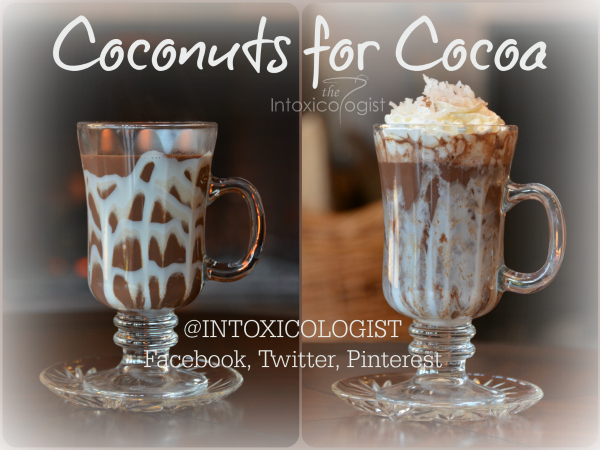 Coconuts for Cocoa – created by Cheri Loughlin
4 ounces Half & Half*
4 ounces Coconut Milk
4 tablespoons Sweet Ground Chocolate for Cocoa**
1-1/2 ounce Dark Rum
Marshmallow Cream, Whipped Cream, Cinnamon & Shredded Coconut Garnish
Place milk, coconut milk and chocolate cocoa in saucepan over low heat. Stir continuously while heating until chocolate has dissolved and liquid is steaming. Or heat mixture in microwave in a large heat resistant container such as a 2-cup glass measuring cup. Remove from heat.
Swirl marshmallow cream inside a large heatproof mug. Add rum to bottom of mug. Pour hot cocoa into mug. Top with whipped cream, shredded coconut and sprinkle of cinnamon. Multiply this recipe to serve more people or to place in a Thermos® for football games and tailgating parties.
*2 ounces Heavy Cream plus 2 ounces Milk
**could use 2 packets instant hot cocoa instead
Subscribe to the monthly Newsletter
All content ©2014 Cheri Loughlin, The Intoxicologist. All Rights Reserved. Chat with Cheri @Intoxicologist on Twitter and facebook.com/Intoxicologist
Coconuts for Cocoa Hot Chocolate