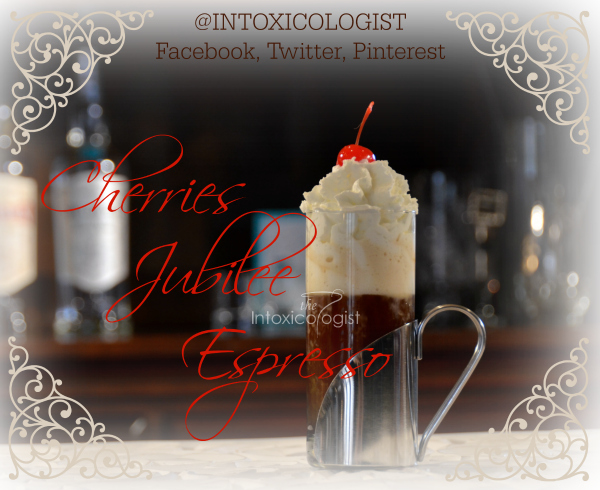 Cherries Jubilee Espresso is a delicious dessert coffee. I love its versatility. It is excellent using espresso without the additional water. This makes the espresso flavor much deeper. Rather enjoyable for those who are ordinarily strong coffee drinkers. It can be made with or without the whipped cream as well. I prefer with the whipped cream stirred into the coffee. But that's all a matter of preference. No matter how you choose to enjoy this hot espresso drink, it's simply wonderful!
Cherries Jubilee Espresso Recipe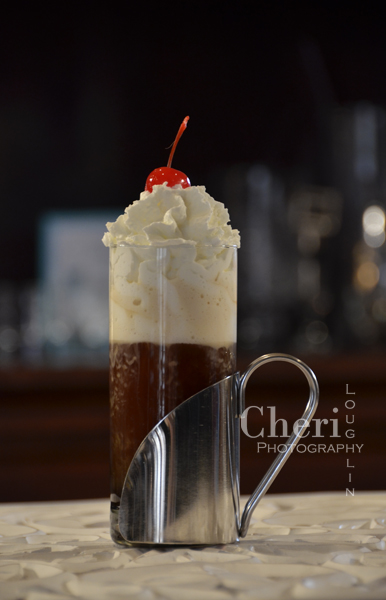 Cherries Jubilee
1 ounce Shellback Silver Rum
1/2 ounce Cherry Brandy
1/4 ounce Butterscotch Schnapps
1/4 ounce Cinnamon Schnapps
2 ounces Espresso
2 ounces Boiling Water
French Vanilla Whipped Cream (recipe here)
Vanilla Rum Infused Cherry
Place rum, cherry brandy and schnapps in a heatproof coffee mug. Add fresh espresso and boiling water. Top with whipped cream and vanilla rum infused cherry (or fresh cherry / maraschino cherry).
Regular whipped cream works just as well as the French Vanilla Whipped Cream. Chocolate flavored whipped cream would probably be wonderful as well. Use what you like!
Subscribe to the monthly Newsletter
All content ©2014 Cheri Loughlin, The Intoxicologist. All Rights Reserved. Chat with Cheri @Intoxicologist on Twitter and facebook.com/Intoxicologist
Cherries Jubilee Espresso