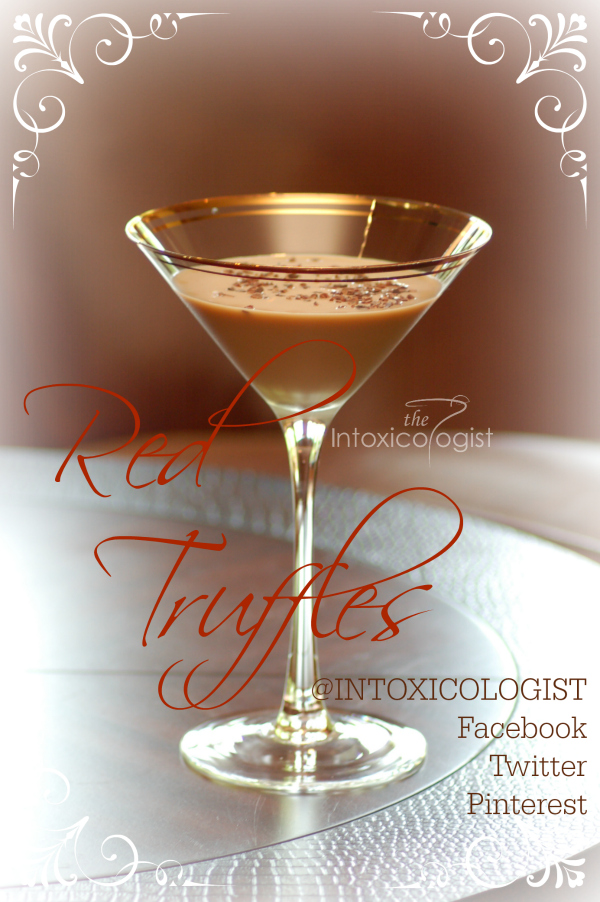 I'm not really sure what the world is coming to. Usually I can't finish a chocolate cocktail due to the sweet factor. And well, the secret is already out of the bag; I'm not a HUGE chocolate fan. I like it occasionally, but I'm not drawn to it. I can walk by a candy bowl filled with chocolate and never flinch.
Hot chocolate is a different story. I LOVE hot chocolate with piles of whipped cream. Dust it with cinnamon and nutmeg and I'm in cocoa heaven. Shh… it doesn't even have to have alcohol in it. Plain Jane hot chocolate is fine by me, too.
But back to the Red Truffles chocolate cocktail.
What can I say!? This cocktail could make me a chocolate convert. I sipped as I wrote my notes and it was already half gone. The cacao nibs add terrific texture with the crunch factor. Cacao is bittersweet rather than sugary, so the cacao nibs provide nice counter balance to the drink. This drink is silky smooth with a bit of bourbon warmth that reaches the toes after a minute or two.
This is a great dessert cocktail or pre-dinner warm-up.  Heck, sip it for sheer pleasure. Please try to sip rather than gulp.
Red Truffles Dessert Cocktail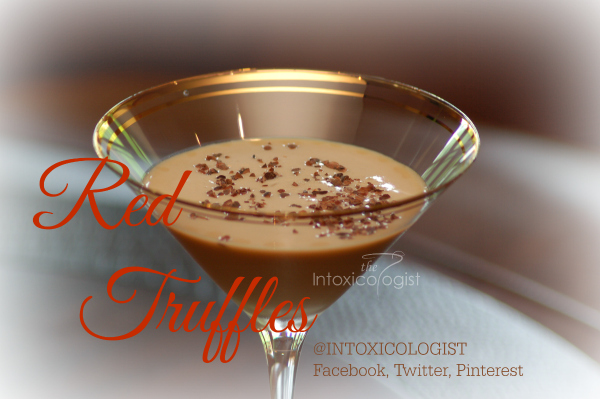 Red Truffles – recipe by Cheri Loughlin
1 ounce Black Cherry infused Red Stag by Jim Beam
1 ounce Godiva Original Liqueur
1 ounce Half & Half
1/4 teaspoon Valrhona Cacao Nibs (found at Whole Foods)
Combine liquids in a cocktail shaker with ice. Shake until well chilled. Strain into a chilled martini glass. Sprinkle cacao nibs over the top.
Subscribe to the monthly Newsletter
All content ©2014 Cheri Loughlin, The Intoxicologist. All Rights Reserved. Chat with Cheri @Intoxicologist on Twitter and facebook.com/Intoxicologist
Red Truffles Dessert Cocktail