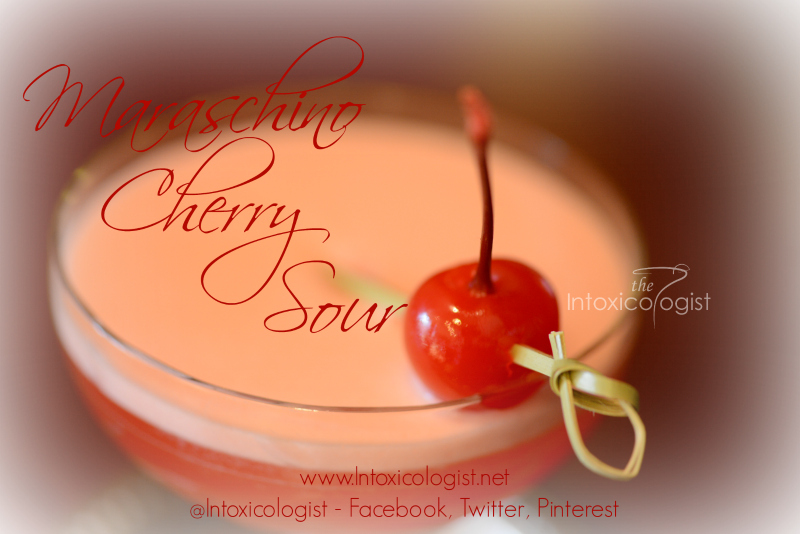 This little ditty of a cocktail is for those who love pucker up sweetness. The Maraschino Cherry Sour leans toward the sweeter variety of cocktails. It makes use of maraschino cherry infused rum. Yes, I said maraschino cherry as in the bright red jarred variety found in most grocery stores.
I know. Some cringe at the thought of using artificially colored and super sweetened maraschino cherries. Why bother with them when there are super delicious gourmet cherries out there? Because they are pretty darn useful in some drinks and considerably less expensive!
Maraschino Cherry Sour Cocktail Recipe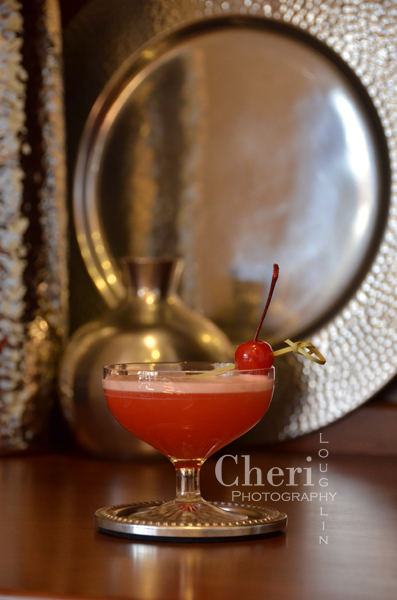 Maraschino Cherry Sour
2 ounces Maraschino Cherry Infused Rum – recipe below
3/4 ounce Fresh Lemon Juice
3/4 ounce Simple Syrup
1 Egg White
2 dashes Angostura Bitters – optional
Maraschino Cherry Infused with Rum
Place rum, lemon juice, simple syrup and egg white in a cocktail shaker filled two-thirds full with ice. Shake to blend and chill. Mixture will be frothy. Double strain with a fine mesh strainer into a small chilled martini glass. Add two dashes bitters on top if desired. Garnish with maraschino cherry infused with rum.
Maraschino Cherry Infused Rum Recipe
This infusion is super easy and can be used for several other delicious cocktail recipes. It's perfect for Cherry Limeade!
Maraschino Cherry Infused Rum – recipe by Cheri Loughlin, The Intoxicologist
10 ounces Silver Rum
1 – 10 ounce jar Maraschino Cherries with stems
Pour rum into pint size glass jar with lid. Strain maraschino cherry syrup from jar of cherries, saving the syrup. Add the cherries to the jar containing the rum. Return the maraschino cherry syrup to its original container. Seal both containers and refrigerate. The Maraschino Cherry Infused Rum takes approximately 5 days. Give the jar a shake or two every day to stir the contents of the jar. The rum becomes a little thicker and sweeter and the cherries soak up some of the rum.
This technique is also good with flavored vodkas. Try infusing 5 ounces Chocolate Vodka and 5 ounces Vanilla Vodka with the maraschino cherries. You'll thank me later!
Subscribe to the monthly Newsletter
All content ©2015 Cheri Loughlin, The Intoxicologist. All Rights Reserved. Chat with Cheri @Intoxicologist on Twitter and facebook.com/Intoxicologist