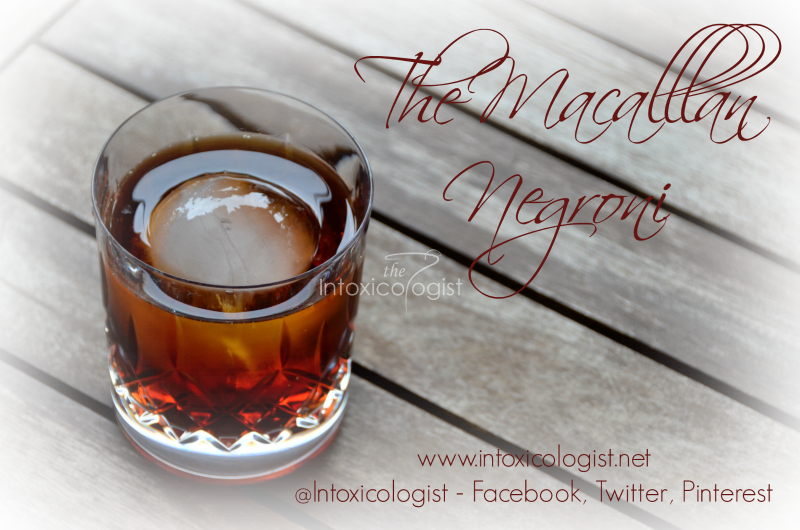 Many people prefer scotch in more traditional terms; neat or on the rocks. The Negroni is a favorite classic, but The Macallan Negroni uses old world port rather than vermouth and Cynar rather than Campari. The peach bitters actually contain a bit of sweetness. The Macallan plays well in this classic cocktail variation.
The Macallan Negroni Drink Recipe
The Macallan Negroni – recipe by Cheri Loughlin, The Intoxicologist
1 ounce The Macallan 12
1 ounce Taylor Fladgate Tawny Porto 10 Year
1/2 ounce Cynar Artichoke Liqueur
3 Dashes Fee Brothers Peach Bitters
Orange Zest Twist
Combine liquids in mixing glass with ice. Stir or shake to chill according to preference. Strain into rocks glass over fresh ice. Garnish with fresh orange zest twist.
Subscribe to the monthly Newsletter
The Macallan Negroni cocktail was commissioned by representatives of The Macallan in 2011 for the Masters of Photography campaign. This recipe has also been featured on The Macallan website,  Whiskey for Everyone and Whiskey Emporium. Find more recipes created by Cheri Loughlin for The Macallan on this site. All comments, opinions and photography are my own. I'm sharing this recipe as an example of recipe and photo services provided through my cocktail development program.
All content ©2016 Cheri Loughlin, The Intoxicologist. All Rights Reserved. Chat with Cheri @Intoxicologist on Twitter and facebook.com/Intoxicologist
Cheri Loughlin is the Omaha writer and photographer behind www.intoxicologist.net and author of Cocktails with a Tryst: An Affair with Mixology and Seduction. You can email Cheri with comments and questions at str8upcocktails@gmail.com.