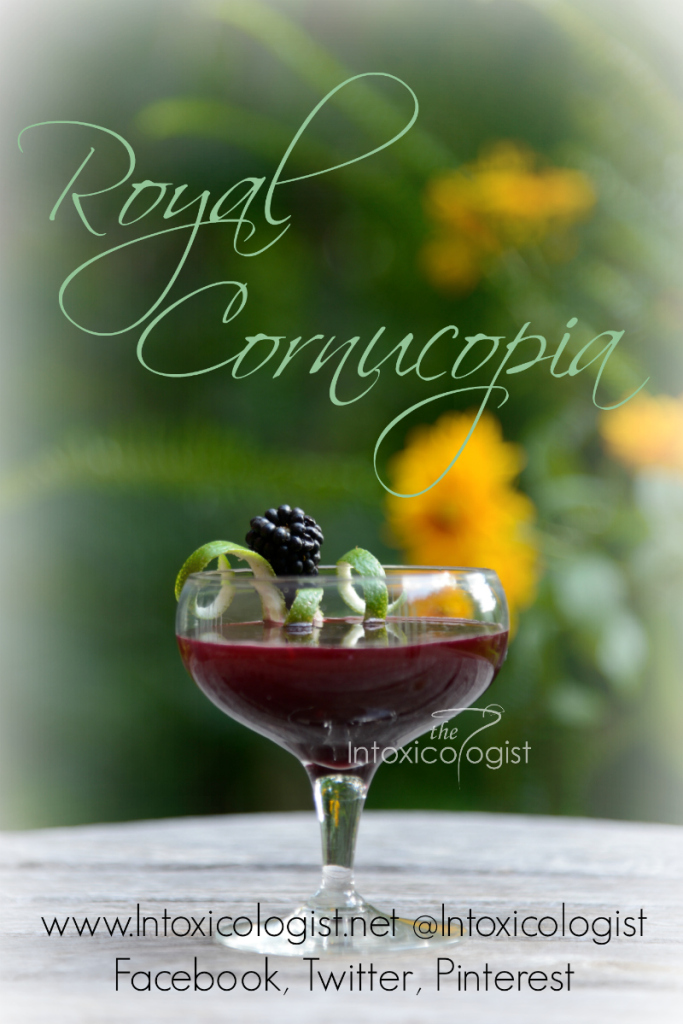 Enjoy a bounty of lush berry flavor with this Royal Cornucopia cocktail. Fresh blackberries and cabernet sauvignon wine give the drink its regal color. Coconut juice stretches the flavor with a little sweetness and light coconut flavor. Using brown sugar as additional sweetener rather than simple sugar gives this drink a little more warming depth.
I like to use the four-pack mini wines when making wine cocktails. The price is usually comparative to a full size bottle of wine. You can make two cocktails from the recipe below with one mini bottle of cabernet sauvignon wine. Perfect for date night cocktails!
Royal Cornucopia Cocktail Recipe
Royal Cornucopia – recipe by Cheri Loughlin, The Intoxicologist
8 fresh Blackberries
1/2 ounce fresh Lime Juice
1/2 ounce Brown Sugar Syrup
3 ounces Cabernet Sauvignon Wine
1-1/2 ounce Coconut Juice
Lime Twist and Blackberry Garnish
Lightly muddle blackberries, lime juice and brown sugar syrup in bottom of a mixing tin. Add Cabernet Sauvignon Wine, coconut juice and ice. Shake until chilled. Strain into a chilled cocktail glass. Garnish with lime twist and blackberry.
Subscribe to the monthly Newsletter
All content ©2015 Cheri Loughlin, The Intoxicologist. All Rights Reserved. Chat with Cheri @Intoxicologist on Twitter and facebook.com/Intoxicologist