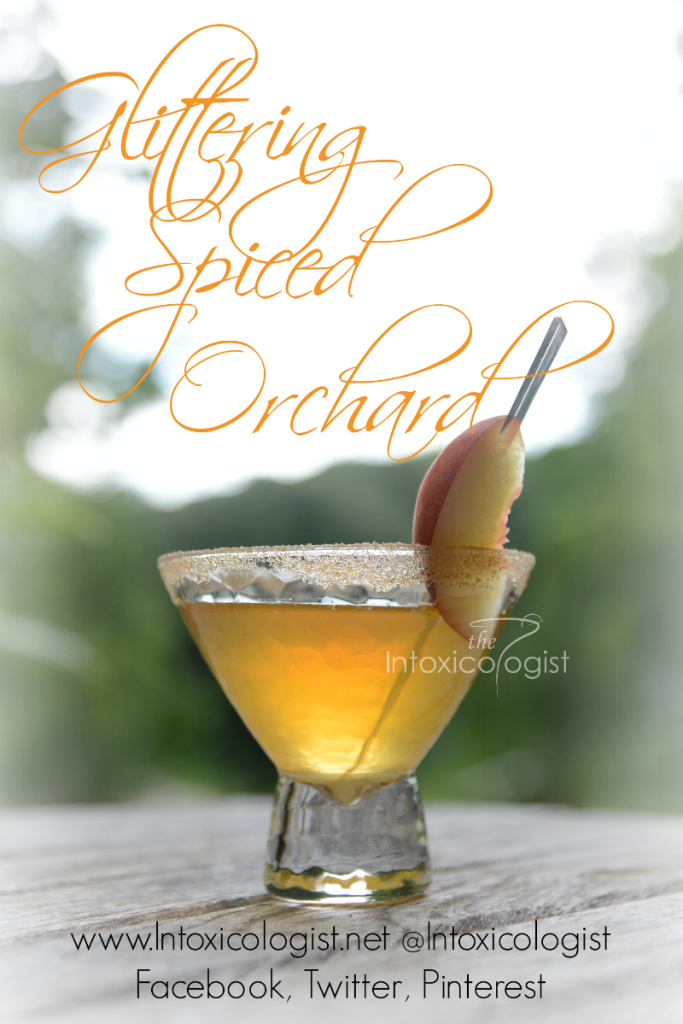 The Glittering Spiced Orchard cocktail gets its name from the wonderful spiced rim. Use an instant apple cider mix for a tasty and beautiful rim. The spiced apple flavor pairs deliciously with the peach and apple flavors of this drink. The flavor is sweet apple with splash of peach to complement wine. Brown sugar and spice mix bring a lovely warming effect to the cocktail. Perfect for fall to winter sipping!
Don't want to cut into a whole peach for a single cocktail garnish? Purchase a bag of sliced, unsweetened frozen peaches. Take a single slice out of the freezer, rinse briefly and allow it to thaw a little while you make the recipe below. The frozen fruit is ready for garnish or add a little more chill to your drink while you sip.
Glittering Spiced Orchard Cocktail Recipe
Glittering Spiced Orchard – recipe by Cheri Loughlin, The Intoxicologist
3 ounces Chardonnay Wine
1 ounce Peach Liqueur
1/2 ounce Lemon Juice
1/2 ounce Apple Juice
1/2 ounce Brown Sugar Syrup
Instant Apple Cider Mix
Wet rim of cocktail glass with lemon wedge. Dip rim into instant apple cider mix. Set aside. Combine all liquids in a cocktail shaker with ice. Shake until well chilled. Strain into prepared cocktail glass.
Subscribe to the monthly Newsletter
All content ©2015 Cheri Loughlin, The Intoxicologist. All Rights Reserved. Chat with Cheri @Intoxicologist on Twitter and facebook.com/Intoxicologist
Glittering Spiced Orchard