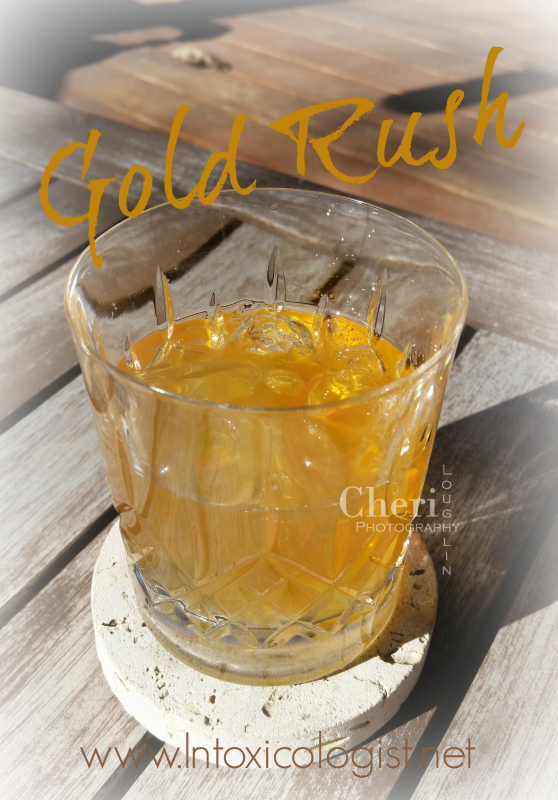 The Gold Rush cocktail has been likened to the new Whiskey Sour. Mmm…Whiskey Sours!
The basic Whiskey Sour recipe calls for 2 ounces whiskey, 3/4 ounce fresh lemon and 1 ounce sugar or simple syrup. The difference between a Gold Rush and Whiskey Sour is merely the sweetener. The Gold Rush cocktail calls for honey, honey syrup or runny honey depending on which website you reference.
Gold Rush Cocktail with Honey Syrup
Gold Rush
2 ounces Bourbon
3/4 ounce Fresh Squeezed Lemon Juice
3/4 ounce Honey Syrup*
Combine liquids in a cocktail shaker with ice. Shake to integrate ingredients. Strain into a rocks glass over ice.
*How to make Honey Syrup: combine equal parts honey to equal parts water. Heat over low heat, stirring continually until honey is completely dissolved. Remove from heat. Store in a sealed glass container in the refrigerator.
Gold Rush Cocktail with Honey Bourbon Liqueur
When I ran across the Gold Rush cocktail recipe it sounded so good I wanted to make it right then and there on the spot. No waiting. I searched my cabinets for honey so I could whip up a quick batch of honey syrup, but come up empty handed. I'm never afraid of ingredient substitution. Honey bourbon liqueur sounded like the perfect substitution. And you know what? It is! The honey bourbon liqueur keeps the drink from being way too sweet and still holds true to the honey flavor.
Gold Rush – my variation
2 ounces Buffalo Trace Bourbon
1/2 ounce Wild Turkey Honey Bourbon Liqueur
1/2 ounce Fresh Squeezed Lemon Juice
Orange Twist
Build in a rocks glass over a single large cube of ice or a handful of ice. Twist a fresh orange peel over the drink and circle the rim of the glass with the peel. Drop orange peel into the drink or toss it according to your preference. Orange peel inserted in the drink yields a bit more orange bitter notes. Discarding the peel after releasing the essential oils over the drink renders lighter orange notes with delicious orange aroma.
I prefer cocktails that are not too sweet, so the sweetener to citrus is perfect for me. If it's a little too tart for your taste, just add a smidgen more bourbon honey liqueur to the drink.
I chose Buffalo Trace Bourbon because it has gentle sweetness and I love the cinnamon notes in it. I thought the cinnamon notes would be a good fit for a whiskey cocktail sweetened with honey. I've made this drink several times using two different honey bourbon liqueurs. Evan Williams Honey Bourbon Liqueur works just as well as the Wild Turkey brand. Use what you've got on hand.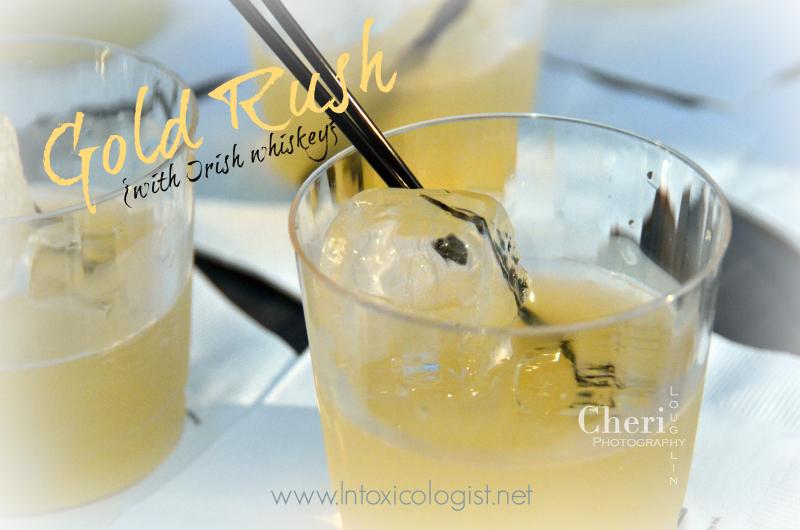 Gold Rush with Ginger Liqueur
Domaine De Canton also has a Gold Rush variation. They use 1-1/2 ounce of their ginger liqueur, 1 ounce bourbon and 1/2 ounce fresh lemon juice. Their Gold Rush version is served up in a cocktail glass with optional cherry garnish. I haven't tried it yet, but certainly will soon. But I might dial back the liqueur a little. It sounds like it could be very sweet with those ratios. Liquor.com also uses Domaine de Canton in their version, but they do use different measurements. They recommend 2 ounces bourbon, 3/4 ounce ginger liqueur and 1/2 ounce fresh lemon juice served up martini style.
Subscribe to the monthly Newsletter
All content ©2015 Cheri Loughlin, The Intoxicologist. All Rights Reserved. Chat with Cheri @Intoxicologist on Twitter and facebook.com/Intoxicologist
Gold Rush Cocktail Variations