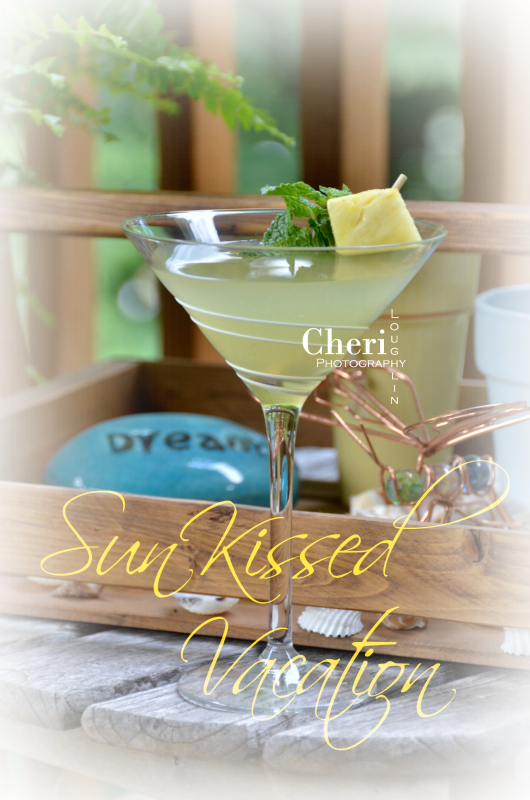 Oh, I'm ready for one. A sun kissed beach with sand between my toes and cocktails at the ready. Sounds nice, right?!
Unfortunately a beach vacation is nowhere in sight for me. The next best thing is cocktails on the deck with the sun shining. Wind be damned!
Moscato still wine is perfect for this beach and deck worthy cocktail. The Moscato flavor shines through with hints of green apple and lots of sweet juicy pineapple. Mint adds a great splash of fresh color and fresh aroma on the nose. The Sun Kissed Vacation cocktail makes my mouth water.
Sun Kissed Vacation Cocktail
Sun Kissed Vacation – recipe by Cheri Loughlin
3 ounces Barefoot Moscato Wine
1 ounce Pineapple Juice
1/4 ounce Fresh Lime Juice
3/4 ounce Simple Syrup
1 ounce Ginger Ale
Pineapple Slice & Fresh Mint Garnish
Combine Barefoot Moscato Wine, juices and syrup in cocktail shaker with ice. Shake to blend and chill. Strain into chilled cocktail glass. Top with ginger ale. Garnish with fresh pineapple slice and fresh mint.
Subscribe to the monthly Newsletter
This recipe was commissioned by Barefoot Wine & Bubbly as part of The Intoxicologist Corporate Mixology program. You can find more recipes on the Barefoot Wine Facebook page and under the Barefoot Wine & Bubbly category on this site.
All content ©2015 Cheri Loughlin, The Intoxicologist. All Rights Reserved. Chat with Cheri @Intoxicologist on Twitter and facebook.com/Intoxicologist