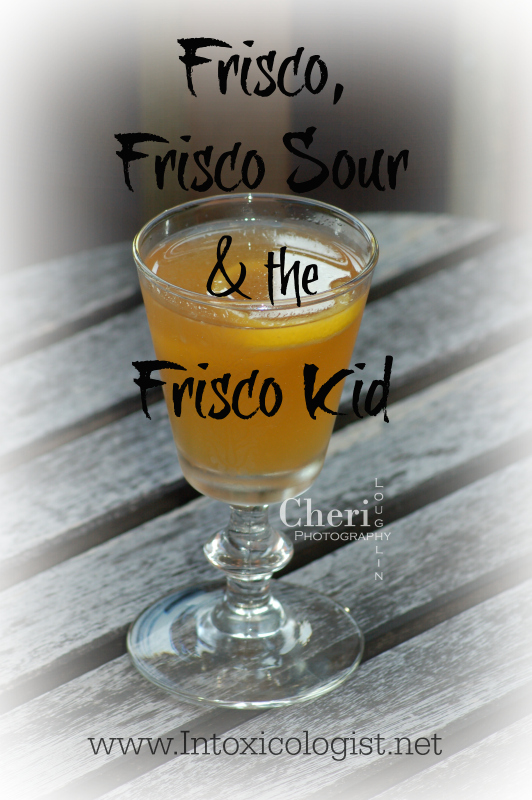 I first encountered a Frisco cocktail a few years back at a local bar that was new at the time. Their cocktail list consisted of no less than 102 classic to contemporary drinks. The list was daunting to say the least. It makes decision making difficult for someone like me who likes to try something new (or new-to-me) when I venture out.
The Frisco cocktail was one such new-to-me drink. The fact that it is made with rye whiskey made the decision making process a little easier. However, I later learned that the Frisco cocktail I ordered that evening (and liked by the way) was not the classic Frisco cocktail recipe.
Frisco
The classic Frisco drink calls for bourbon and Benedictine with a lemon twist. The drink I consumed contained lemon juice making it a Frisco Sour instead.
Frisco – according to The American Drink Book by S. S. Field, copyright 1953
A variation on the Whiskey Cocktail
2 ounces Bourbon
1/2 ounce Benedictine
Lemon Peel
Combine liquids in a mixing glass with ice. Stir to chill. Strain into a chilled cocktail glass or rocks glass (no ice). Garnish with a lemon peel twist.
Early Frisco recipes call for whiskey rather than naming rye or bourbon. The basic recipe is a good one, but the ratios might need a little adjustment depending upon the whiskey you ultimately choose to make this drink. Bourbon often comes across as sweeter than rye, so a slight reduction in Benedictine might be needed. Ryes that are a little ragged around the edges benefit from a tad more Benedictine.
Frisco Sour
Including lemon juice in this cocktail does wonders for the flavor, feel, and balance of the drink. Lemon takes the sweet edge off of Benedictine's syrupy impact. It also adds a fresh, tanging sharpness to the drink.
A good basic recipe to start with to find the optimum balance in your Frisco Sour contains equal parts sweet to sour and a healthy dose of rye whiskey.
Frisco Sour
2 ounces Rye Whiskey
1/2 ounce Benedictine
1/2 ounce Fresh Lemon Juice
Lemon Twist Garnish
If you're palate prefers a little less sweetness, go with 1/4 ounce Benedictine to start. Remember, it's easier to add sweetness to a drink than it is to take it away.
Frisco Kid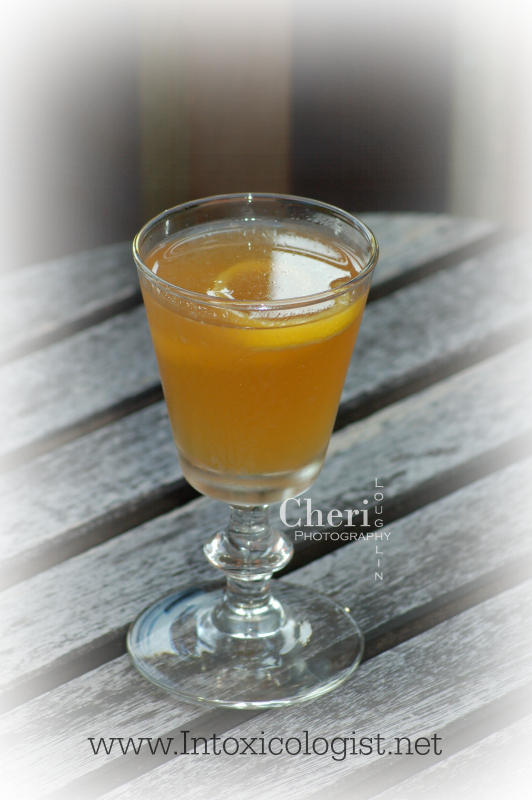 It's difficult for me to visit a new-to-me drink without fiddling with the ingredients a bit. I played with the ingredients and ratios of the Frisco Sour the weekend after first trying one. The first rye I used was a little too polished for the drink. It needs something with a more robust, ragged around the edges feel. Personally, I like Rittenhouse Rye in cocktails. I've heard Old Overholt rye is also a good choice, though I have not tried it in this recipe.
Frisco Kid – recipe adaption by Cheri Loughlin
2 ounces Rye Whiskey
1/4 ounce Benedictine
1/4 ounce Patron Citronage
1/2 ounce Fresh Lemon Juice
Lemon Twist
Place liquid ingredients into a cocktail shaker with ice. Shake to blend and chill. Strain into a chilled Whiskey Sour glass or chilled cocktail glass. Garnish with a fresh lemon twist.
I used Cointreau the first time around, but found too much orange peel bitterness came through in the flavor. Patron Citronage yielded a hint of orange. This highlighted the finer flavor notes in the rye giving the drink a bit of rough sophistication.
I also sampled the Frisco Sour using 2 ounces Buffalo Trace Bourbon, 1/4 ounce Benedictine, 1/2 ounce Fresh Lemon Juice and a lemon twist garnish. The drink turned out delicious with Buffalo Trace's earthy cinnamon notes.
All in all, Frisco is an easy two ingredient drink with room for modification according to the discerning drinker's palate preference. Make one. Make two. But definitely try this delicious drink for yourself.
Subscribe to the monthly Newsletter
All content ©2015 Cheri Loughlin, The Intoxicologist. All Rights Reserved. Chat with Cheri @Intoxicologist on Twitter and facebook.com/Intoxicologist
Frisco, Frisco Sour & the Frisco Kid