Recipes and photos provided by spirits company representatives. All thoughts, opinions, tips, and photo alterations are my own. Links to products do not contain affiliate links.
Creative flavored ice changes your Halloween drink in the blink of an eye. This isn't your ordinary herb or fruit infused ice. Transform classically styled cocktails into savory fright night must have drinks. Your guests will thank you.
Morphing Potion #9 with Mexican Cola Ice Cube
This Old Fashioned variation becomes a sophisticated Maker's & Coke. Mexican cola ice cubes are the transforming factor.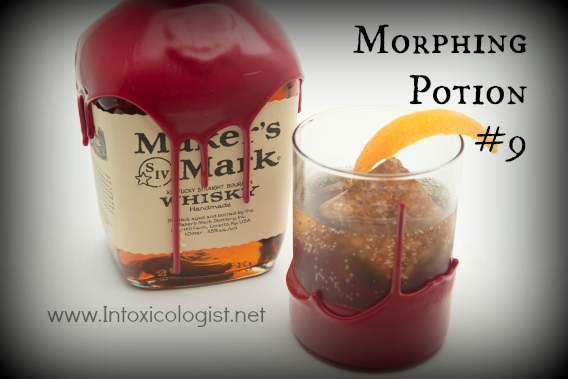 Morphing Potion #9 – recipe by John Henderson
2 ounces Maker's Mark Bourbon
1/4 ounce Heering Cherry Liqueur
1 dash Chocolate Mole Bitters
1 – 2×2" Mexican Cola Ice Cube
3/4 ounce Soda Water
Orange Peel
Pour Mexican cola into a large cube ice tray. Freeze overnight. Place cola ice cube in bottom of rocks glass. Add bourbon, bitters and soda water. Top with a drizzle of Heering Cherry liqueur. Twist orange peel over the top of the drink to capture the essential oils. Place over top of ice cube.
Haunted Hacienda with Campari Ice
A pisco riff on the classic Manhattan instantly transforms into a pisco Negroni with the addition of a Campari ice cube. The red skull Campari ice cube gives this drink an eerily sinister look. I found some cool skull ice cube molds that received good user reviews. I have not tried these particular molds yet, but go ahead and check them out. Large square or round ice molds can also be used for this drink. Use what you have!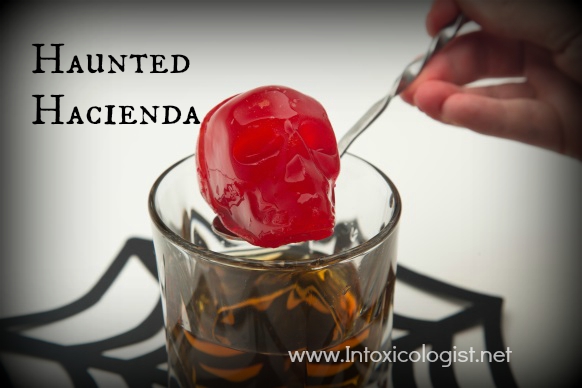 Haunted Hacienda – recipe by John Henderson
1-1/2 ounce Pisco Portón
3/4 ounce Sweet Vermouth
1 dash Angostura Bitters
1 Campari Ice Cube
Pink Salt
Mix 9 ounces Campari with 9 ounces water. Stir. Pour into 3 ounce ice molds and freeze overnight. Place pisco, vermouth and bitters in a rocks glass. Carefully place a Campari ice cube in the glass so liquids do not splash. Add a pinch of pink salt to the top of the ice cube to spur on the melting process.
Subscribe to the monthly Newsletter
All content ©2015 Cheri Loughlin, The Intoxicologist. All Rights Reserved. Chat with Cheri @Intoxicologist on Twitter and facebook.com/Intoxicologist
Savory Fright Night Cocktails