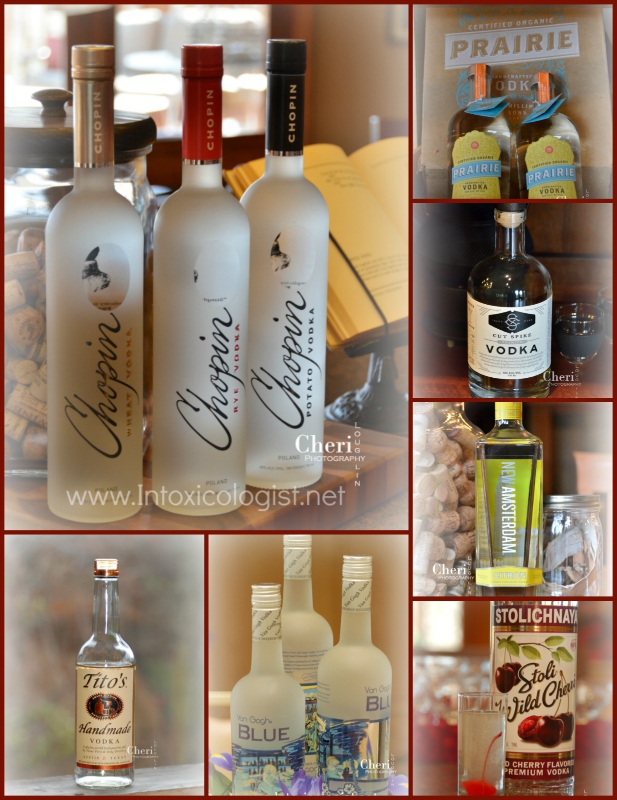 It's no secret that I'm a huge Martini fan. I like traditional Martinis with gin, those with half gin and half vodka, and plain ole Vodka Martinis. I'm often asked what brand of this or that liquor I drink. The short answer is the ones I like. Quality and affordability are also important to me, so these are a few vodkas I purchase on a regular basis. A few of my favorite affordable vodkas are listed below in no particular order. This is not an advertisement for any brand. These are vodkas I purchase for personal use and sometimes use in cocktail recipe development.
These are in no way the only good vodkas out there. I've tasted many and quite frankly like quite a few. If vodka is clean and simple without funky aftertaste it works. There are also quite a few flavored vodkas that are really good. Espresso has to be my favorite vodka flavor, but there are so many more that work nicely in punches, sangrias and seasonal cocktails.
National Vodka Day is October 4. Celebrate with your favorite vodka cocktail!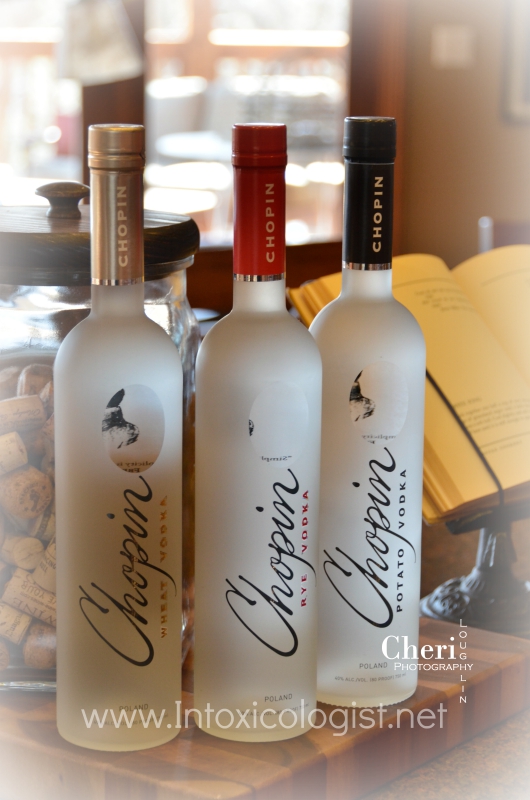 Chopin Vodka
$35 to $40 price range
Chopin makes three vodkas: potato, rye and wheat. The potato vodka has been one of my favorites for years. It's creamy mouthfeel had me hooked the first time I tasted it. Perhaps that's because I'm a potato lover at heart. The fact that Chopin crafts their vodka from potatoes is just icing on the cake.
Take your time exploring the aroma, taste and feel of this vodka. The faintest hint of vanilla comes across in the aroma. Creamy texture comes across as it rolls over the tongue. It has a long, polished finish. My favorite way to enjoy this vodka is in a straight up Martini with or without lemon twist. Visit their website here.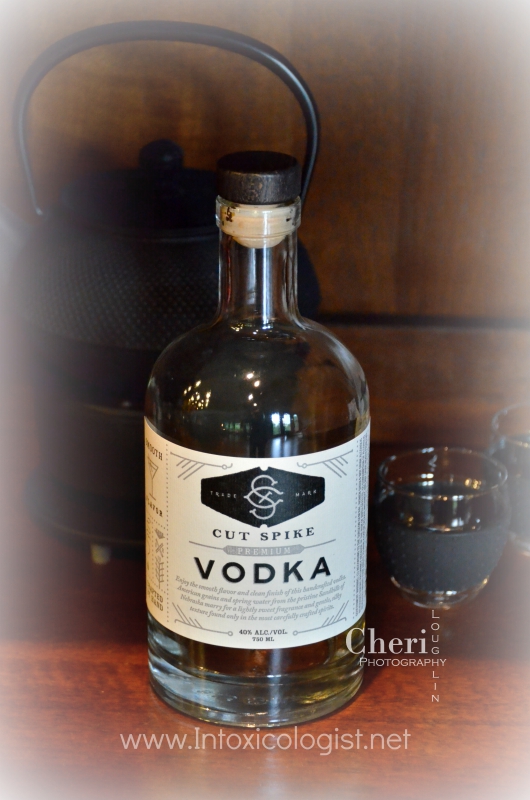 Cut Spike Distillery Vodka
$20 to $22 price range
Cut Spike Distillery is crafted close to home. This Nebraska distillery also makes whiskey and rum. Their vodka has a terrific clean taste to it. It has the faintest hint of earthiness to it that only adds to a well-balanced flavor experience. I enjoy this vodka on the rocks with or without a lime twist. It's also very good used in an 801 Special martini.
Visit the Cut Spike Distillery website here.
Prairie Organic Vodka
$17 to $21 price range
I had the privilege of attending a Prairie Organic Spirits invitation only cocktail and dinner pairing in St. Paul, MN in 2013. I've been a fan of Prairie Vodka ever since. They have an abundance of creative infusions on their website. Check out the espresso and cinnamon infusion. They recommend making a White Russian with this infusion. But it also makes a fabulous base for Espresso Martinis. Just Wow!
Prairie uses organic corn as the base component. The vodka is smooth with well-rounded character. It has a smooth finish without remaining aftertaste. Just fresh, clean vodka here. Prairie is great in cocktails, but also terrific for a classic Martini. Prairie Organic Spirits also makes a delicious cucumber vodka and a gin.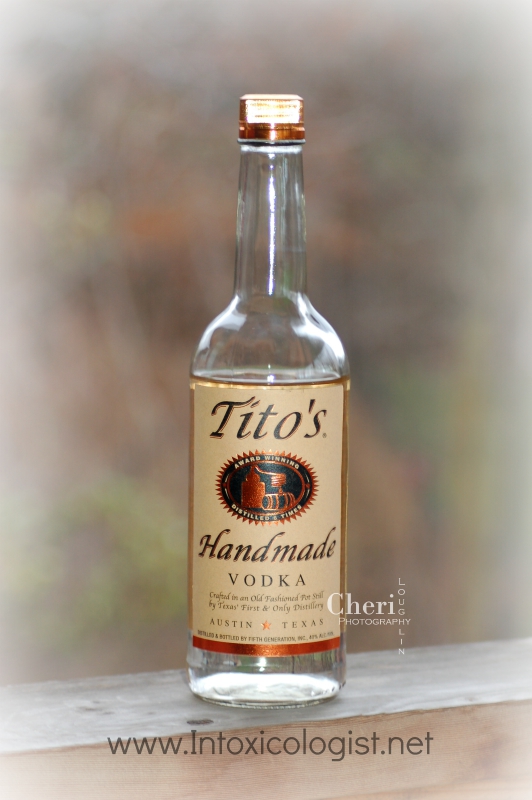 Tito's Vodka
$20 to $25 price range
Bourbon Bloody Marys are fantastic, but my brother makes an out of this world Bloody Mary with Tito's Vodka. I've tried many times to duplicate his recipe, but fail every time. Perhaps it's just better enjoying a drink with him.
Tito's has a no nonsense label. That pretty much sums up their vodka as well. No nonsense, affordable and great tasting. Take the time to read Tito's story here. I like Tito's best in cocktails. I haven't tried this yet, but the Tito's Fig Martini with fig infused vodka sounds delicious.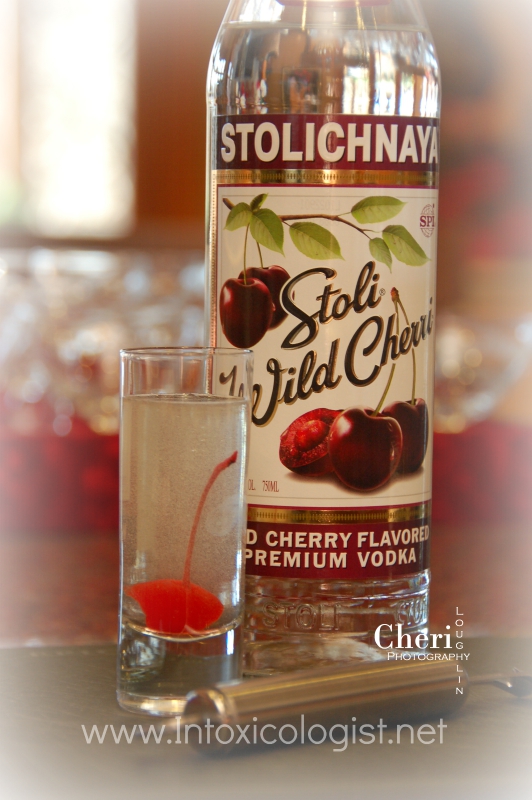 Stolichnaya Vodka
$20 to $25 price range
Is it just me or does it seem like Stoli Vodka has been around forever? Stoli uses wheat as its base. The vodka is crisp and smooth with a mild earthiness. I'm fond of this vodka due to its affordability and clean taste. They also have a wide range of fun flavors. Stoli Ohranj is among their better flavors. It's excellent in an Orange Creamsicle. But then again, what's not to love about an orange and chocolate combination?! Mmm…
Of course I loved the Stoli Wild Cherri flavor, too. I rarely throw back shots, but the Cherri Haze shot with Frangelico in it is just out of this world good. Sip on it rather than shoot it and really enjoy the flavor. Check out all the Stoli vodka flavors here.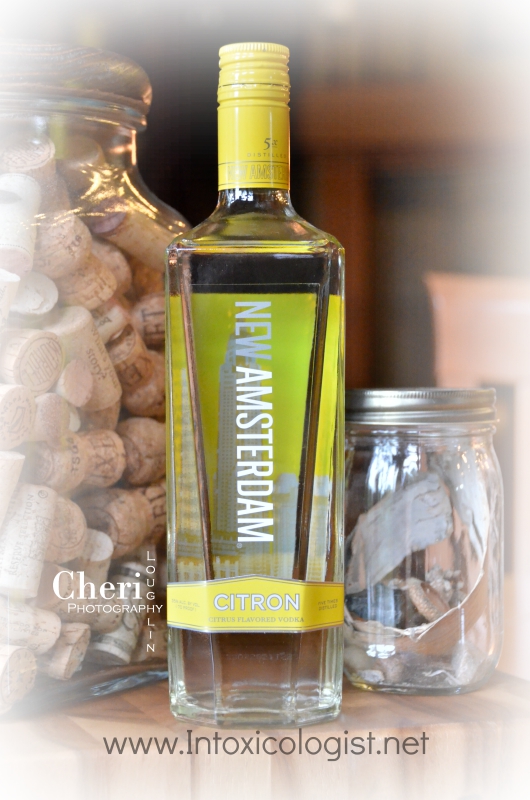 New Amsterdam Spirits
$12 to $15 price range
New Amsterdam Spirits makes plain Jane vodka, but also has a variety of fun vodka flavors and gin. I love the affordability of this vodka. It's clean and crisp as a vodka should be, but without sticker shock. I usually buy this vodka when making large batch punches and cocktails for parties. The peach and citron flavors are among my favorites in their portfolio.
Don't forget to check out New Amsterdam Gin too. It's phenomenal in a Grapefruit Martini with fresh grapefruit juice, raspberry liqueur and fresh lime juice.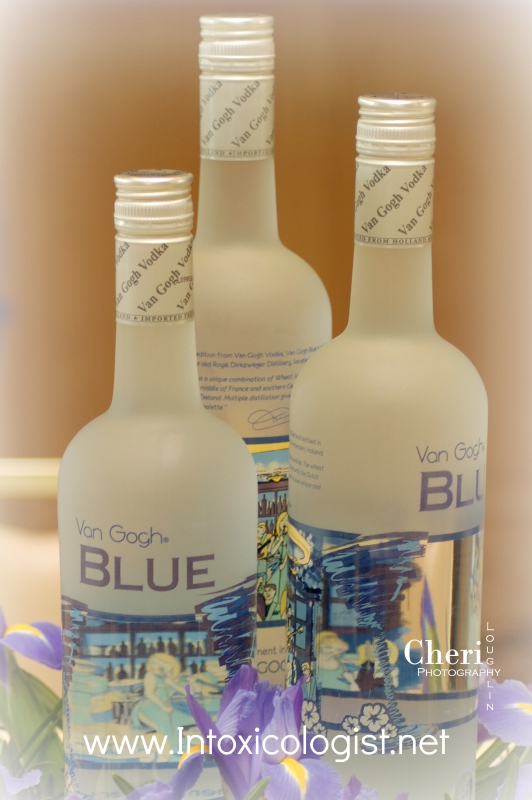 Van Gogh Vodka
Sure, Van Gogh makes perfectly nice plain vodka, but I fell in love with Van Gogh's Espresso Vodka. I prefer the Double Espresso with its deep, rich flavor. But the clear Espresso flavor is excellent for making clear coffee flavored drinks. Pair the clear with RumChata for a fabulous combination.
Double Espresso makes a perfect nightcap sipped on the rocks. Nothing else needed. No garnish, no additional mixers. Just espresso vodka. But let's not stop there. It makes a fantastic White Russian and Espresso Martini.
Of course there are more flavors in the Van Gogh Vodka line. Every one of them that I have sampled are full flavored and full bodied. Acai-Blueberry is exceptional. The Pineapple flavor is so good. The acid in fresh pineapple sometimes has a negative reaction on my taste buds. So I often reach for flavored pineapple vodka as a partial replacement to fresh pineapple.
You've read about a few vodkas that frequent my liquor cabinet; now tell me about your favorites in comments.
Subscribe to the monthly Newsletter
All content ©2015 Cheri Loughlin, The Intoxicologist. All Rights Reserved. Chat with Cheri @Intoxicologist on Twitter and facebook.com/Intoxicologist
7 Quality & Affordable Vodkas