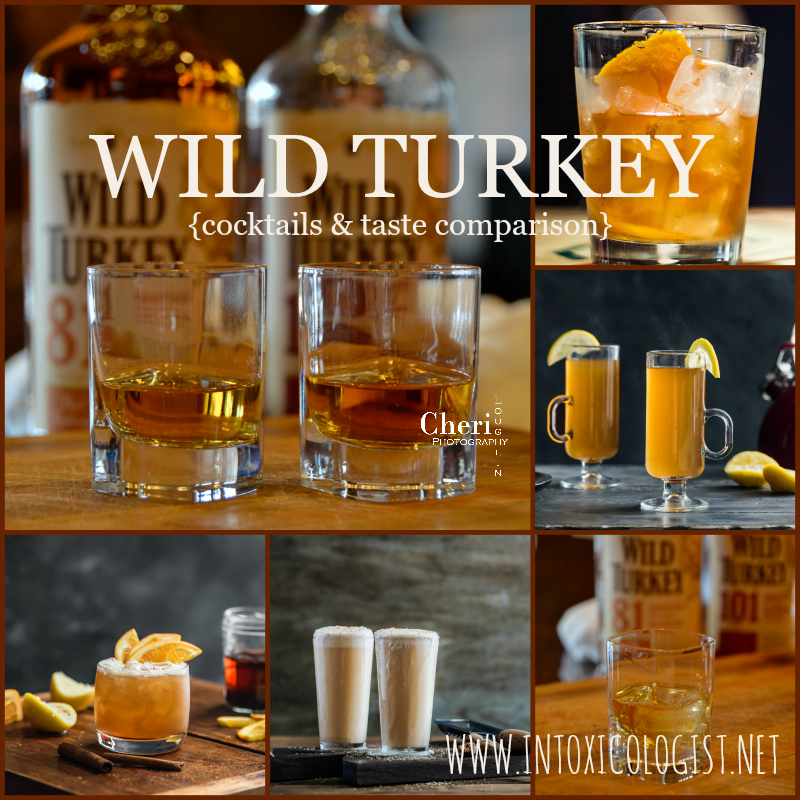 Wild Turkey products, recipes and cocktail photos provided by brand representatives. All bottle and tasting note photos, comments and opinions are my own unless otherwise stated.
I reviewed Wild Turkey 81 a few years ago. You can read those tasting notes here. This time around I sampled Wild Turkey 81 alongside Wild Turkey 101 choosing to compare them. Some things surprised me and some things stayed the same.
Wild Turkey 81 & Wild Turkey 101 Comparison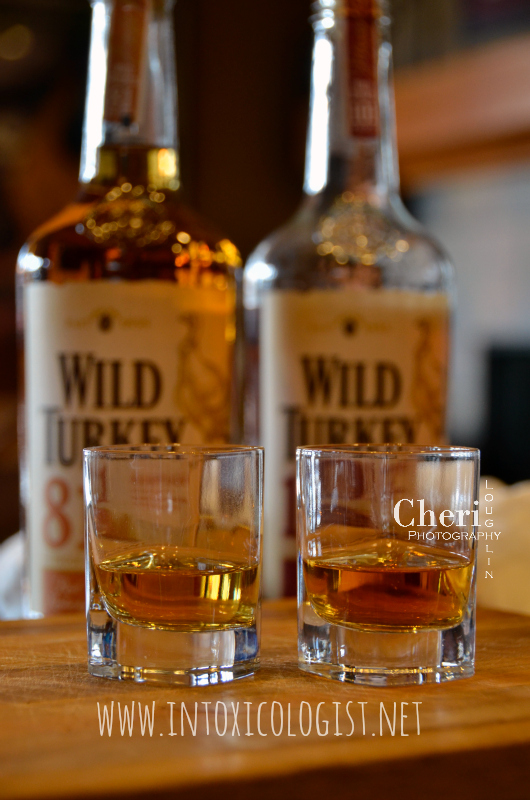 Wild Turkey 81 Bourbon is slightly lighter in color than the Wild Turkey 101. Its color is straw gold in comparison. There is a lot of oak barrel and cherry on the nose. It is still mild as I noted before. When tasted neat there is quite a bit of burn. There are hints of cherry, apricot and spices. These flavors are quite different from tasting the first time around.
Ice smooths out the flavors, but there is still a hint of harshness on the back of the tongue.
Wild Turkey 101 Bourbon is slightly darker in color than Wild Turkey 81. I would describe it as light bronze or deeper shade of straw gold with a tinge of auburn. Oak barrel aroma is evident, but much smoother than the 81. Faint cherry notes play across the nose. Wild Turkey 101 is much smoother and silkier than the Wild Turkey 81. It doesn't feel as thin. There is much more cherry carryover in this one as well. It isn't sweet, but rather is more cherry essence instead. There are barely there notes of vanilla and cinnamon.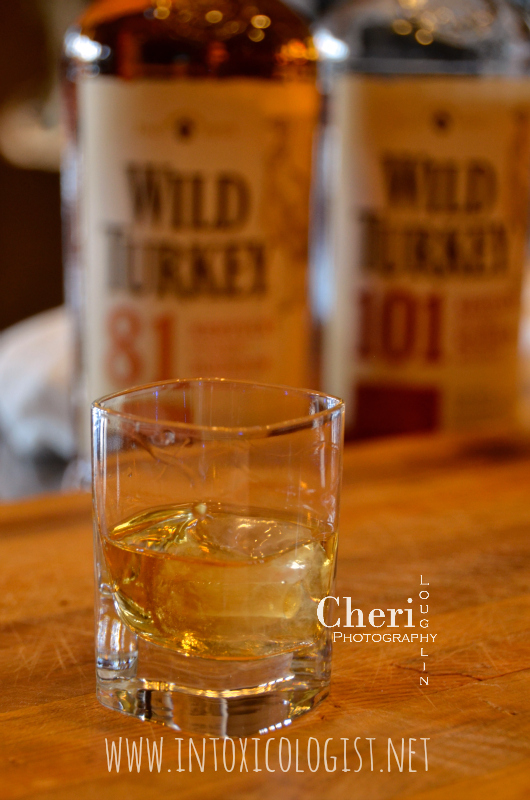 Ice seemed to ramp up the heat a little, but then again my lips felt a bit numb after sipping both bourbons straight. All in all, I liked them both. The Wild Turkey 101 just gives more bang for the buck with its higher proof and deeper flavor. It makes a great on the rocks sipper.
Of course either one of these bourbons would be put to good use in a holiday cocktail.
Wild Turkey 81 & Wild Turkey 101 Holiday Cocktails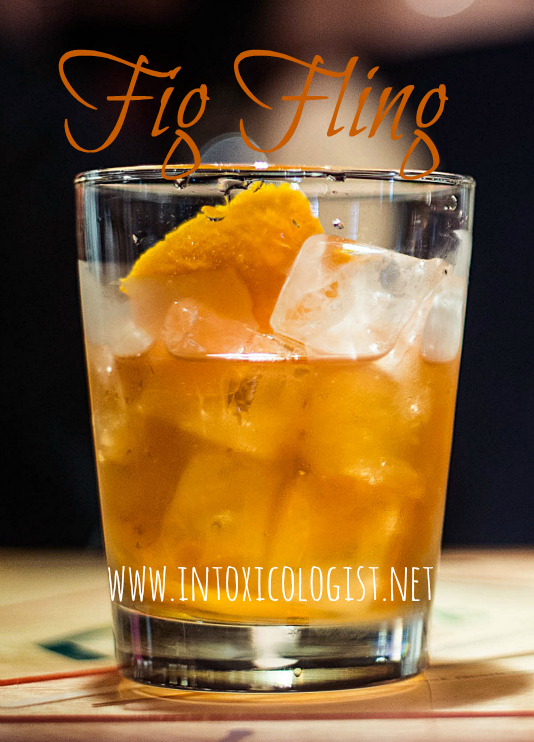 Fig Fling
1-1/2 ounce Wild Turkey 81 Bourbon
1 tablespoon Fig Jam
1/4 ounce Orange Liqueur
1/2 ounce Fresh Lemon Juice
Orange Peel
Combine liquids and jam in a cocktail shaker with ice. Shake until well chilled. Double strain into a rocks glass over fresh ice. Garnish with an orange twist.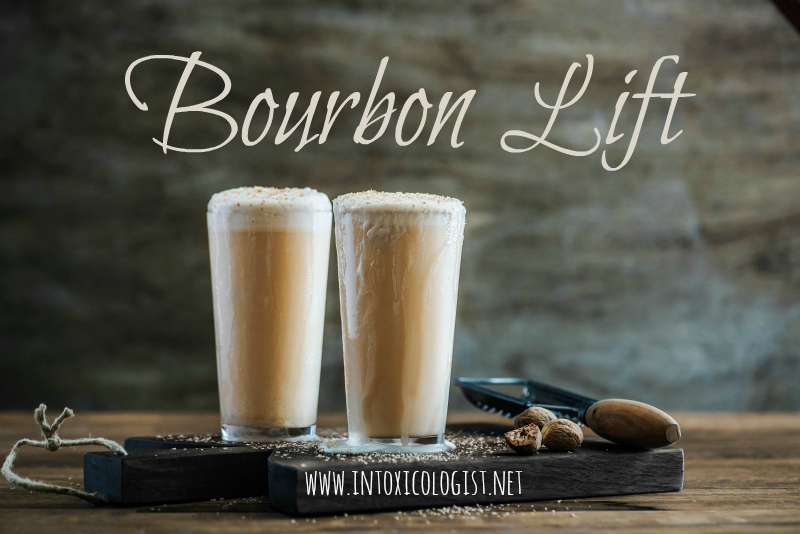 Bourbon Lift
1-1/2 ounce Wild Turkey 101 Bourbon
1/2 ounce Orgeat Almond Syrup
1/2 ounce Coffee Liqueur
1 ounce Heavy Cream
1 Egg White
Soda Water
Grated Nutmeg
Place all ingredients except soda water and nutmeg into a cocktail shaker without ice. Shake to emulsify. Add ice and shake until well chilled. Strain into a highball glass and top with a splash of soda water. Add fresh grated nutmeg to the top of the drink.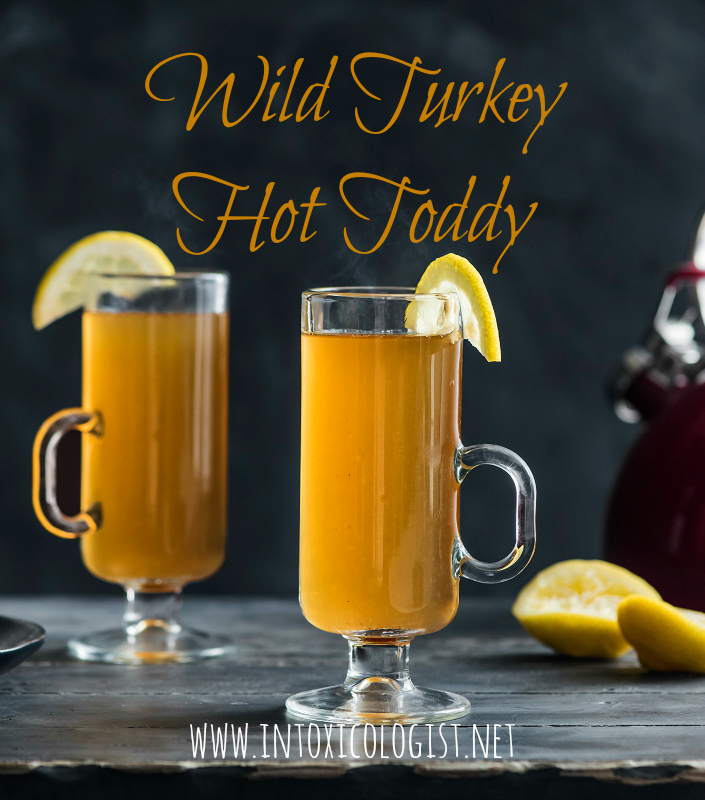 Hot Toddy
8 ounces Wild Turkey 101 Bourbon
16 ounces Hot Water
3 ounces Honey
3 ounces Fresh Lemon Juice
Lemon Wheel
Place all liquid ingredients into a heat resistant container such as a saucepan or slow-cooker. Heat on low and keep warm to serve. Serve in individual warmed mugs. Garnish with lemon wheel.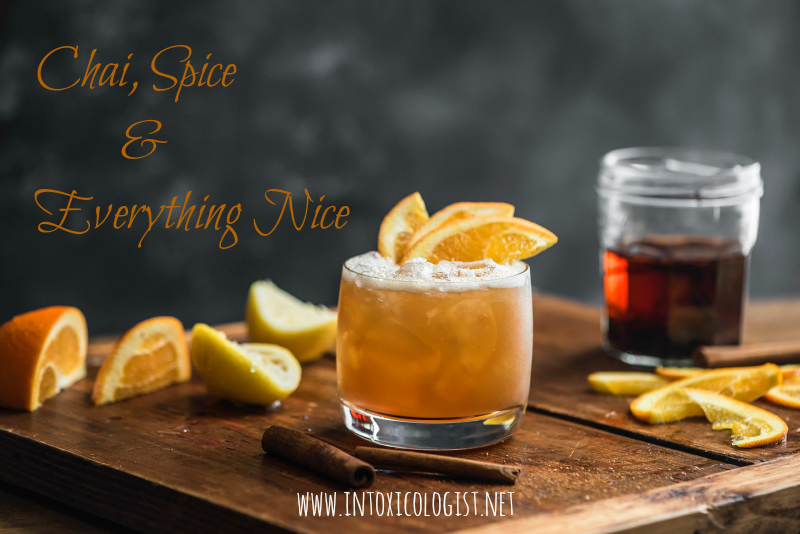 Chai, Spice & Everything Nice
1-1/2 ounce Wild Turkey 81 Bourbon
1/2 ounce Cinnamon Syrup*
3/4 ounce Chai Infused Sherry**
3/4 ounce Fresh Lemon Juice
Dash of Cardamom Bitters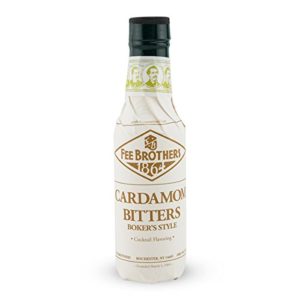 Orange Slice with Grated Cinnamon
Combine liquids and bitters in a cocktail shaker with ice. Shake to blend and chill. Strain into a rocks glass over fresh ice.
*Cinnamon Syrup: Place equal parts water and sugar into a saucepan. Add 2 to 3 sticks of cinnamon per cup of sugar. Bring mixture to simmer and allow to simmer, not boil, for 5 minutes. Remove from heat. Allow to cool. Strain liquid into a glass container with lid. Refrigerate until ready to use.
**Chai Infused Sherry: Empty the contents of one bottle of sherry into a large glass bowl. Add six chai tea bags to the liquid. Swirl around to release some of the chai flavor. Allow mixture to sit for three hours. Squeeze tea bags to release as much flavor as possible when removing them from the mixture. Discard tea bags. Pour infused sherry back into the bottle and label accordingly.
All content ©2015 Cheri Loughlin, The Intoxicologist. All Rights Reserved. Chat with Cheri @Intoxicologist on Twitter and facebook.com/Intoxicologist
Cheri Loughlin is the Omaha writer and photographer behind www.intoxicologist.net. You can email Cheri with comments and questions at str8upcocktails@gmail.com.
Wild Turkey 81 and 101 Comparison Review