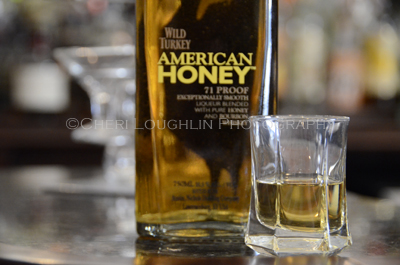 Wild Turkey American Honey Tasting Notes
71 proof
Liqueur blended with pure honey and bourbon whiskey. Golden color like straw glistening in golden sunshine.
Aroma: Can definitely pick up bourbon notes in aroma. Sweetness. Very light honey aroma.
Tasted Neat: Thinner than expected since honey brings to mind a thicker substance. Bourbon notes are prevalent giving warm sensation and some burn. Sweet, not syrupy. Couldn't sip this alone, but rather good.
Would work well in Brut Champagne. Thinking it might be a wonderful sweetening agent in a whiskey sour.
Review sample provided by representatives of Wild Turkey
Twitter, Facebook, StumbleUpon – str8upcocktails @ gmail.com – ©2012 Cheri Loughlin-The Intoxicologist, All Rights Reserved.
Review: Wild Turkey American Honey