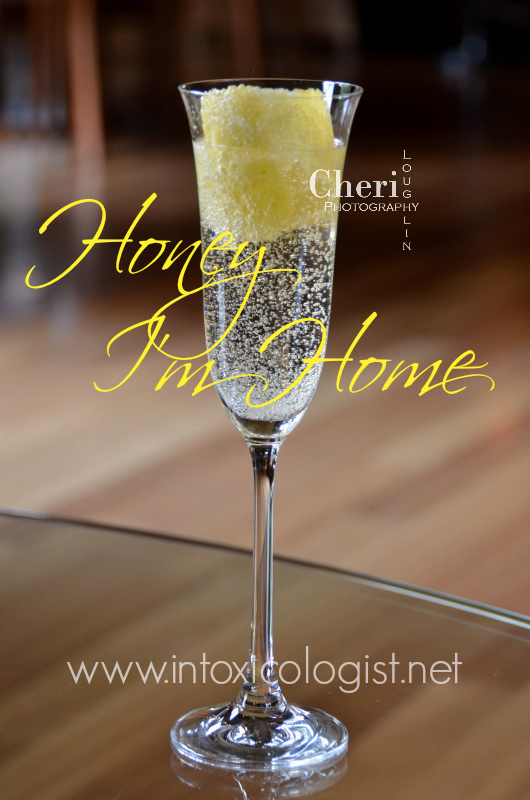 Perhaps it's a little too late to say Happy New Year, but I'll say it anyway.
Happy New Year!
This year I spent New Year's Eve curled up in jammies watching movies. Exciting stuff, I know. I had every intention to pop the cork on a bottle of bubbly at the end of the evening, but you guessed it… I fell asleep before the clock struck midnight.
Luckily that bubbly is still in the chiller. It's a little late to toast the new year, but it's never too late to open a bottle of bubbly.
Cheers, everyone! I hope your 2016 is full of love, laughter, good friends and good health.
Honey I'm Home Bubbly Cocktail
The Honey I'm Home bubbly drink uses honey flavored whiskey. The flavor is lightly sweet with a hint of honey whiskey warmth. Brut Cuvee adds crispness to the cocktail. What's not to love about bubbles tickling at your nose?!
Honey I'm Home – recipe by Cheri Loughlin
3 to 4 ounces Barefoot Brut Cuvee (according to glass size)
1/2 ounce Honey flavored Whiskey Liqueur
Lemon Peel – cut long and wide with little white remaining
Sugar
Cut a long and wide strip of lemon peel. Dip both sides of the lemon peel into sugar. Place sugared lemon peel inside the top of a champagne flute to circle the inside rim. Pour chilled honey whiskey liqueur and Brut Cuvee into the flute through the center of the sugared lemon peel.
This recipe was commissioned by Barefoot Wine & Bubbly as part of The Intoxicologist Corporate Mixology program. It is renamed Countdown to Cuvée on the Barefoot Wine & Bubbly site.
Subscribe to the monthly Newsletter
All content ©201 Cheri Loughlin, The Intoxicologist. All Rights Reserved. Chat with Cheri @Intoxicologist on Twitter and facebook.com/Intoxicologist
Cheri Loughlin is the Omaha writer and photographer behind www.intoxicologist.net and author of Cocktails with a Tryst: An Affair with Mixology and Seduction. You can email Cheri with comments and questions at str8upcocktails@gmail.com.