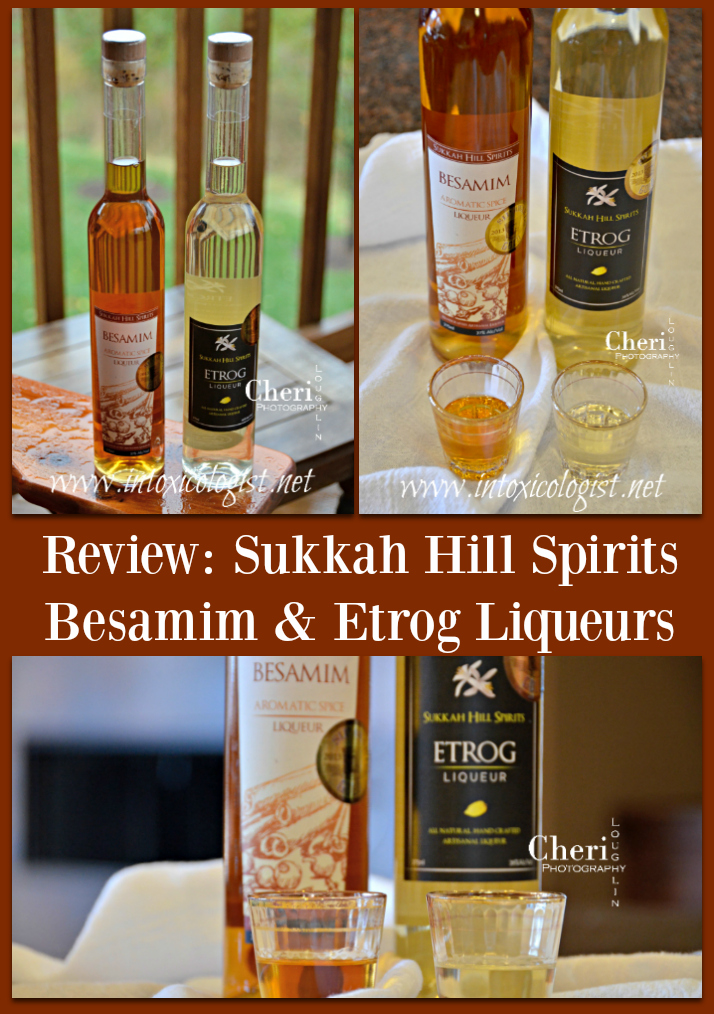 Sukkah Hill Spirits samples provided by the brand. All photos and opinions are my own unless otherwise stated.
Sukkah Hill Spirits describes their products as artisanal liqueurs. These liqueurs are gluten-free, with no added preservatives or artificial colors or flavors. They use pure, natural ingredients, leaving behind any need for high fructose corn syrup. Their liqueurs are certified Kosher.
Sukkah Hill Spirits Besamim Liqueur
From the Chai & Home website: "Besamim literally means "spices" in Hebrew. During this ceremony (Havdalah) the spices are passed around so everyone can smell them. We do this to "wake us" from the relaxation and restful period of Shabbat and ready us for the week to come." Click the above link to learn more about which spices are the most common for besamim.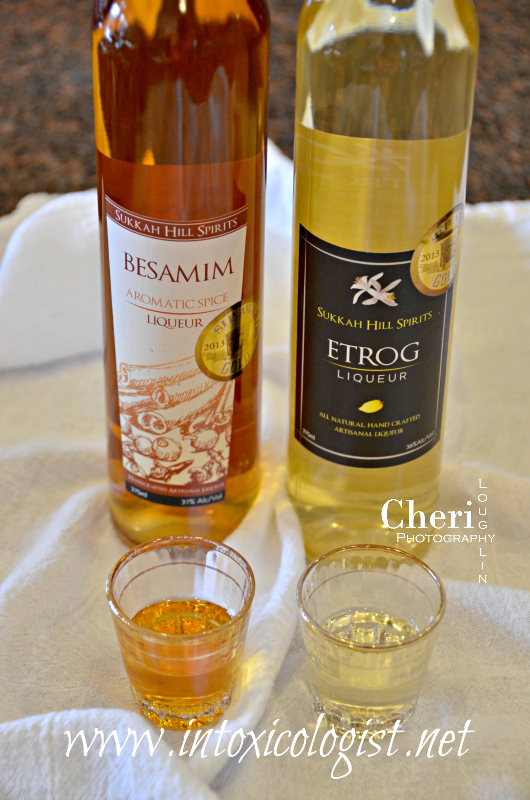 Besamim Liqueur is full of aromatic spices. It has beautiful auburn to copper coloring. It is spicy on the nose with aromas of cinnamon, allspice, clove and perhaps mace. The taste is sweet and super spicy. It reminds me of Allspice Dram regarding the layering of spice. Yet this liqueur is light on the tongue with lingering spice warmth. After rolling this around on the tongue a few times, I found the sweetness and spice notes were close to that of red cinnamon disk hard candies. I loved those as a kid!
I liked this Sukkah Hill liqueur very much. I could definitely see this as a Fireball liqueur non-whiskey replacement for those who like that spark of spice. Try it with RumChata or use it in the Cinnamini Bun shot instead of Original Cinn liqueur. It could possibly be used as an alternative to Falernum if that liqueur is not available to your area.
Sukkah Hill Besamim Liqueur is bottled at 37% alcohol by volume. It is delicious sipped neat or could be used in cocktails. It would probably be terrific mixed with fresh lemon juice and club soda for sparkling spicy lemonade.
Sukkah Hill Spirits Etrog Liqueur
From the Sukkah Hill Spirits website: "Our founder, Taste Master, and resident foodie – took a handful of holiday etrogim and decided to make a liqueur for fun. The result was fantastic. Sweet, clear, fruity, floral and powerful."
From Wikipedia: "Etrog (plural: etrogim) is the yellow citron or Citrus medica used by Jewish people during the week-long holiday of Sukkot."
The Etrog liqueur has received terrific comments from the Los Angeles Times and Beverage Tasting Institute. But in all honesty this is not among my favorite flavors.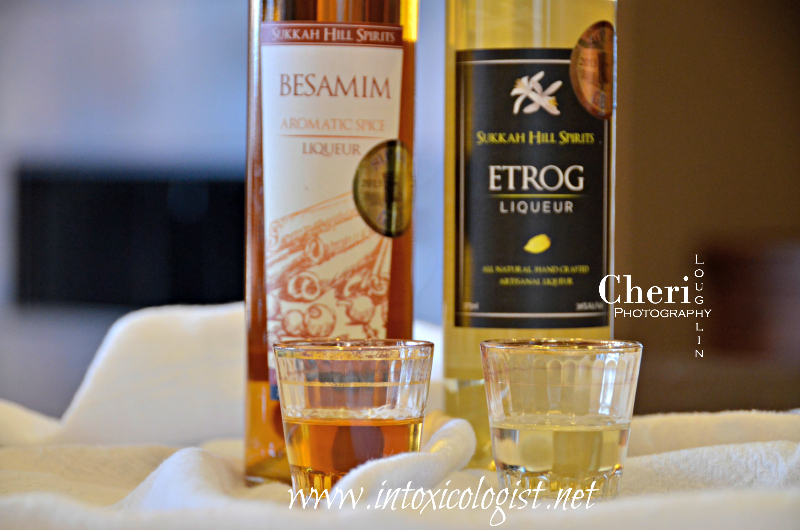 This liqueur is pale straw in color. The aroma wafts citrus, a hint of orange peel and lemon verbena. There is also a faint aroma that comes across as medicinal. The taste was sickly sweet in my opinion. The biggest thing I didn't care for about this liqueur was the pronounced lemon Pledge-ish flavor. No, I've never actually tasted lemon Pledge, but I've smelled enough of it while cleaning to associate a smell with a taste. It's kind of like how some coconut rums taste exactly like the aroma of sun tan lotion. It's an association. Perhaps the lemon furniture polish association flavor stems from lemon verbena. No matter what it is, this is just not a flavor I'd care to revisit.
To be fair I asked for other taster opinions. One taster likened the aroma of the Etrog liqueur to citrus with the aroma of rubbing alcohol used to clean skin just before a shot. That's a little harsh, but we all have different sensitivities and flavor likes and dislikes. Follow your own instincts.
Subscribe to the monthly Newsletter
All content ©2016 Cheri Loughlin, The Intoxicologist. All Rights Reserved. Chat with Cheri @Intoxicologist on Twitter and facebook.com/Intoxicologist
Cheri Loughlin is the Omaha writer and photographer behind www.intoxicologist.net and author of Cocktails with a Tryst: An Affair with Mixology and Seduction. You can email Cheri with comments and questions at str8upcocktails@gmail.com.
Sukkah Hill Spirits Review: Besamim & Etrog Liqueurs