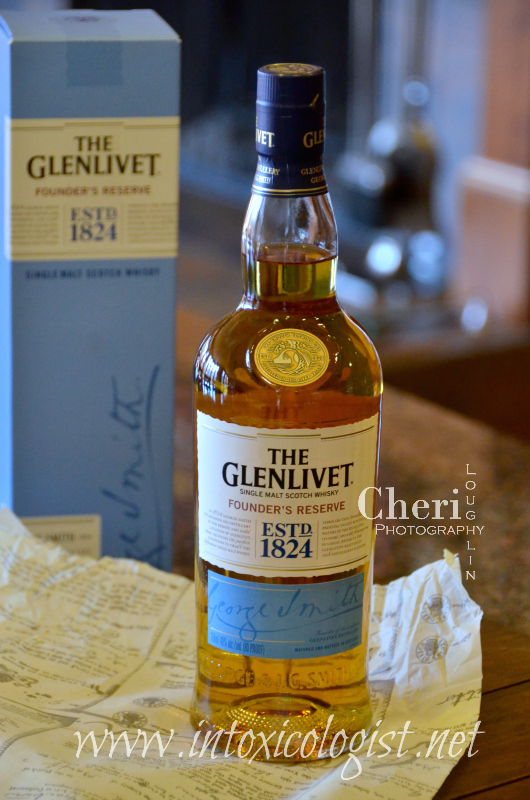 The Glenlivet Founder's Reserve Scotch Whisky sample provided by brand representatives. All photos and opinions are my own unless otherwise stated.
Several years ago I had the privilege to create two cocktails using The Glenlivet 12 year old Scotch. Those cocktails were requested by representatives of Pernod Ricard. You can find those cocktails here and here.
So I was super excited when brand representatives asked if I would be interested in tasting The Glenlivet Founder's Reserve and share thoughts about it with you. There was no hesitation. I'm always up for Scotch tasting.
The Glenlivet Founder's Reserve Tasting Notes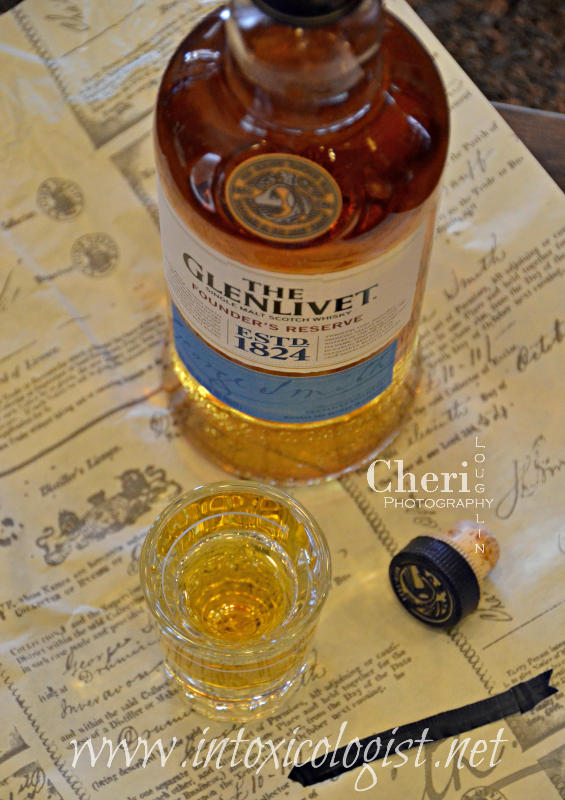 The Glenlivet Founder's Reserve is bottled at 40% alcohol by volume. It retails for approximately $40 depending on your area.
First of all I loved the sea blue color of the box and on the label. Perhaps it's because the color reminds me of the beach. I'm passionate about living seaside one day.
The Glenlivet Founder's Reserve Scotch Whisky is golden straw in color. The aroma is delicate with honey, citrus and fig notes. It's honeyed sweetness in flavor with caramel and burnt toffee notes. There are faint traces of orange peel. It is light on the tongue, but lingers in a delightfully warming way on the palate.
In my opinion this is a great beginner scotch. I say this because there is very little smoke, it is light and delicate, without being too rich. It contains a bit more sweetness than some hardier scotches making this an easy sip. Sip it neat if that is your preference. I like this one with a single small cube of ice (about one inch square) to cool it but not dilute it too much.
The Glenlivet Founder's Reserve Official Tasting Notes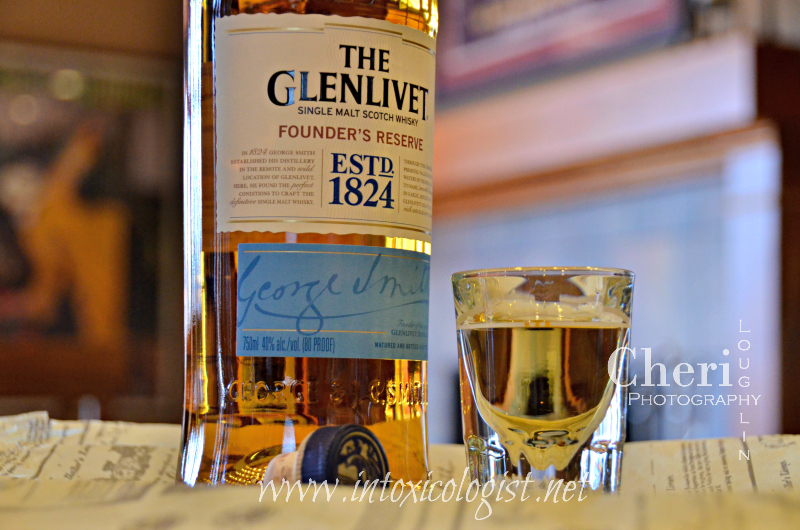 "For The Glenlivet Founder's Reserve, skillful selection of casks enhances the signature fruity flavours of The Glenlivet with traditional oak casks being complemented by selective use of American first-fill casks to give a hint of creamy sweetness – creating an exceptionally well-balanced and smooth malt." – The Glenlivet website
Pale gold in color. Delicate citrus fruit and sweet orange aroma. Sweet with fruit notes from zesty oranges and pears, with hints of candied toffee apples. Well balanced and exceptionally smooth with a long, creamy finish.
Subscribe to the monthly Newsletter
All content ©2016 Cheri Loughlin, The Intoxicologist. All Rights Reserved. Chat with Cheri @Intoxicologist on Twitter and facebook.com/Intoxicologist
Cheri Loughlin is the Omaha writer and photographer behind www.intoxicologist.net and author of Cocktails with a Tryst: An Affair with Mixology and Seduction. You can email Cheri with comments and questions at str8upcocktails@gmail.com.
The Glenlivet Founder's Reserve Scotch Review