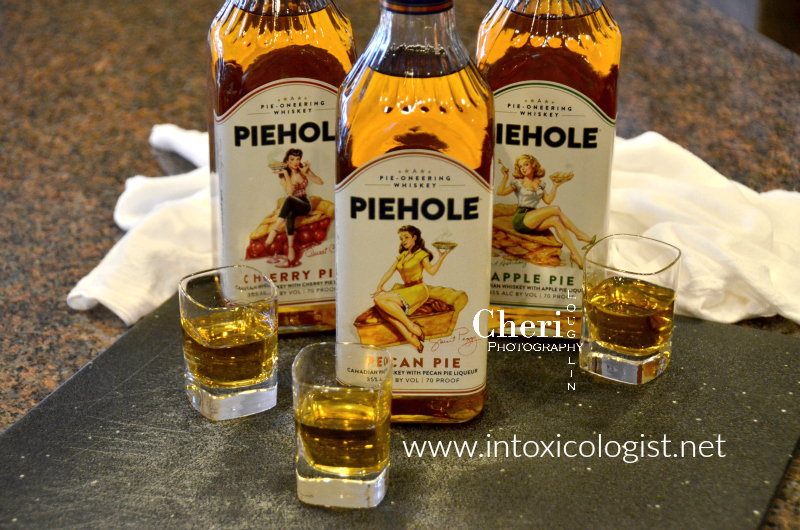 Piehole Canadian Whiskey Liqueurs provided by brand representatives. All photography, comments and opinions are my own unless otherwise stated.
Piehole informally refers to a person's mouth; as in "shut your pie hole." Piehole Whiskey has given this term new meaning. In this case, Piehole Whiskey recreates the flavors of popular pies in liquid form.
These sample bottles sat on my back bar for a few weeks before I could get to them for review. Everyone who saw them had a different reaction. Comments ranged from "Oh, I love that!" to "What in the heck is Piehole?" and those who didn't think the name was too inviting. There were also those who started rating the pin-up art in order of preference. We'll get to that later.
I must admit, I've never cared for the term "pie hole" and still not particularly drawn to the name for a liqueur. But it serves a purpose if it captures people's attention and garners so many comments from those that see it. The bottles are certainly not generic. They are eye catching from name to artwork.
Piehole is a blend of Canadian Whiskey and pie flavored liqueur. All three of the liqueurs sent to me appeared to look the same when poured in a shot glass. Their aromas and flavors were another story.
Piehole Pecan Pie Flavored Whiskey Liqueur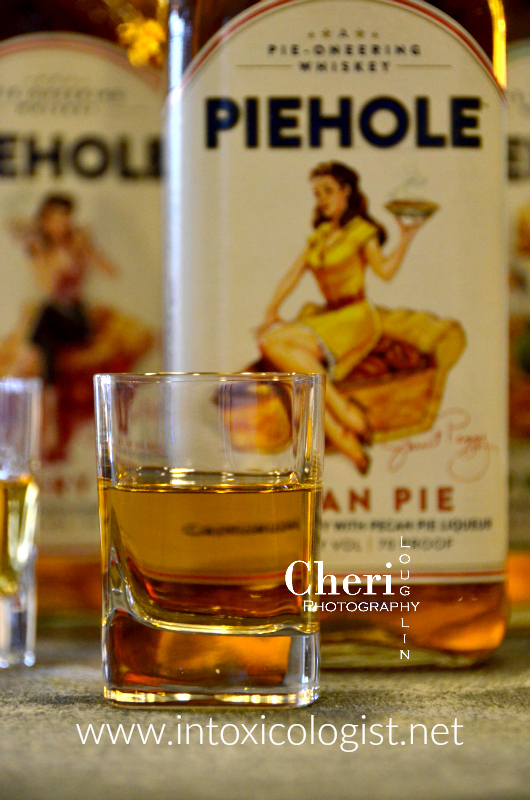 My hands down all-time favorite pie is pecan pie, so I had to taste this one first.
It has rich pecan aroma. This is a huge plus for me because I absolutely LOVE pecans. The aroma is nutty and mouthwatering with butterscotch, vanilla and perhaps a bit of burnt caramel and toasted pecan.
The taste did not disappoint. It's a bit syrupy making me crave something salty like pretzels to counter balance it. It's full of thick and rich maple and nut flavor. This made me immediately crave waffles loaded with luscious melted butter and this pecan pie liqueur drizzled in all the waffle wells.
I indulged in that little food fantasy for more than a minute when tasting this liqueur. Then I cleared my head to begin thinking about the cocktail possibilities. If you're into shots, their website recommends a shot of Piehole Pecan Pie with a dollop of whipped cream on top. What I'd really love to see with this liqueur flavor is a pecan flavored Manhattan. I created one several years ago using Praline Pecan Liqueur. I think the Piehole Pecan Pie flavor would be a good substitute in that drink.
Piehole Cherry Pie Flavored Whiskey Liqueur
This flavor borders on cherry cough syrup in my opinion. I'm not a huge cherry pie fan, but I do love fresh cherries and really good maraschino cherries.
There are hints of vanilla and lingering cherry flavor in the taste. It tastes a little too artificial cherry to sip on its own in my opinion. But I do think this particular flavor liqueur would be awesome in a bourbon cherry sour.
Piehole Apple Pie Flavored Whiskey Liqueur
I saved this one to last, because apple is not one of my most favorite flavors. The aroma of fresh baked apple pie is heavenly, but I'm not a cooked fruit kind of girl. I usually just pick at the pie crust. Pie crust coated with the spiced pie filling sans fruit is pretty good if you ask me. It's all the flavor of the pie without having to actually eat the cooked fruit. Kind of like glazed pie crust cookies if you will.
Piehole Apple Pie aroma is that of fresh cider with distinct crisp apple notes such as crisp gala apples or honey crisp apples with a touch of granny smith weaved throughout.
The taste is sweet with less fresh apple flavor than the aroma leads one to expect. There are deep buttery notes and some spice. I expected a little more spice and less artificial apple flavor than what I tasted.
Piehole Pin-ups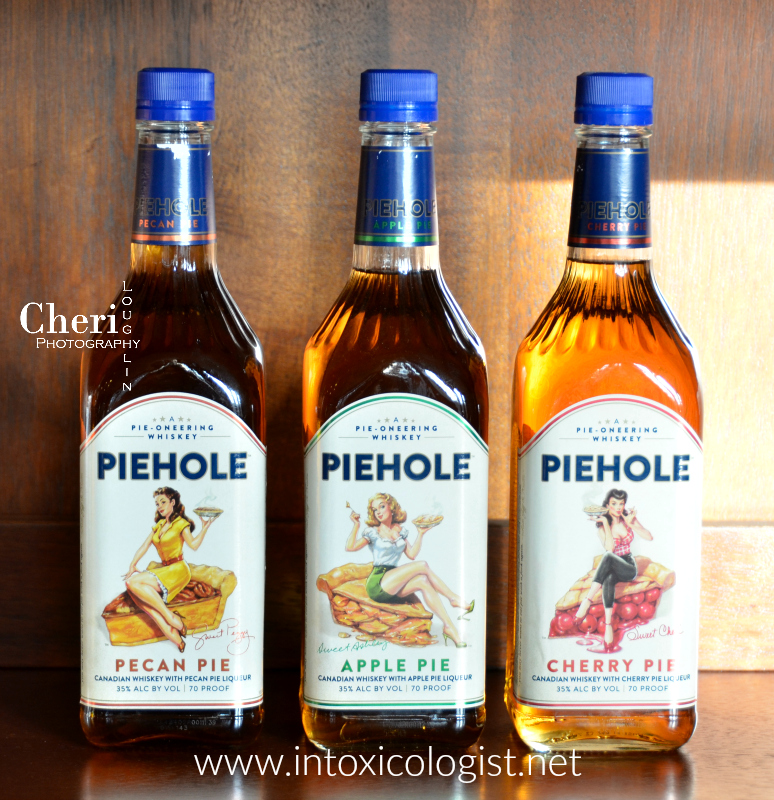 Everyone had a different opinion of which pin-up label they liked best. We have an appreciation for airplane nose art and have quite a few pin-up photography books and art in our place. That makes these labels pretty awesome on that note.
Sweet Cheri (Cherry Pie flavor) is my favorite of the pin-ups and that has nothing to do with the name. I honestly just looked up the names of the pinups while writing this and discovered the coincidence in names. I liked the exotic edge she brought to the photo.
Sweet Peggy (Pecan Pie flavor) and Sweet Ashley (Apple Pie flavor) tied in my opinion. But Sweet Ashley is wearing some pretty great shoes. Gotta love that.
Which Piehole flavored whiskey liqueur would you like to try in a cocktail? Which pin-up is your favorite?
Subscribe to the monthly Newsletter
All content ©2016 Cheri Loughlin, The Intoxicologist. All Rights Reserved. Chat with Cheri @Intoxicologist on Twitter and facebook.com/Intoxicologist
Cheri Loughlin is the Omaha writer and photographer behind www.intoxicologist.net and author of Cocktails with a Tryst: An Affair with Mixology and Seduction. You can email Cheri with comments and questions at str8upcocktails@gmail.com.
Piehole Canadian Whiskey Liqueurs