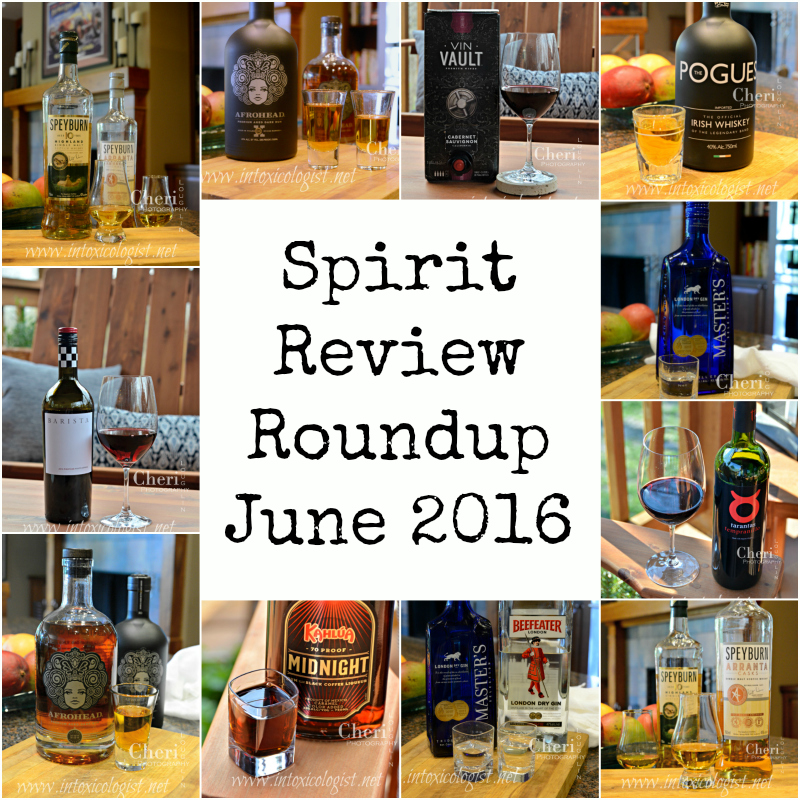 All products provided by brand representatives for review purposes unless otherwise stated. All opinions and photos are my own unless otherwise stated.
Speyburn Scotch Whisky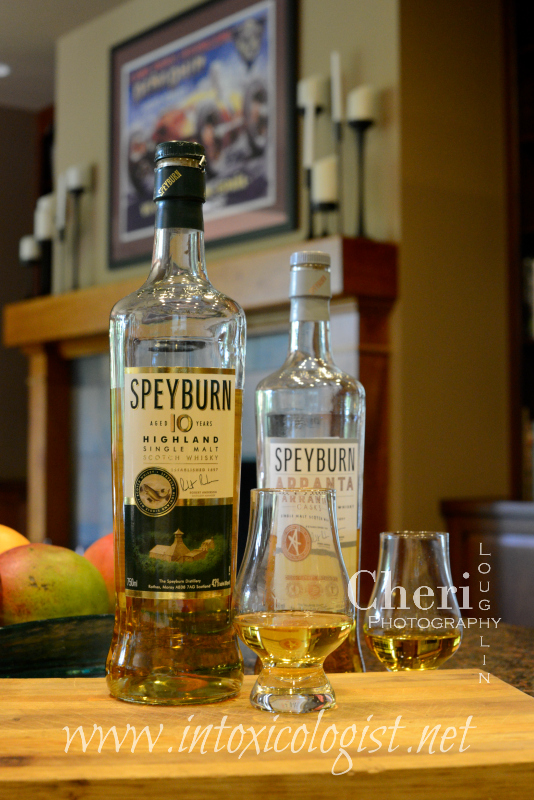 Speyburn is a single malt scotch whisky. Speyburn 10 year is pale straw in color with golden highlights. And yep, it smells like scotch. There is no burn. It contains malted, light honeyed sweetness on the nose. There is vanilla roundness with light honey in the flavor. Barely there burn on the tongue. It is medium to light as far as viscosity. This is an approachable earthy scotch with faint hints of mocha. Nothing spectacular here, but a nice everyday kind of spirit. This expression retails for $27 to $35 for a 750ml bottle.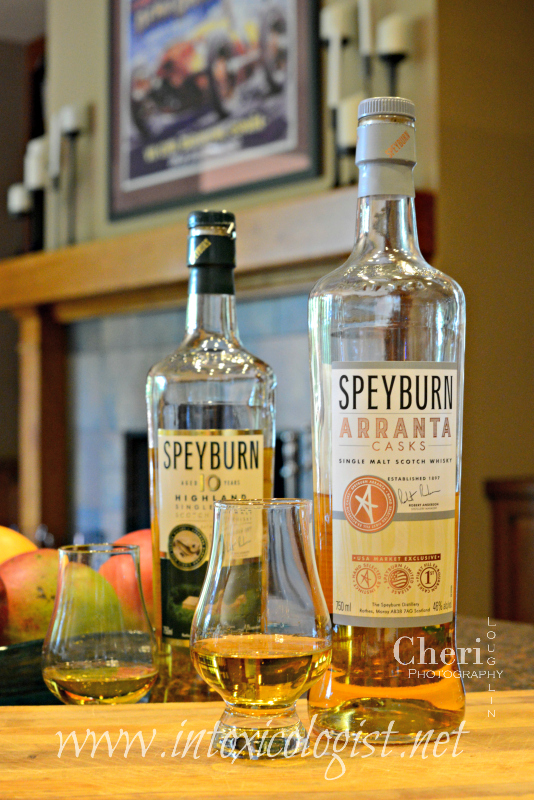 Speyburn Arranta Cask scotch whisky is darker in color than the 10 year with rich gold highlights. It is light on the nose with green banana in the aroma and a slight powder or talc presence. The Arranta Cask expression is richer regarding viscosity. It is lush with chocolate and dried fruit flavors. There is a bit of almond or pecan nut skin and more honeyed flavor in this one. It is spicy with little to no burn on the tongue. It contains lovely toasted honey flavor. Overall, this is a nice sipper. Speyburn Arranta Cask Single Malt Scotch retails for approximately $50 for a 750ml bottle.
Learn more about Speyburn scotch here.
The Pogues Irish Whiskey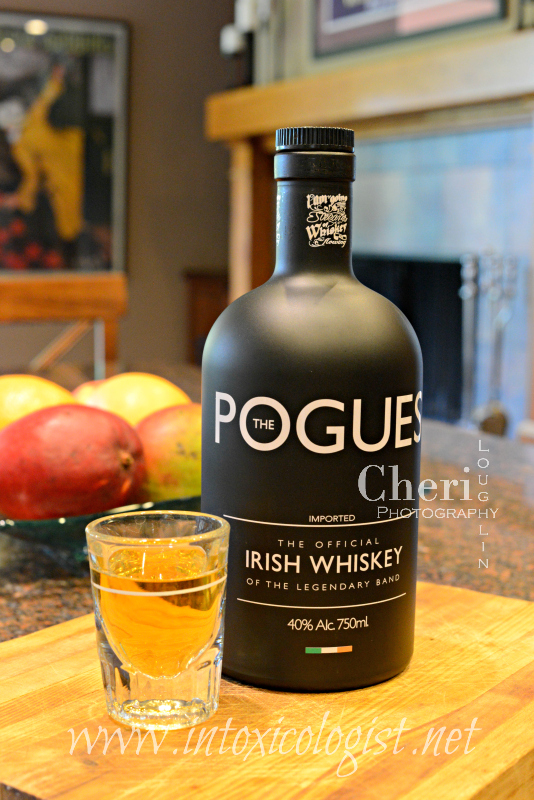 The Pogues Irish Whiskey is named after the band of the same name. You can learn more about the band here. The whiskey is a blend of single malt Irish whiskey aged in sherry oak casks, bourbon oak casks and an Irish grain whiskey aged in bourbon oak casks. It is bottled at 40% abv / 80 proof. The color is straw to gold in color. There is no burn on the nose, but there is plenty of honeyed sweetness. Tasted neat there is more than a little burn. The spirit is light with lots of warming flavor. Again honeyed sweetness and notes of heather.
I found this Irish whiskey lacking in flavor compared to others. It retails for approximately $40 to $45. This price point is relatively close to Redbreast 12 year which retails for approximately $47 to $50. Given the choice, I would choose the heartier flavored Redbreast over The Pogues Irish whiskey.
Great quote on the bottle: "I am going where streams of whiskey are flowing." May we all follow that river.
Discover more about The Pogues Irish Whiskey here.
Afrohead Rum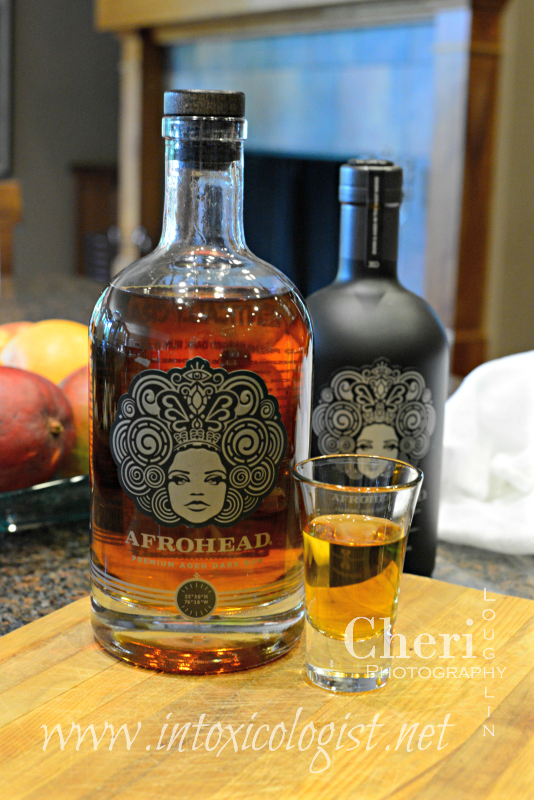 Afrohead is premium aged dark rum from the West Indies. Saying on the bottle: "Born and aged in the West Indies. Treasured all over the world."
Afrohead Rum aged 7 years is auburn in color; deep brown with lovely red hues. There is burnt sugar, deep molasses on the nose with warming sharpness, but no burn. Tasted neat there is little if any burn. It contains chocolate and molasses flavors. It's deeply rich making it a nice little sipper. There is a touch of vanilla in the flavor with barely there hint of cherry. Gently spice gives it a nice warming touch. It is bottled at 40% abv / 80 proof. Afrohead 7 year retails for approximately $35 to $45 per 750ml bottle depending upon point of purchase.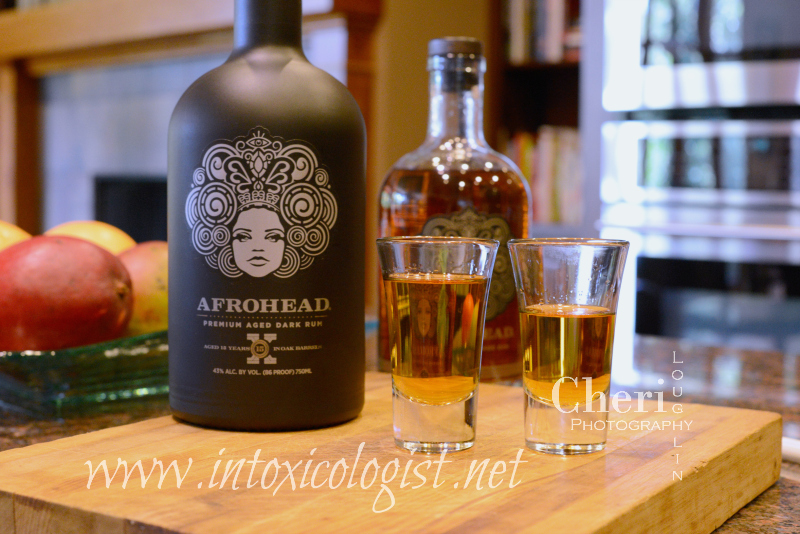 Afrohead Rum XO aged 15 years is bottled in a sleek, black matte finish bottle. It is bottled at 43% abv / 86 proof. The color is almost identical to the 7 year. Aroma is lighter on molasses and contains a bit of honey. The flavor is sweeter than the 7 year, but more flavorful. It is exceedingly smooth tasted neat. There is sharpness in the flavor with rich molasses, brown sugar and some earthy herbal and green banana flavors. Afrohead XO retails for approximately $45 to $60 per 750ml bottle depending where you buy it.
Overall I liked both rums. Each could be used in mixed drinks, but sipping over ice allows the full flavor effect to shine through.
Learn more about Afrohead Rum here.
Kahlua Midnight Coffee Liqueur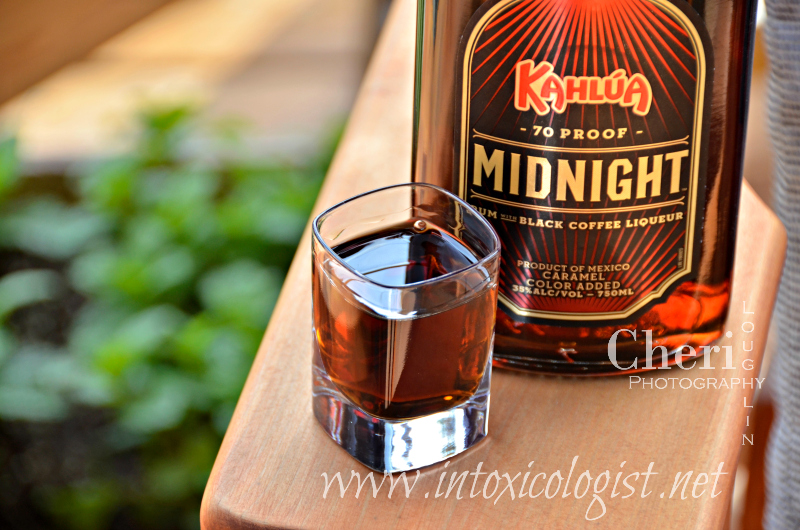 I purchased Kahlua Midnight on my own.
Kahlua Midnight is rum with black coffee liqueur. It is bottled at 35% abv / 70 proof. The color is that of dark cocoa with fringes of red highlights. The aroma is deeply rich with dark coffee flavor. The taste is also rich coffee with sweetness shy of overkill. There is a bit of caramel and vanilla in the follow through and the tiniest hint of orange.
Kahlua Especial is my go to coffee liqueur. After running out of the especial version, I tried the midnight expression. These two coffee liqueurs are nothing alike. Though Kahlua Midnight has exceptional flavor, it does not compare to the dark coffee flavor of Kahlua Especial. Kahlua Especial is sharper in flavor with less sweetness on the tongue. I prefer it hands down to any of the other coffee liqueur flavors.
Kahlua Midnight and Kahlua Especial both retail for approximately $22 to $25 for a 750ml bottle. Find more Kahlua flavors and recipes here.
Master's London Dry Gin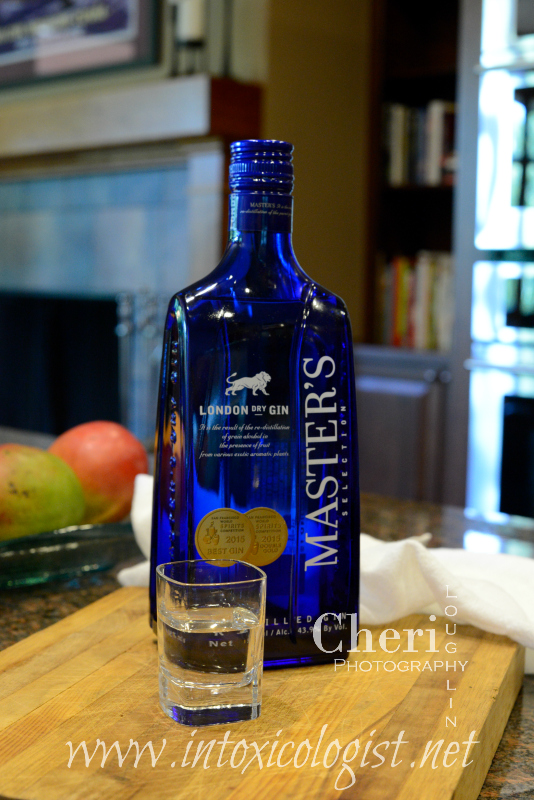 Master's London Dry Gin is bottled at 43.9% abv / 87.8 proof. The aroma is earthy, sharp and herbal with no burn on the nose. There is nice viscosity in this spirit. It is lush and full-bodied with vanilla richness, medium pine, hints of floral and a tiny bit of sweetness. This retails for $20 to $25 for a 750ml bottle.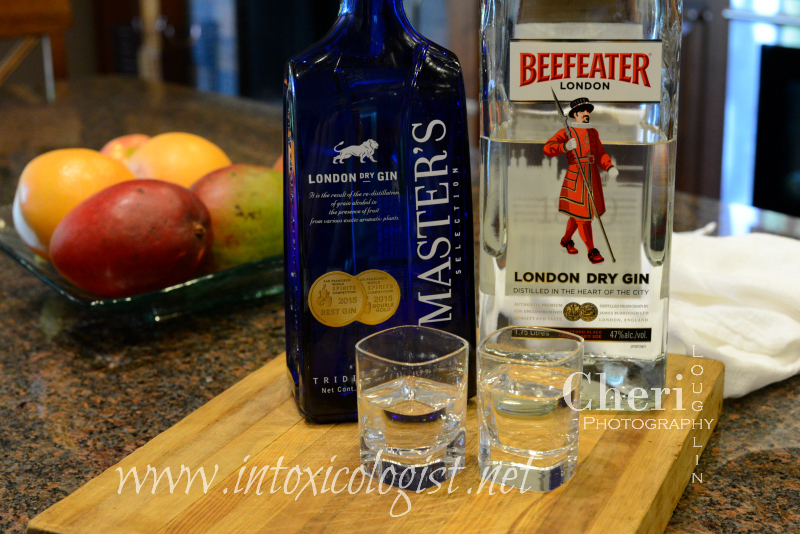 For comparison I tasted Beefeater London Dry Gin side by side the Master's. These are not the same spirits by any means, but I wanted to taste test the Master's with another well-known London dry gin. Beefeater's aroma is light with faint herbal notes. The flavor is softer and sweeter. Pine is present, but duller than Master's. I also detect a hint of vanilla. Beefeater Gin retails for approximately $20 to $25 for a 750ml bottle.
Master's London Dry Gin is more gin-like in the aroma. It contains thicker viscosity with roundness in the mouthfeel. It is sharp and crisp with more pine and earth flavors. Beefeater is softer, yet contains more burn. There is less layering of flavor than the Master's. It is lighter in feel, though the alcohol by volume is 47% abv / 94 proof.
Each gin is perfect for martinis and mixed drinks. Beefeater is a bit milder in flavor for those starting out on gin, but beware the higher alcohol content. Master's is truly impressive in flavor, making it excellent for martini's or sipping on the rocks.
Find out more about Master's London Dry Gin here and Beefeater Gin here.
Tarantas Wine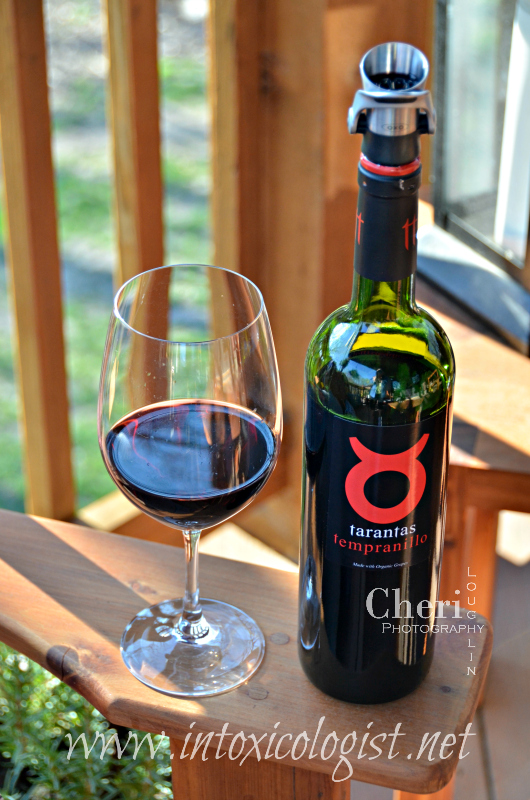 Tarantas Tempranillo wine is made with organic grapes. It contains nice garnet color with purple hues that sparkles beautifully in the sun. There gentle notes of cherry and spice on the nose. The wine is a bit thin with tart cherry flavor. Tart enough to make my lips pucker with the first few sips. There is deep oaky vanilla in the background with earthy notes. This is a bit of a pucker inducing wine.
Read about more Tarantas wine expressions and recipe pairings here.
Vin Vault Premium Box Wine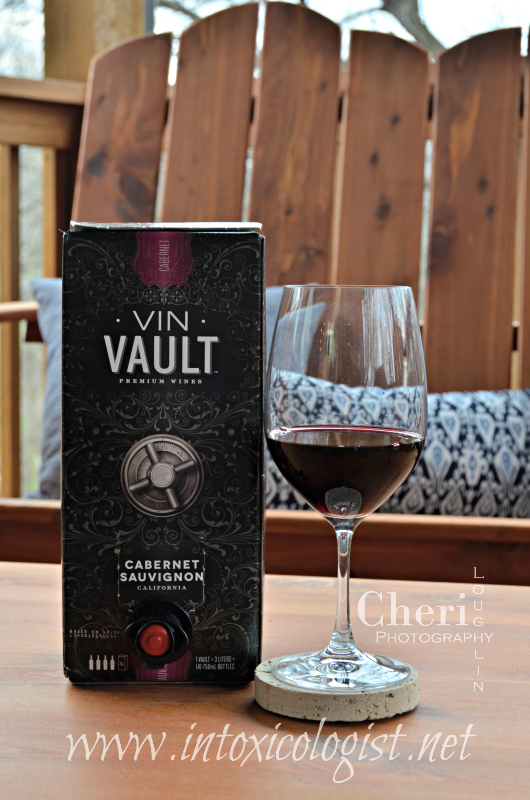 Vin Vault Cabernet Sauvignon comes in an easy to carry 3L box. That breaks down to 4 bottles of wine per box. It would certainly be easier to carry one box of wine to picnics, parties and tailgates than it is to pack four glass bottles. But how does it taste?
The color is rich purplish red. There are dark berry flavors and hint of cassis in the aroma. The flavor comes across with medium sweetness. There are dark cherry, ripe blackberry and mocha flavors in the finish. There is also the faintest hint of tartness in the follow through. Over all this boxed wine is palatable, yet nothing entirely inspiring. It's drinkable and enjoyable, but its biggest selling point by far is the price point for the amount of wine in the box and of course the ease of transporting it to get-togethers with friends. Above tasting notes were taken as soon as the box was opened. We sipped on this wine for a few nights and then allowed the remainder of the box to sit for later tasting. Two weeks after the box was originally opened, the wine still had a little bit of fresh taste to it, but was beginning to fall a little flat.
Vin Vault Premium Box Wine retails for approximately $20 to $25 for 3L box. Since the box holds the equivalent of four bottles of wine, that makes the price point per bottle around $5 to $6.25 per 750ml. Find more Vin Vault wine expressions here.
Barista Wine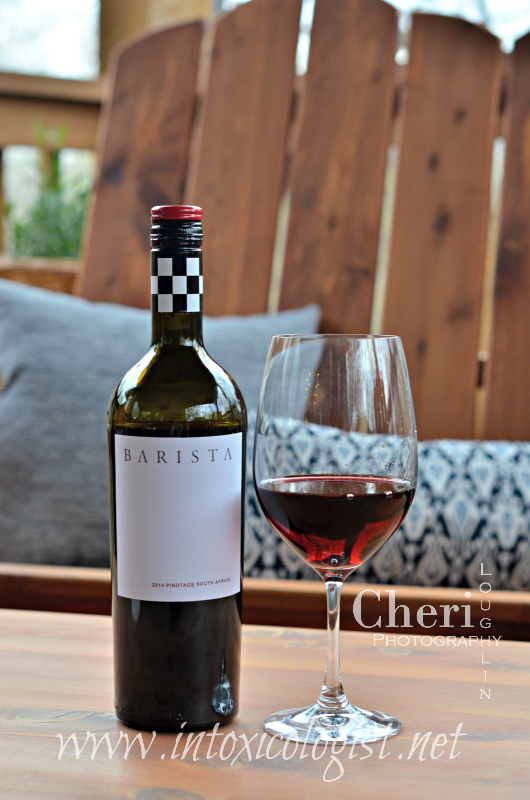 I purchased Barista 2014 Pinotage South Africa on my own due to the name and description on the back of the bottle.
Description from the back of the bottle, Barista 2014 Pinotage South Africa: "A burst of intense rich coffee and chocolate aromas with rippe nuances of mulberry, plum and Maraschino cherries" 13% abv / 26 proof.
This wine is garnet red with purple hues. The aroma wafts vanilla, light coffee and mild chocolate. There is a hint of cherry in the nose. The wine is a tad tart at first taste. It definitely captures hints of coffee and cherry. It is a little thinner than I expected. This finished out with lightly tart cherry flavor. Sweetness is minimal. There are faint floral notes such as rose blossom or peony. Sweet in aroma and light in the taste. Strawberry comes through with a little tart rather than juicy sweetness.
Subscribe to the monthly Newsletter
All content © 2016 Cheri Loughlin, The Intoxicologist. All Rights Reserved. Chat with Cheri instagram.com/theintoxicologist and facebook.com/Intoxicologist
Spirit Review Roundup June 2016