Just in case your mother prefers something more substantial, Mom's Sweet & Spicy Bloody Mary is just the ticket. Mom can slowly sip on this while basking in the lap of luxury (that means snuggled between the covers of her own bed while reading a good mystery in silence).
Mom's Sweet & Spicy Bloody Mary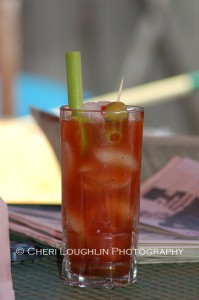 2 ounces 10 Cane Rum
4 ounces Bloody Mary Mix
Dash of Classic Bitters
Celery Stalk, Olive, Lime Garnish
Combine rum and bloody mary mix in mixing glass with ice. Shake to mix. Pour into highball glass. Add dash of bitters. Garnish with celery.
Recipe provided by representatives of 10 Cane Rum
Cheri Loughlin is a leading cocktail and photography resource for beverage companies, event planners, businesses and individuals. High resolution cocktail and beverage stock photography images are available in downloadable digital format in the newly redesigned Stock Photography Gallery at www.cheriloughlin.com.
Twitter, Facebook, StumbleUpon – str8upcocktails @ gmail.com – ©2012 Cheri Loughlin-The Intoxicologist, All Rights Reserved. All opinions, reviews and spirits' coverage are the personal opinion and decision of Cheri Loughlin.