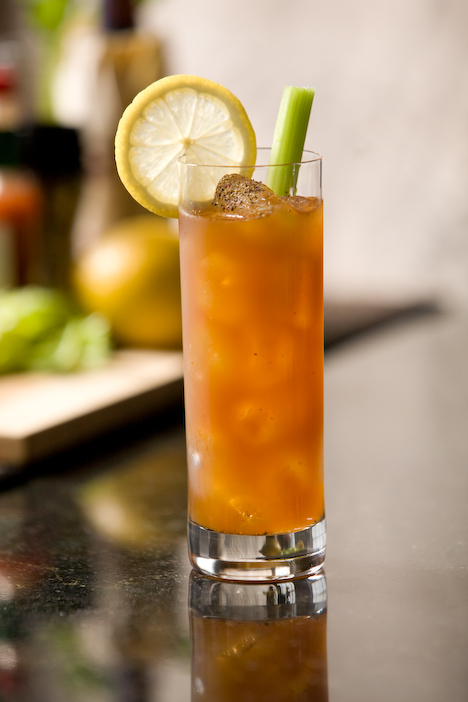 The "morning after…" calls for a Morning After Bloody Mary! Make a Cry Me a River morning after Bloody Mary and call me in time for the next Happy Hour!
Photo and recipe provided by brand representatives.
But seriously, the morning after begins with regret for partying too hard, lack of sleep, remembrance of good times shared with friends and the wish to do it all over again…soon!  Mornings like this call for a fresh brewed pot of strong coffee followed by a nicely balanced cocktail built Bloody Mary style.  Aptly named for its ability to adapt to the varying degrees of morning after situations, Cry Me a River fits the bill for full flavored simplicity; just what the doctor ordered.
Cry Me a River
1-1/2 ounce OVAL Vodka
1/2 ounce Red Vermouth
1/4 ounce Fresh Squeezed Lemon Juice
Dash of Worcestershire Sauce
Dash of Tabasco Sauce
4 ounces Spicy V-8 juice
Pepper
Lemon Wheel & Celery Garnish
Place liquid ingredients in cocktail shaker with ice. Shake to blend. Strain into highball glass over fresh ice. Dust with pepper. Garnish with lemon wheel and thin slice of celery.
Subscribe to the monthly Newsletter
All content ©2016 Cheri Loughlin, The Intoxicologist. All Rights Reserved. Chat with Cheri @Intoxicologist on Twitter and facebook.com/Intoxicologist
Cheri Loughlin is the Omaha writer and photographer behind www.intoxicologist.net and author of Cocktails with a Tryst: An Affair with Mixology and Seduction. You can email Cheri with comments and questions at str8upcocktails@gmail.com.
Cry Me a River Morning After Bloody Mary Cocktail