With Agent 007 making the news with his preference for vodka martinis (shaken not stirred) I went in search for the "perfect" martini.  What I happened upon is a very interesting survey.  One hundred bartenders from top clubs and restaurants across the country were asked specifics on what makes a great martini.  Hardly a scientific study, but the results are intriguing.  As one who once stood behind the bar serving drinks while listening to the triumphs and woes of those who choose to imbibe as well as those designated as drivers, bartenders have a finger (or shaker) on what people tend to order most frequently.
Martinis may have started out as a gin based drink, but now they are primarily created with vodka.  58% of the bartenders surveyed rely on the shake method, while 22% said it didn't matter.  A well chilled martini is most important.  Experts recommend in-home bartenders shake their martini for twenty seconds for the best results.  The most unclear area of the entire study is in the "how dry" section.  Is the perfect martini glass "coated" with vermouth, does it use "a few drops" of vermouth, "a whisper" or a half-ounce or more?  The clear answer of course is up to the consumer.  The more vermouth one uses, the more the martini will taste like smooth water rather than retain the characteristics of the premium vodka.  Most bartenders serve their martinis straight up, preserving the integrity of the drink.  They overwhelmingly serve in chilled glasses.  Garnish is always last, sometimes overlooked in other cocktails, but never neglected in a martini.  The olive is the number one preferred martini garnish, with lemon twist, then lime, bleu cheese stuffed olive and lastly an orange slice.  The varieties of garnish are endless. 
With the "how to" out of the way, the number one question becomes ingredient.  We already know the clear choice is vodka, but which one?  The survey came from Jean-Marc XO, The World's Finest Vodka.  According to The Beverage Tasting Institute, Jean-Marc XO is "a startlingly flavorful and elegant vodka that clearly pushes the limits of the unflavored vodka category.  Truly world class, expertly made and unique vodka."  They gave Jean-Marc XO a rating of 97.  I found only one other vodka on The Beverage Tasting Institute's listing within the 96 – 100 rating range. 
With more research one finds Jean-Marc XO is luxury vodka distilled nine times in French copper Alambic stills in the Cognac region of France.  The complexity of wheat flavors is derived from four of the finest French wheat varietals available combined with natural spring water filtered through Grande Champagne limestone.  It is the limestone that partially gives Jean-Marc XO its lengthy, elegant feel.  There are hints of anise and sweetness in this smooth confection.  The silky texture, intricacy of flavor and multifaceted aroma coalesce for a vodka experience like no other.  While Jean-Marc XO is intended to be sipped neat, it is excellent for the straight up Martini. 
With a little creative indulgence based on the survey the perfect martini might look a little something like the following:
Jean-Marc XO Martini – adapted by Cheri Loughlin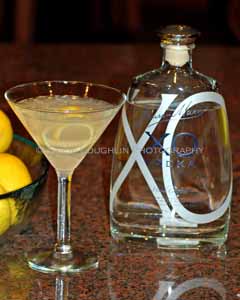 2 ounces Jean-Marc XO Vodka
Misting to 1/2 ounce Dry Vermouth
Lemon Twist Garnish
Place ice in a chilled martini glass.
If you prefer to coat your glass with vermouth, add vermouth to the iced martini glass.  Set the martini glass aside while preparing the vodka.  Place ice in a cocktail shaker filled with ice.  Shake vigorously for 20 seconds.  Toss ice and vermouth out of martini glass.  Strain vodka into martini glass.  Garnish with olive.  If you choose a lemon or lime twist, it is best to zest your lemon or lime over the glass quickly just before straining the vodka into the glass.  This way all the essential oil zests into the glass for the freshest taste. 
If you prefer more than a vermouth coating on your glass, place the desired amount of vermouth in the cocktail shaker with the vodka.  However, be sure to keep your martini glass chilled whether it is in the freezer or by filling it with ice.  Shake vodka and vermouth over ice in the cocktail shaker for 20 seconds.  Strain into martini glass.  Garnish. 
Persistent search unearthed a few cocktail recipes as well. 
Smoking XO
1/4 ounce Laphroaig
Into a clean dry martini glass swirl until glass is coated pour out remainder.
Chill 3 ounces XO Vodka
Stain into prepared glass
XO Italian Style
In a shaker place ice
3 ounces XO Vodka
2-3 fresh basil leaves
Shake vigorously.  Strain into a martini.  Garnish with 3 balls of Bononcini.
XO Cherry
1/4 ounce Cherry Brandy
Into a clean dry martini glass swirl until glass is coated pour out remainder.
Chill 3 oz XO Vodka
Stain into prepared glass.  Garnish with a lemon twist
Pom XO
In a shaker filled with ice
Add 3 ounce XO Vodka
1/2 ounce Pomegranate Juice
Shake well.  Strain into a martini glass.  Garnish with a grapefruit twist.
Pear XO
In a shaker filled with ice
Add 3 ounces XO Vodka
1/2 ounces Pear Brandy
Shake well.  Strain into a martini glass.  Garnish with a lemon twist.
Cheri Loughlin is a leading cocktail and photography resource for beverage companies, event planners, businesses and individuals. High resolution cocktail and beverage stock photography images are available in downloadable digital format in the newly redesigned Stock Photography Gallery at www.cheriloughlin.com.
Twitter, Facebook, StumbleUpon – str8upcocktails @ gmail.com – ©2012 Cheri Loughlin-The Intoxicologist, All Rights Reserved. All opinions, reviews and spirits' coverage are the personal opinion and decision of Cheri Loughlin.
Is There Such Thing As a Perfect Martini? Jean-Marc XO's Survey Says