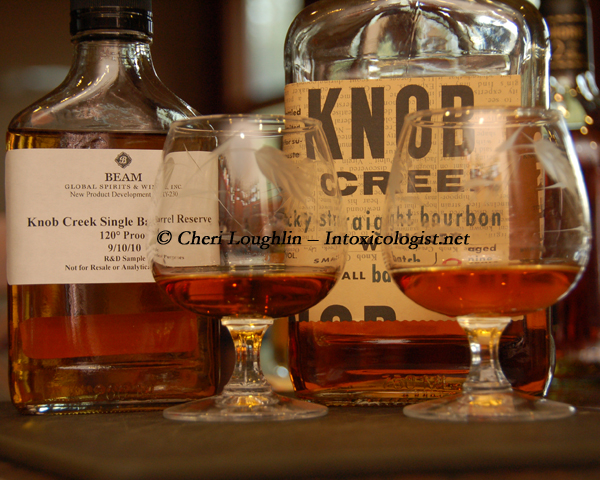 We've all heard of the starter wife. Well possibly Knob Creek Small Batch Bourbon is the starter bourbon and Knob Creek Single Barrel Reserve could affectionately be called the upgrade. Usually a starter wife is left for someone younger, less mature, thought to be more fun and exciting. With bourbon the opposite is true. A tryst with newer, more exciting means something more mature, worldly wise, bolder, possibly more daring. Go on, have the bourbon affair. There will still be the significant bourbon to hold faithful to the heart, but times that call for a little fling.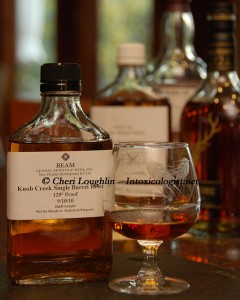 Knob Creek Single Barrel Reserve
120 proof
Color: Dark auburn, dark honeyed, slightly deeper than Knob Creek 9 year.
Aroma: Mellow. Not too burny on the nose. Cherry.
Tasted Neat: Caramels, cherry. Heat. Some notes of spice, but not overly so. Smoother than expected for 120 proof bourbon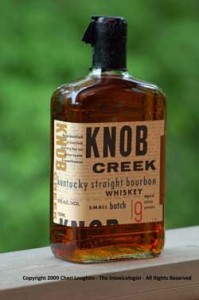 Knob Creek Small Batch 9 year
100 proof
Color: Caramel, but not quite as richly deep as Knob Creek Single Barrel Reserve
Aroma: Cherry notes, vanilla.
Taste: More burn. Cherry. Vanilla. Bit more ragged than smooth around the edges. Cherry seems stronger rather than as polished. There is a sense of the cherry being pierced right through the center with an extra gush of flavor such as vanilla or even added dimension to the existing cherry flavor such as cherry plus zing of maraschino cherry tucked away within. It's barely there, but there all the same. Vanilla breaks through in the end with great spicy kick that continues long in the finish.
Revisiting the Knob Creek Single Barrel Reserve version
This bourbon reminds me of the bottle someone reaches for in the liquor cabinet when they want the upgrade. It's the bourbon they want to serve Dad to show they've grown up past college life and into a real job. The upgrade to pour the father-in-law to prove his daughter married someone who knows a little something. An upgraded version shows a boss a person isn't ordinary or one of the pack. It's a person who ventures beyond, goes another step and will take a chance. This is Knob Creek Single Barrel Reserve.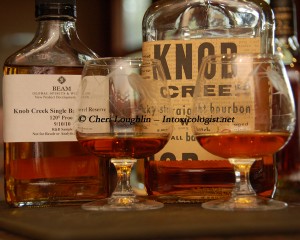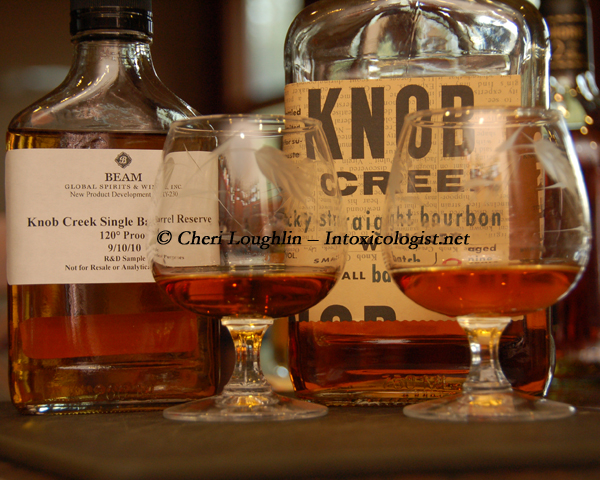 Knob Creek Single Barrel Reserve is an upgrade from Knob Creek small batch but doesn't venture so far from the mold that it loses its following. Rounder, smoother, higher quality, yet keeps with the spirit of the brand. It's also the bourbon to linger over rather than mix. It sips well.
So if you're thinking about that bourbon affair, go ahead. Try it, but don't leave Knob Creek Small Batch out in the cold. It's a faithful starter bourbon that shouldn't be left behind. It has served many bourbon lovers through the years during times on the rocks and those shaky and strained moments. Knob Creek Small Batch Bourbon sips well neat, on the rocks or parties like a rock star in cocktails.
Knob Creek Single Barrel Reserve sample for review courtesy representatives of Knob Creek Bourbon.  All opinions, reviews and spirits' coverage contained within are the personal opinion and decision of Cheri Loughlin, The Intoxicologist.

Find The Intoxicologist on Twitter, Facebook, StumbleUpon or Email: str8upcocktails@gmail.com – Copyright 2010 Cheri Loughlin – The Intoxicologist – All Rights Reserved
Bourbon Affair: Knob Creek Single Barrel Reserve