One of the featured flavors for the Three Olives O-Face campaign was Cherry.  The aroma leans more toward that of black cherry with a little sharpness rather than a lot of sweet.  There is virtually no burn in the nose as Three Olives seems to be a rather clean vodka.  Tasted neat it remains as clear and clean as the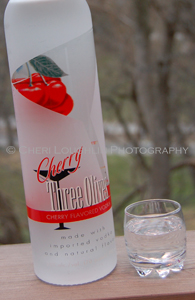 aroma represents.  Three Olives Cherry Vodka remains smooth, slightly sweet as vodka tends to be with a hint of dark chocolate cherry.  There is no alcohol burn even sipped at room temperature.  It soothes the throat as it slips down with thorough progression.  Since I mention the slight sweetness on the tip of the tongue and this is a flavor infused vodka I will mention it is not sugared vodka such as liqueur is obviously sweetened.  Many vodkas contain a hint, degree or fade of sweetness in the initial taste.
As with all Three Olives Vodkas the ultimate goal is satisfaction, an ultimate O-Face for 'O'bvious pleasure and delighted amusement.  Create your ultimate O-Face for stimulating party fun and entertain with the Cherry-O Punch, easily mixed for individual cocktails or punch style for parties.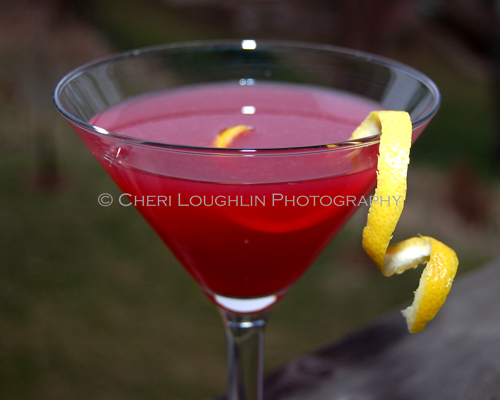 Cherry-O-Punch– created by Cheri Loughlin
2 measures Three Olives Cherry Vodka
1-1/2 measure Naked Cherry Pomegranate Power Juice
3/4 measure Fresh Lemon Juice
1/2 measure Peach Liqueur
Lemon Twist for Garnish
Combine all liquid ingredients in a cocktail shaker with ice.  Shake for fifteen seconds.  Strain into a martini glass.  Garnish with lemon twist.  If making this in batch form for a party: Mix ahead in a pitcher or punch bowl.  Serve over ice in small glasses.
Cheri Loughlin is a leading cocktail and photography resource for beverage companies, event planners, businesses and individuals. High resolution cocktail and beverage stock photography images are available in downloadable digital format in the newly redesigned Stock Photography Gallery at www.cheriloughlin.com.
Twitter, Facebook, StumbleUpon – str8upcocktails @ gmail.com – ©2012 Cheri Loughlin-The Intoxicologist, All Rights Reserved. All opinions, reviews and spirits' coverage are the personal opinion and decision of Cheri Loughlin.
Keep Up with Three Olives Vodka O-Face Contest with the Cherry-O-Punch