Due to site changes, some links have changed. The links below will take you to all current Three Olives cocktail posts with recipes.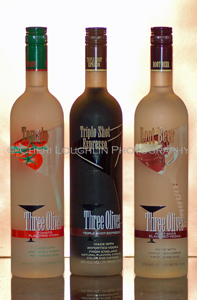 Review: Three Olives Tomato Vodka
Rangtang Vodka Leaves Powdery Tang Impression
Three-O Bubble Vodka Bubbles Over with Cocktails
Three Olives Vodka Chooses 'O' Face Finalists and Bounces Back with New Bubbles Vodka
Three Olives Root Beer Vodka: Definitely a Bomb
Three Olives Grape Vodka: Stirring Up Memories
Three Olives Triple Shot Espresso: Enriching Your Cocktail Experience
Follow the Three Olives Vodka tag for the most current posts about your favorite Three-O Vodka flavors.
Cheri Loughlin is a leading cocktail and photography resource for beverage companies, event planners, businesses and individuals. High resolution cocktail and beverage stock photography images are available in downloadable digital format in the newly redesigned Stock Photography Gallery at www.cheriloughlin.com.
Twitter, Facebook, StumbleUpon – str8upcocktails @ gmail.com – ©2012 Cheri Loughlin-The Intoxicologist, All Rights Reserved. All opinions, reviews and spirits' coverage are the personal opinion and decision of Cheri Loughlin.
Three Olives Vodka Wants to See Your O Face