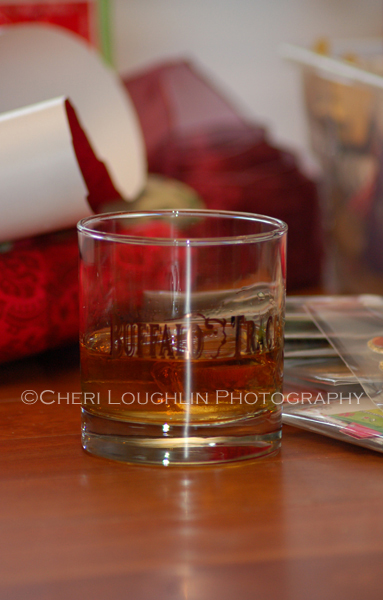 As I sit sipping a Buffalo Trace Manhattan looking at a nearly empty bottle with Bourbon Heritage Month almost over the thought that keeps skipping through my head…thank goodness Buffalo Trace Bourbon is available locally.  Not quite nationwide, but they're working on it I hear.
Buffalo Trace Bourbon's aroma is a little dry with a hint of cherry, orange and suggestion of cinnamon.  Possibly a wee bit of vanilla.  Not sugary, but not the slightest insinuation of bitterness either.  Come to think of it, the longer Buffalo Trace Bourbon sits in the glass the more aroma of clove comes to the forefront.  The flavor comes across highly sophisticated yet not pretentious or overwhelming.  The flavors meld in such a way that each is distinct without overtaking the other.  Buffalo Trace Bourbon comes together in perfect harmony, ideally balanced, beautifully blended.  This bourbon no doubt has been crafted to satisfy the palate of cutting edge bourbon enthusiasts and seasoned consumers alike.
Bourbon is often consumed straight, on the rocks or with a single ice cube, but in this day and age when cocktails reign supreme and classic drinks have come full circle in popular culture, it makes sense to shake things up a bit and pull a little Buffalo Trace Bourbon into the mix.
Brighton Punch Recipe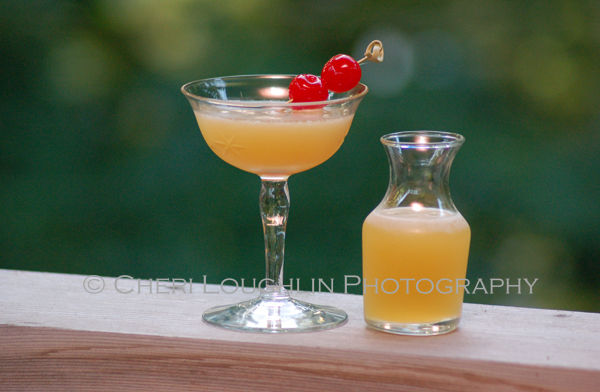 Brighton Punch – serves 2
1-1/2 ounces Cognac
1-1/2 ounces Buffalo Trace Bourbon
1-1/2 ounces Benedictine
2-1/2 ounces Pineapple Juice
2 ounces Lemon Juice
Pineapple Wedge & Cherry Garnish
Combine all liquids in a cocktail shaker with ice.  Shake to blend and chill.  Strain into two highball glasses over fresh ice.
I halved the recipe and served it straight up.  Brighton Punch has very pinapple-ish notes with small amount of Benedictine follow through.  Buffalo Trace only shows through in the warming effect.  However, this would definitely make a wonderful holiday cocktail party punch served over ice.  Definite sipper with a lemony tart bite that isn't overbearing.  An additional note: When a cocktail is just too large to savor cold for the duration of sipping at a comfortable pace, serve half of the cocktail in a sidecar.  Keep the sidecar in a small container of ice to keep the cocktail vessel chilled without watering down the liquid refreshment.
Low Calorie Wentworth Teenie Recipe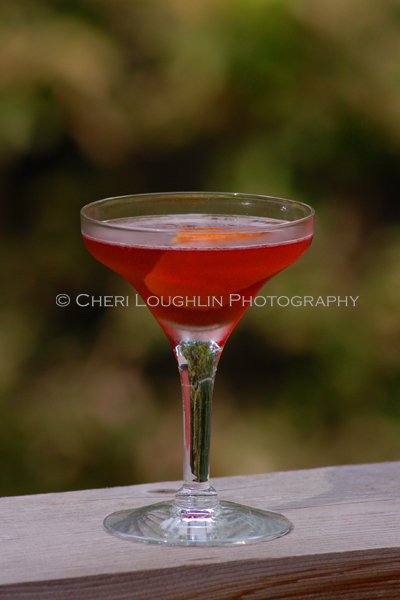 Because sometimes we want our bourbon cocktails and stay lower calorie – so men will watch our girlish figures and we won't have to…
Wentworth Teenie – recipe adapted by Cheri Loughlin, The Intoxicologist
1 ounce Buffalo Trace Bourbon
1 ounce Dubonnet Red
1 ounce Light Cranberry Juice
Orange Twist Garnish
Combine liquid ingredients in a cocktail shaker with ice.  Shake to blend and chill.  Strain into a cocktail glass.  Garnish with orange twist.
The Wentworth cocktail was created by Sharon Cooper at Harvest Restaurant in Pomfret, Connecticut, according to Difford's Guide #7.  Difford's Guide is a great cocktail resource by the way.  Pick one up if you don't have it.  The original recipe calls for regular cranberry juice.  One substitution of Light Cranberry juice turns the table on this cocktail making it a lower calorie cocktail of approximately 116 calories.  The flavor is lush and rich, so flavor hasn't given up in the substitution.  Beautiful and complex, yet easily sippable.  Vermouth stars, but Buffalo Trace Bourbon definitely carries the weight in this luxuriant cocktail.
Buffalo Manhattan via Omaha Recipe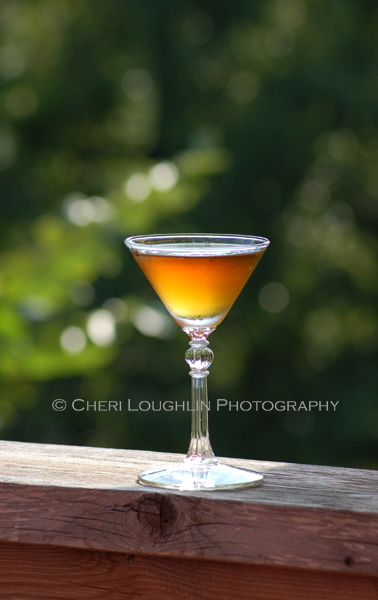 By the way, that Buffalo Trace Manhattan I'm sipping on:
Buffalo Manhattan via Omaha – recipe adapted by Cheri Loughlin, The Intoxicologist
1-1/2 ounce Buffalo Trace Bourbon
1/4 ounce Rye Whiskey
1/2 ounce Carpano Antica Formula
Dash Classic Bitters
Combine liquids in mixing glass with ice.  Stir.  Strain into old fashioned martini glass.  Sip for an extended period of time.  It's still fabulous as it warms.
If you haven't had the opportunity to sample Buffalo Trace Bourbon, do so.  Try it at the corner bar or take the plunge and order it online if it isn't available locally.  This bourbon is worth the wait, worth the order, worth the trip to the store.  It has terrific heritage behind the brand with many more classic to contemporary recipes to choose from should your palate drive you beyond the herd to try something a little cocktail diverse.
All content ©2009 Cheri Loughlin, The Intoxicologist. All Rights Reserved. Chat with Cheri @Intoxicologist on Twitter and facebook.com/Intoxicologist or str8upcocktails@gmail.com
Buffalo Trace Bourbon: Sophisticated Sipper, Cocktail Diverse