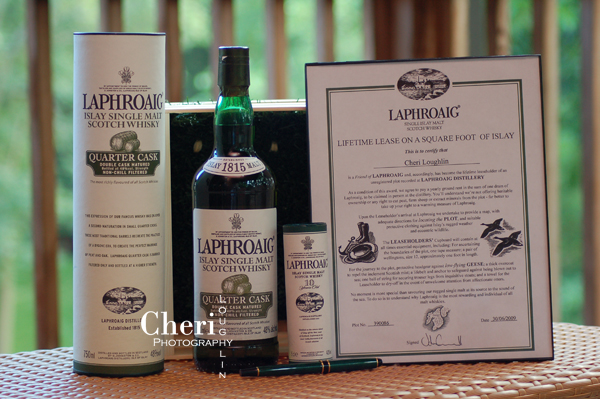 It really is of great joy to receive surprises from time to time. It is even greater joy to share them. The Laphroaig Quarter Cask arrived with no notice and took my breath away. Until now Laphroaig seemed to be the Scotch at the farthest end of the spectrum with its severe tones. It is a love or hate spirit that even hard core Scotch enthusiasts might have a difficult time inhaling without wrinkling their nose.
But the Laphroaig Quarter Cask changed my thinking.  This one is a liquor cabinet must for any Scotch lover. The smoke comes across just right, lighting a hazy fireplace tickle deep in the throat. It kind of reminds me of Lauren Bacall with her class and character.  Laphroaig is far from an easy sip, but it warms for the long haul; deep, honorable, worthy of one's judicious attention to the complexity of the spirit, yet willing to disentangle the soul for an evening of leisure.
Thank you Laphroaig!
Cheri Loughlin, The Intoxicologist
LAPHROAIG QUARTER CASK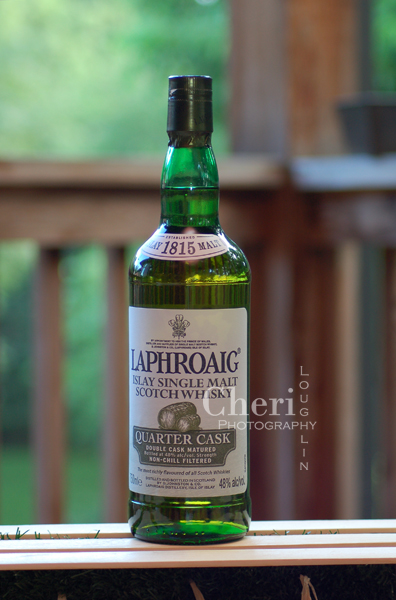 OVERVIEW: Inspired by the small casks used to make Scotch in the 19th century, Laphroaig Quarter Cask is a double-cask matured single malt whisky starting its life in standard American Oak barrels and ending in newly created quarter casks. Each quarter cask is approximately 17 gallons smaller than the American Oak barrels, allowing up to 30 percent more of the spirit to come in contact with the wood. It is this contact whereby the malt takes much of its individual character and style.
TASTING NOTES
Color Full sparkling gold
Nose Burning embers of peat in a crofters fireplace, hints of coconut and banana aromas
Body Full bodied
Taste Deep, complex and smoky yet offers and surprises the palate with a gentle sweetness
Finish Really long, and dries appropriately with smoke and spice
LAPHROAIG SINGLE MALT SCOTCH WHISKY ELEVATES SCOTCH ENTHUSIASTS' ONLINE EXPERIENCE WITH A DEDICATED SOCIAL NETWORKING COMMUNITY
Friends of Laphroaig Offers Exclusive Benefits, Connecting Like-Minded Spirits Worldwide
Deerfield, Ill. (July 7, 2009) — As people around the world flock to mass social networking sites like Facebook® and Twitter®, a dedicated community of Scotch enthusiasts has flourished online for more than 15 years. Friends of Laphroaig, the original online community for Laphroaig® Single Malt Scotch Whisky lovers, is elevating the online experience by engaging the senses and offering the opportunity to connect with more than 364,000 like-minded Scotch fans, spread across more than 150 countries. Despite its growing size, Friends of Laphroaig remains a tight-knit "village" of brand aficionados. Virtual friends and geographic neighbors meet and gather daily at www.laphroaig.com to share exciting, exclusive benefits, including a lifetime lease of Distillery land on the island of Islay, Scotland.
"Much like Laphroaig, a Friend of Laphroaig is an individual with extraordinary character," said John Campbell, Laphroaig Distillery Manager. "Such a person deserves a sophisticated online destination to share the Laphroaig experience with friends with similar discerning tastes."
From satellite positioning to Web cams streaming video in real time, Laphroaig uses the latest technology to keep friends informed about the latest bottlings and Distillery news and to create connections and conversations with Scotch enthusiasts worldwide. The Friends of Laphroaig online community features interactive social networking elements allowing Scotch fans to quickly and easily share photos, send private messages and discuss tasting notes with one another.
OWN A PIECE OF SCOTLAND
Have you ever wondered what it was like to own a piece of real estate abroad? Laphroaig offers a lifetime lease of one square foot plot of land on the Island of Islay to each consumer who buys a bottle of Laphroaig. By registering the purchase number found on the bottle, Scotch enthusiasts automatically become a member of the Friends of Laphroaig community and will receive the deed to their numbered plot of land. Friends are encouraged to visit the Distillery to view their plot and claim their "rent" – a dram of Laphroaig! Over the years, the plots have served as sentimental ground for members' lives, including a marriage between two Friends of Laphroaig. Members can browse the online registry of plot owners to connect with their Islay neighbors.
"Offering our Friends a lease on the Laphroaig estate is like inviting a family member into our home," said Campbell. "We make people feel like a part of the Laphroaig experience."
INTERACTIVE MEMBER MAP
View aerial photographs to find your plot of land and meet your neighbors! You may find a Friend in your hometown, or on the other side of the globe. Share photos, send private messages and plan a meet-up among Friends in your own neighborhood.
LAPHROAIG TV
Laphroaig TV offers a look inside the Distillery and exclusive previews of limited-edition expressions. Live online tastings and educational seminars offer Friends of Laphroaig around the globe a deeper understanding of one of the most richly flavored malt whiskies.
To become part of Friends of Laphroaig or to learn more about the award-winning Laphroaig portfolio, visit www.laphroaig.com.
About Beam Global Spirits & Wine
Inspiring conversations around the world, Beam Global Spirits & Wine, Inc. is building brands people want to talk about. Consumers from all corners of the globe call for our brands, including Jim Beam® Bourbon, Sauza® Tequila, Canadian Club® Whisky, Courvoisier® Cognac, Maker's Mark® Bourbon, Laphroaig® Scotch Whisky, Cruzan® Rum, EFFEN® Vodka, Larios® Gin, Whisky DYC®, Teacher's® Scotch Whisky, DeKuyper® Cordials and Liqueurs and Knob Creek® Bourbon. Beam Global Spirits & Wine is part of Fortune Brands, Inc. (NYSE:FO), a leading consumer brands company recently named one of the World's Most Admired Companies by Fortune magazine. For more information on Beam Global Spirits & Wine, its brands, and its commitment to social responsibility, visit www.beamglobal.com and www.drinksmart.com
All content ©2014 Cheri Loughlin, The Intoxicologist. All Rights Reserved. Chat with Cheri @Intoxicologist on Twitter and facebook.com/Intoxicologist or str8upcocktails@gmail.com
Laphroaig Single Malt Scotch: Own It, Sip It, Network It