Game day is all about ease of preparation no matter whose turn it is to make a mad dash for the kitchen during commercial breaks or those nail biting moments when referees are reviewing plays.  Bacardi Rum drink recipes take the worry out of the time crunch and place the flavors you love into the cocktail glass.  Classic cocktails have certainly seen their share of comeback drinks with Manhattans and the Old Fashioned, but on game day there is just something that speaks to 'classic' with the 'whoosh' of a fresh bottle of Coke twisting open just before it splashes into a nicely iced glass of Bacardi Rum.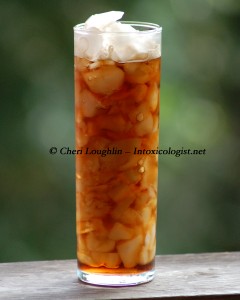 Bacardi & Coke
1 ounce Bacardi Superior Rum
3 ounces Coca-Cola
Build in a tall glass over fresh ice.  Lime garnish optional.
The interesting thing about the Bacardi & Coke drink recipe is the misconception that merely adding the lime wedge makes this particular version the original Cuba Libre.  It just isn't so according to sources at Bacardi.  The Original Bacardi Cuba Libre calls for the inclusion of Bacardi Gold rather than Bacardi Superior.  Different rums create an entirely alternate flavor interpretation of the same drink.  So, if you've been drinking your 'Cuba Libre' with anything other than Bacardi Gold this game day go for the Gold and sample it the way it was intended.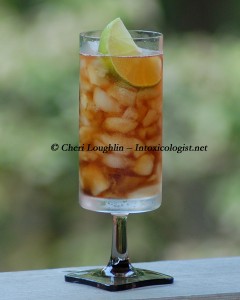 Original Bacardi Cuba Libre
1 ounce Bacardi Gold Rum
3 ounces Coca-Cola
Build in a tall glass over fresh ice.  Lime wedge garnish.
Some have been inspired by the tradition of legendary cocktails.  Cocktail Guru, Jonathan Pogash, used the Bacardi & Coke cocktail as structural basis for a seasonal combination that includes the darker, richer Bacardi 8 Rum, Espresso and bitters.  Put a little jolt in your usual game day mixer by bringing in a bit of zing to the glass Cocktail Guru style.
The Bacardi Cuba Libre – created by Jonathan Pogash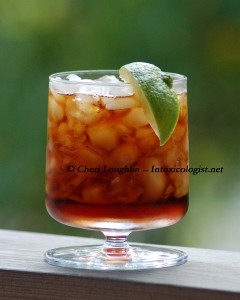 1-1/2 ounce Bacardi 8
1/2 ounce Strong Espresso
3 dashes Jerry Thomas Decanter Bitters
Top with Coca-Cola
Lime Wedge
Build ingredients in a highball glass over fresh ice.  Squeeze fresh lime garnish into the glass.
Cheri Loughlin is a leading cocktail and photography resource for beverage companies, event planners, businesses and individuals. High resolution cocktail and beverage stock photography images are available in downloadable digital format in the newly redesigned Stock Photography Gallery at www.cheriloughlin.com.
Twitter, Facebook, StumbleUpon – str8upcocktails @ gmail.com – ©2012 Cheri Loughlin-The Intoxicologist, All Rights Reserved. All opinions, reviews and spirits' coverage are the personal opinion and decision of Cheri Loughlin.
Bacardi Rum is Your Football Game Day Recipe for Success