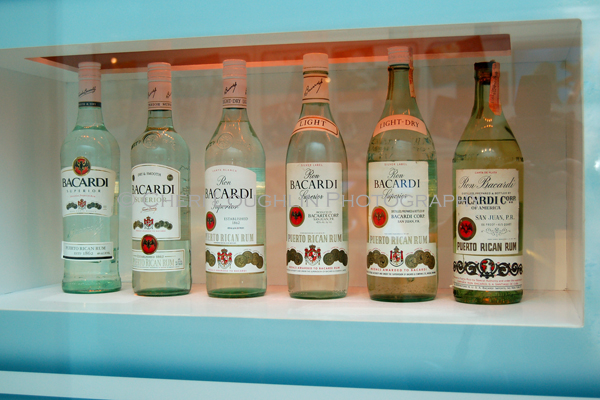 Casa Bacardi Visitor Center welcomes visitors with pristine white building, beautiful pillars, lush landscape and radiant walkways.  The doors are a gateway experience through the past, present and a glimpse of what the future of Bacardi holds for not only the brand, but the company and family.  What I experienced in visiting Bacardi is unity within the structure of staff.  This privately held family based company operates on an international scale, yet relates to each individual with openness and a giving spirit. 
Charles Rodriguez kindly led my small group through the exact tour hundreds take every day at the facility in Cataño, Puerto Rico.  The following is a sampling of the history behind the Bacardi brand, the infamous bat and what you will see when you visit Casa Bacardi Visitor Center, Catano, Puerto Rico.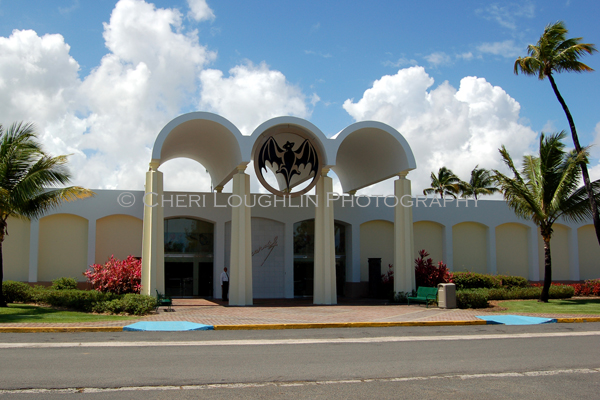 The four pillars leading into the Casa Bacardi Visitor Center represent each of the four Facundo Bacardi y Maso children; Amalia, the only daughter, and Facundo, Emilio and Jose, the three sons.
Tiled murals within the entry high above head play tribute to Bacardi advertising through the years.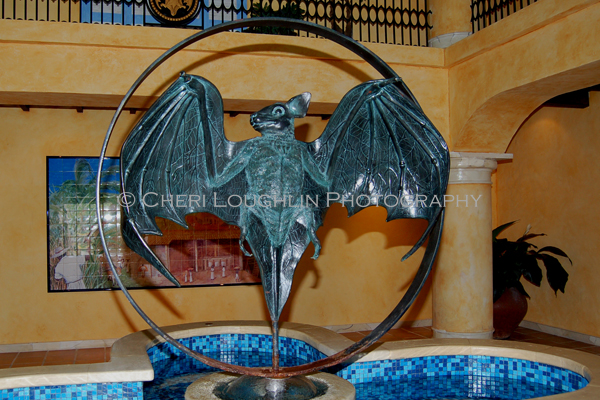 Upon entering the double doors, the Bacardi Bat radiates from the center of what resembles a Spanish Caribbean colonial courtyard.  Don Facundo used the Bat as the Trademark for his rum as an easily identifiable insignia.  His rum became known as "el Ron del Murcielago" or rum of the bat.  His rum was also proclaimed to be, "Better than any Cognac."  The bat is symbolic for good health, fortune and family unity.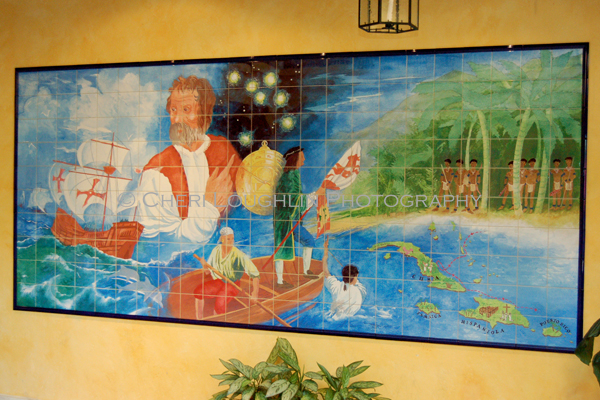 Three tiled works of art hang on the walls of the colonial courtyard surrounding the bat.  These illustrative stories tell of the three major milestones that took place in history that facilitated Don Facundo's experimentation with the distillation of rum. 
Christopher Columbus sighted land on his first trip to Americas on October 12, 1492. The land he discovered was San Salvador in the Bahamas. A few days later he discovered Cuba then modern day Haiti and the Dominican Republic. The following year, on his second trip, he discovered the island of Borinquen, which he named San Juan Bautista, today known as Puerto Rico. He wrote in his journal: "All the islands are very beautiful . . . but this last one seems to be superior to the others in beauty." Columbus brought with him sugar cane shoots from the Canary Islands. – Cited from Casa Bacardi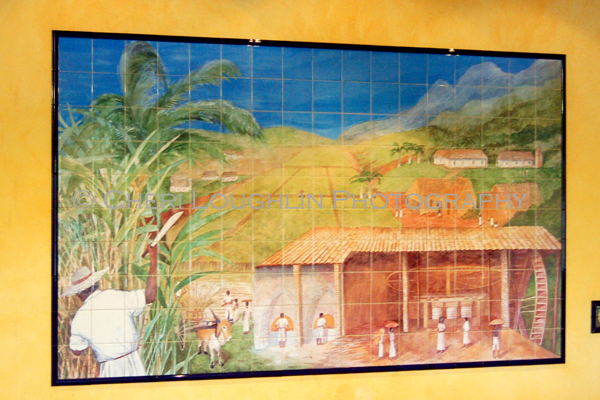 Sugar Cane originated in the Pacific island of New Guinea. The Moors brought it to the Canary Islands and in 1493, Christopher Columbus to the Caribbean. Puerto Rico's Governor, Juan Ponce de León, was one of the first to cultivate sugar at his farm, ten miles south of San Juan. In the 17th century sugar production increased when large numbers of slaves were brought from Africa to work the sugar plantations. A by-product of the sugar manufacturing process, molasses, was what was and is used for the manufacture of rum. – Cited from Casa Bacardi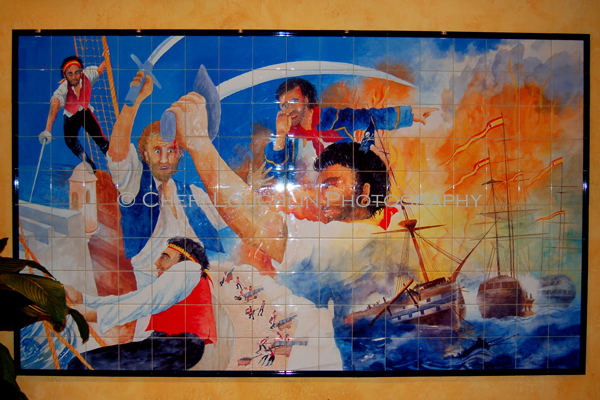 In the late 16th century, treasure-laden Spanish galleons proceeding from Mexico into the Caribbean were a natural target for privateers – commanders of pirate ships that were allowed by their governments to capture, attack and loot enemy vessels. It wasn't until 1856 that most European countries declared privateering illegal. Some of the most notorious pirates to visit to Puerto Rico were Captain Francis Drake and Captain François Le Clerc known as "Jambe Le Bois" for his wooden leg. Jambe Le Bois is also known for looting and sacking Santiago de Cuba. These pirates were known to drink a concoction called "Kill Devil" or "Rumbullion". This brooding and medicinal tasting alcoholic drink was a crude and rough predecessor of today's rum. – Cited from Casa Bacardi
There is an intriguing movie that lasts brief minutes once visitors pass through the colonial courtyard.  Unfortunately this is something I could not capture through photography, so it is a must see for your visiting pleasure.  The music is stirring as it takes one through a collage of Bacardi advertising history and then introduces the viewer to the history of the Bacardi family and company.  You will learn the reason behind the palm trees that grow so prevalently on the Bacardi property and the significance of a single palm withered and left behind in Cuba.  After the movie a reproduction of the distillation process awaits. 
Antique Production Process
Don Facundo Bacardí Massó immigrated to Santiago de Cuba in 1830 where he set up business as a wine merchant and importer. Within a few years, he began to experiment with the distillation of rum. After years of experimentation he achieved a breakthrough that revolutionized the manufacture of rum and eventually transformed it from a local Caribbean beverage into an internationally consumed spirit. The new type of rum, BACARDI, much lighter and milder than the local spirits, became the local favorite. On the 4th of February 1862, Don Facundo Bacardí and his brother, José, bought a rum-making operation — The First Distillery — for the modest sum of thirty-five hundred pesos. The price included a copper-cast iron still, or alembic, with the capability of distilling 35 barrels of fermented molasses in one day. – Cited from Casa Bacardi
Another room filled with generations of Bacardi family, stories, history and awards is merely steps away.  If our guide, Charles, could have stayed for hours there would have been stories upon stories to tell about each and every photo in this room.  These are the stories I would love to sit and listen to.  Perhaps one day…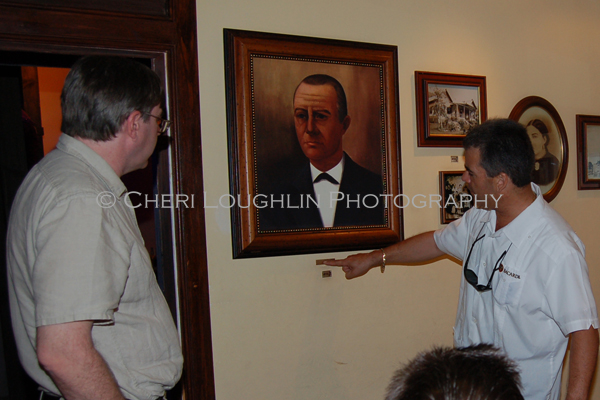 Don Facundo Bacardi Masso
Founder of the Bacardi Company
In 1830, at the age of fifteen Don Facundo Bacardí emigrated from Sitges, Catalonia to the handsome colonial city of Santiago de Cuba. On February 4, 1862 he established the Compañía Bacardi. Its products would soon delight kings, connoisseurs, and independent thinkers the world over. Don Facundo not only changed rum forever, he changed the way people drink and think about rum. By raising the quality of the product through attention to every detail of the process and, as a result, the quality of rum's image, Don Facundo created rum, as we know it today. – Cited from Casa Bacardi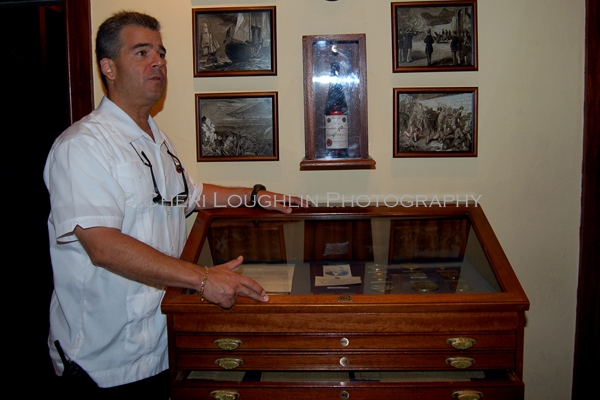 Bacardi Awards and Certificates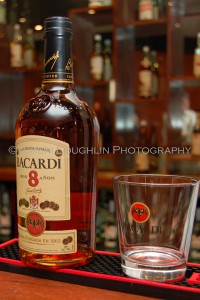 There are eight medals that appear on every bottle of BACARDI rum. The oldest was awarded in Matanzas, Cuba (1881), shortly after Don Facundo, the originator of the world's original premium light bodied BACARDI rums, retired as the founding president of Bacardi y Compañía. Other awards followed from international exhibitions in Paris (1889 & 1900), Bordeaux (1881), Barcelona (1888), Chicago (1893), Buffalo (1901), and St. Louis (1904).
The Bacardi Company is also honored to exhibit the Royal Spanish Coat of Arms on its labels. It was in 1888 when Her Majesty, The Regent María Cristina, conferred on BACARDI rums the distinction of "Purveyors to the Royal Household" of Spain. Four years later court physicians used BACARDI rum to cure her son, Alfonso XIII, of the influenza. The Royal Physician later wrote to the Bacardi family and thanked them for "making a product that had saved the life of his Majesty". – Cited from Casa Bacardi
Taste of Bacardi
Bacardi offers samplings of the Bacardi rums by way of aroma.  Since our palate is tempered by more than just taste it does wonders to sample the varieties side by side, comparing their similarities and differences in an alternate fashion.  Bacardi offers alcoves with small aroma containers with rum varieties inside.  Here visitors get the opportunity to sample lighter bodied rums, premium aged rums and the flavored rums of Bacardi.
Next up: The Lounge
The original Cuba Libre or Bacardi & Cola first came together in Old Havana after the Spanish American War.  An American military officer ordered Bacardi rum, Coca-Cola over ice with a lime wedge.  After enjoying a few he ordered a round for his buddies.  The drink became known as Cuba Libre, the most popular cocktail on the planet.  Interesting to note: The original Cuba Libre is not just Bacardi & Cola.  A traditional Cuba Libre uses Bacardi Gold Rum rather than Bacardi Superior.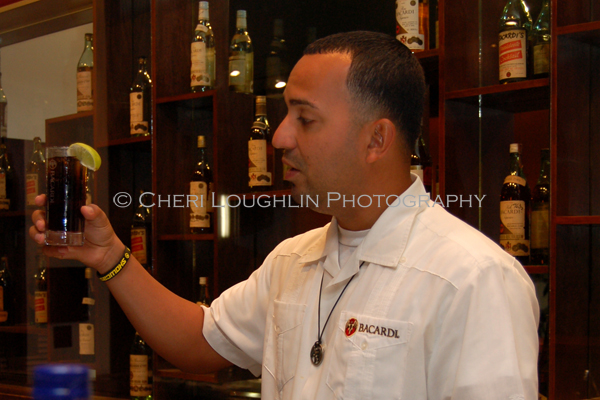 Bacardi & Coke
1 measure Bacardi Gold Rum
3 measures Coca-Cola
Wedge of Lime Garnish
Pour Bacardi into a highball glass filled with ice.  Add Coca-Cola and the wedge of lime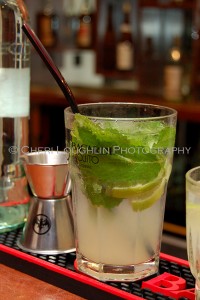 The Bacardi Mojito became popular in Cuba around the same time Don Facundo originated the Bacardi Light Rum.  The Mojito clearly remains popular as can be seen on cocktail menus the world over.  This sweet concoction of bruised mint leaves, sugar, lime juice, club soda and Bacardi Rum makes a fabulous spring or summer time sipper.
Bacardi Mojito
1 measure Bacardi Rum
12 Mint Leaves
1/2 Lime
4 teaspoons Sugar
2 measures Club Soda
Crush 12 mint leaves, sugar and a half a lime into a highball glass. Add ice and pour in Bacardi Rum. Fill with club soda.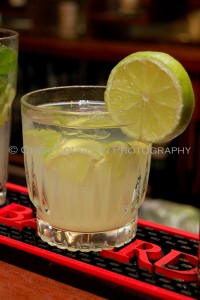 An American mining engineer seeking relief from Cuba's hot Caribbean sun developed the Bacardi Daiquirí at the same time as the birth of the Cuba Libre. After a long day's work in the Daiquirí iron mines, Jennings S. Cox took fresh lime juice, sugar, crushed ice, and Bacardi rum and mixed them into an overnight sensation. Then, in the nearby city of Santiago de Cuba, he named the cocktail Bacardi Daiquirí after the mines. – Cited from Casa Bacardi
Bacardi Daiquirí
3 measures Bacardi Rum
1 measure Lime Juice
1/2 teaspoon Sugar
Mix all the ingredients in a shaker with ice.  Frappe and serve strained on the rocks or mix all ingredients in a blender and serve in a chilled cocktail glass.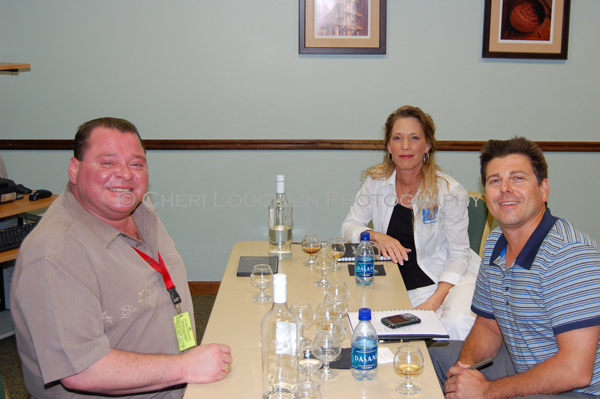 Why to ask for Bacardi by name
You have experienced a small photo essay of the Bacardi Visitor Center tour learning a tiny fraction of Bacardi history and how to make three of the Bacardi legendary classic cocktails.  What you may not know is a variation of the Bacardi Daiquirí is the Bacardi Cocktail which was also the subject of a 1936 court ruling that not only protects the Bacardi name, but ensures you as a consumer are entitled to receive exactly what you order when you walk up to a bar. 
At the time of the court ruling a restaurant owner was selling 'Bacardi Cocktails' without using Bacardi Rum.  Bacardi was just as highly regarded a brand then as it is now.  Protecting the family name and business was and still is a matter of honor and pride.  When you think about it, it is also protecting the consumer.  When we order Bacardi at a bar, we want Bacardi in our glass and not just whatever the owner or bartender feel like pouring.  The same may be said for any other brand whether it be vodka, whiskey, tequila or cognac.  Bacardi paved the way for the protection of all brands with this court ruling. 
Today, Bacardi Rums continue unchallenged as the only spirit which is truly 'The Mixable One.'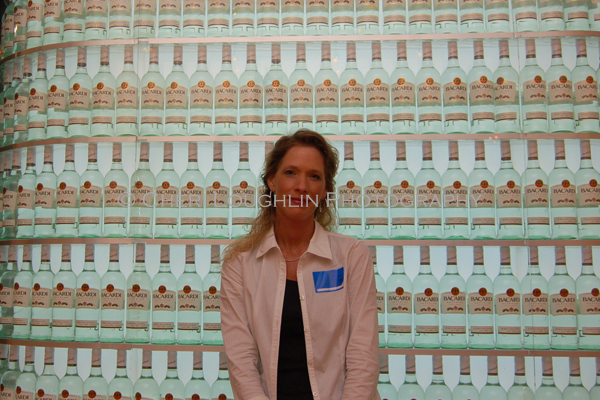 Of course Bacardi offers all their visitors two cocktails as a token of their appreciation for stopping by to tour the beautiful facility.  After spending time at Bacardi and around San Juan, I'm not sure where visitors will get a better offer.  The grounds are spectacular, the people welcoming and the history rich with a wealth of information if one chooses to soak it all in.  The gift shop is unlike any other with pricing well below what I have seen out on the open market.  To wonder if trekking out to Casa Bacardi is worth the experience is mind boggling.  I traveled from Omaha, Nebraska.  Not only was the visitor tour worth it, this was my second tour and I would definitely go back again.
Cheri Loughlin is a leading cocktail and photography resource for beverage companies, event planners, businesses and individuals. High resolution cocktail and beverage stock photography images are available in downloadable digital format in the newly redesigned Stock Photography Gallery at www.cheriloughlin.com.
Twitter, Facebook, StumbleUpon – str8upcocktails @ gmail.com – ©2011 Cheri Loughlin-The Intoxicologist, All Rights Reserved. All opinions, reviews and spirits' coverage are the personal opinion and decision of Cheri Loughlin.
Casa Bacardi Visitor Center – Cataño, Puerto Rico