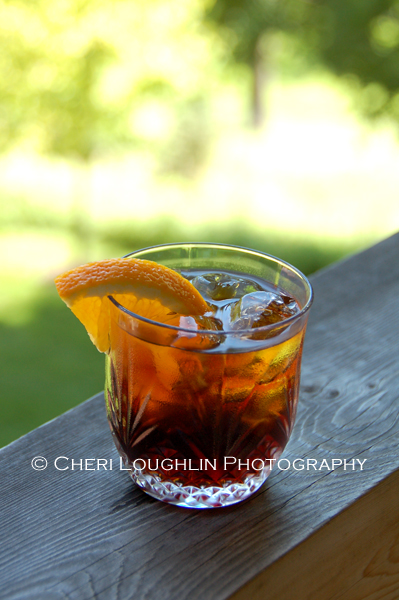 It comes as no surprise the classic Negroni is among the highest of favorite classic cocktails on The Intoxicologist site.  This classic has been stirred, shaken and built in various forms many times over with assorted spirits, aperitifs and inclusion of champagne topper.
Another slight remake of this delicious classic recipe appears in the New Classic Cocktails book by Gary Regan.  The book contains detail about how the recipe creation came about at the hand of Jason MacDonald, head bartender of Cinnabar in Los Angeles.  There is an extreme love for Campari running amok at Cinnabar, so a Negroni remake sounds like an obvious choice for cocktail conversion.
Cinnabar Negroni Drink Recipe
Cinnabar Negroni
2 ounces Campari
1 ounce London Dry Gin
1 ounce Sweet Vermouth
2 dashes Orange Bitters
Orange Slice Garnish
Place ice in an old fashioned glass.  Build cocktail in order given.  Stir.  Garnish with orange slice.
First confession – though Jason created this version with Campari, my love for Cynar won out and I immediately substituted Cynar for Campari to start.  Though this version of the classic Negroni flavors the tongue sweeter than I usually fancy, it overwhelms with such delicious zest and zing.  The sweet to bitter balance combines in rhythmic dance cohesively.  Flourishing.  Rich.  Divine.  I'll have another please.  Oh, and don't forget to nibble the Cinnabar Negroni soaked orange slice.
Subscribe to the monthly Newsletter
All content ©2015 Cheri Loughlin, The Intoxicologist. All Rights Reserved. Chat with Cheri @Intoxicologist on Twitter and facebook.com/Intoxicologist
Variation on a Classic: Cinnabar Negroni