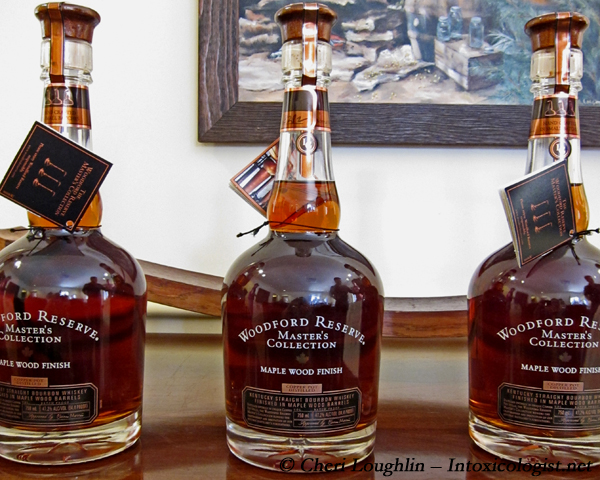 Woodford Reserve Bourbon is a small batch bourbon rather than single barrel spirit, meaning several barrels are tapped and carefully blended together to find the ideal Woodford flavor profile.  Every piece of carefully crafted aged stave that goes into the barrel, every day of maturation in the warehouse, every ounce of labor that sinks into the spirited liquid within the gleaming walls of the Woodford Reserve Bourbon bottle flows in graceful fluid movement from bottle to glass for complete fulfillment in every pour.
Woodford Reserve
Woodford Reserve Bourbon is the basis for each Woodford Reserve Master's Collection spirit.  This is the springboard from which each receives its inspiration.  Nut, caramel, apricot seed, lilt of rose petals, tinge of dryness on the tongue due to lack of overly sweet.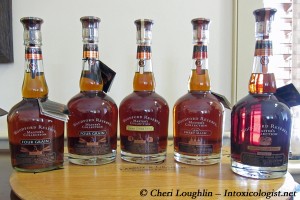 Woodford Reserve Master's Collection
The Master's Collection honors the rich history of the Woodford County distillery with its innovation and discoveries.  A continuation of innovative thinking and creativity is continually bringing new ideas and flavors to the forefront.  Woodford Reserve Bourbon introduced ultra-premium bourbons to the market with the Master's Collection Four Grain bottling and has continued to bring premium bourbon finishes to the forefront time and again.  Though these ultra-premium special bottlings are indeed rare and without repeat by the distillery, they should be savored and enjoyed rather than left to evaporated and deteriorate on a shelf for later generations.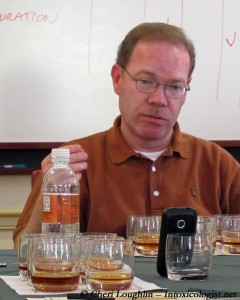 There are five flavor sources within the bourbon. Grain, water, fermentation, distillation and maturation.  Water is always continual.  Currently the distillation process for the Master's Collection is also a constant.  From that point the Master's Collection varies and finds distinctive paths for each flavor profile.
Four Grain
Uses different yeast than Woodford Reserve. Buttery, smooth, caramel, vanilla, butterscotch, subtle hints of cocoa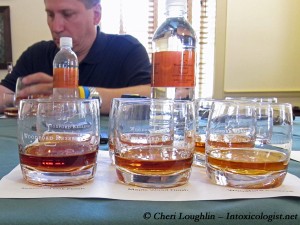 Sonoma-Cutrer Finish
Woodford Reserve Bourbon finished in California chardonnay barrels for approximately four to five months.  Subtle, sweet nose, chewy, hint of nut, buttery, vanilla
Due to strict rules governing what can and cannot be classified as bourbon, this particular finish is not classified as bourbon, but rather exactly what it says on the bottle: Kentucky Straight Bourbon Whiskey Finished in California Chardonnay Barrels.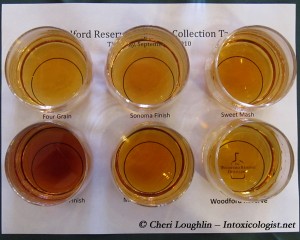 1838 Sweet Mash
Darker in color and drier on the nose than Woodford Reserve, sweet on the nose, thick on the tongue, sweet, bit of dark chocolate notes.
Seasoned Oak Finish
100 proof. Only 70 barrels. Double Barrel Bourbon.
Dark rich color. Scent of clove in the nose, possibly cinnamon as well.
Rich chocolate, cinnamon, clove, molasses, full and lush. Surprisingly not too much burn with the higher proof.  Anise and orange come through in the final taste after a few sips.  The anise is extremely subtle.  This is an intensely delicious finish. Definitely my favorite of all the ones tasted.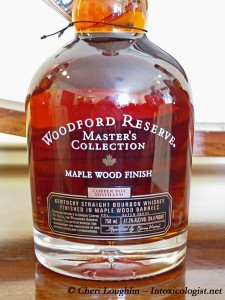 Maple Wood Finish
In choosing the Maple Wood Finish more than a few ideas went into the final thought process.  But the ultimate conclusion broke down to a few key elements.  The people behind the creative process wanted to use native trees to the state and place the bourbon into custom barrels rather than add sticks to the lot for flavor.  Keeping a complex product simple and user friendly meant finishing Woodford Reserve Bourbon with something everyone knows; Maple.  The Brown-Forman Cooperage built the first Maple barrels for bourbon use for the Woodford Reserve Master's Collection.  The flavor comes across complex, intertwines with the natural nuances of Woodford Reserve Bourbon and plays out well in the finish.
94 proof. 18,000 bottles available. $90 retail. Due to launch November 1, 2010.  The barrels have been toasted only, no charring. Caramel, chewy, grainy, nutty, medium finish, hints of blackberry and blueberry.  The Maple Wood Finish sips well as is, but also pairs extremely well in desserts, sauces, cocktails and savory dishes.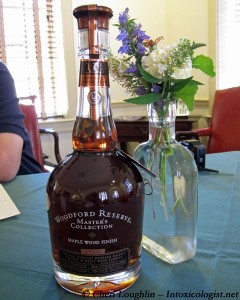 This Woodford Reserve Master's Collection rendition is also not bourbon, but rather in a class on its own: Kentucky Straight Bourbon Whiskey Finished in Maple Wood Barrels.
After tasting the Maple Wood Finish I went back for another taste of original Woodford Reserve Bourbon.  Ironically the Woodford Reserve Bourbon stood up even better in taste value than I had imagined possible.  In some cases when tasting degrees of goodness the base flavor will diminish in perceived flavor attraction compared to the enhanced varieties.  Balancing the Maple Wood Finish directly side by side with Woodford Reserve Bourbon saw a marked improvement in the original spirit.  More flavor notes were brought to the forefront that had gone unnoticed before and the spirit retained equal polish.  Quite impressive.
Woodford Reserve Bourbon is most definitely excellent sipped neat or on the rocks depending upon your preference.  However Woodford Reserve Bourbon also mixes terrifically in cocktails as was demonstrated during several tastings and food pairings throughout my stay in Kentucky as guest of Brown-Forman and Woodford Reserve Bourbon.  More photos and recipe ideas from my visit will be shared on site soon.
All opinions, reviews and spirits' coverage contained within are the personal opinion and decision of Cheri Loughlin, The Intoxicologist.
Sampling a Masterpiece: The Woodford Reserve Master's Collection