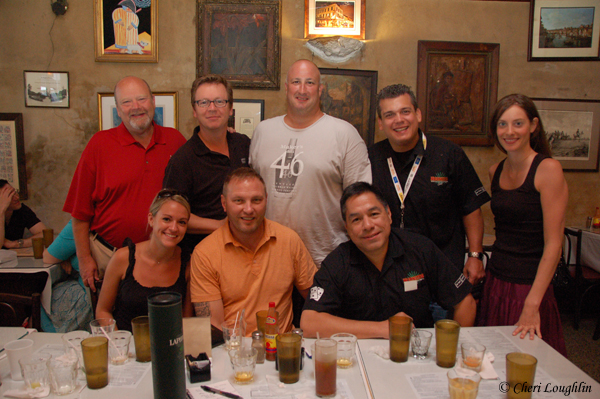 A recent discussion with a few Beam Global representatives led to interesting conversation about bourbon, cocktail creation, the thought behind the creative process, consumer education, what's in store for the brand, scotch, how to drink it, tequila, Lady's Night In parties…and the list goes on and on.  We'll get to all that here at The Intoxicologist, but for now it's all about the bourbon…
Bourbon Heritage Month celebrates bourbon as America's 'Native Spirit'.  The US Senate declared September 2007, National Bourbon Heritage Month.  The bill supports the 1964 Act of Congress declaring bourbon 'America's Native Spirit' which passed due to the legacy of tradition and family heritage the bourbon industry has weaved into American history.  Today, September 1, kicks off an entire month of bourbon celebration through festivals, toasts and spirited cocktails.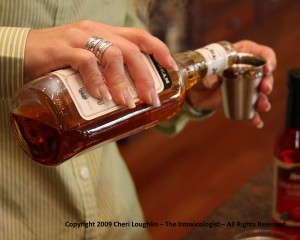 With people entertaining at home more now than ever it has been increasingly important for spirit brands to listen to the needs and wants of consumers.  The shift to at home entertaining as popular choice for consumers has kept spirit brands interested, engaged and on their toes.  It has infused renewed energy into product development and educational opportunities for consumers interested in learning more about the brands they regularly use.  The attention to detail brands have placed into their product marketing has come with a little backlash in some areas and great accolades in others.
Spirit brands threw more than a few consumers for a loop by venturing beyond traditional thought with the introduction of spirit infusions such as Red Stag by Jim Beam Bourbon.  Outcry was tremendous in some circles as traditionalists cried foul for spoiling the purity of good ole American Bourbon.
Cocktail recipes churned out by bars and cocktail competitions in recent years contain multiple hard to find ingredients with several tedious steps that make even adept bartenders cry foul at whipping up the recipe on the fly.  Infusions take time and investment of entire bottles of liquor for a drink that may or may not be to one's liking in the final outcome.
Time moves forward while continuing to take a glance back over the shoulder now and again.  Taking note of the way brands and bars have stood at attention and rolled with the punches of what consumers demand from the marketplace is interesting indeed.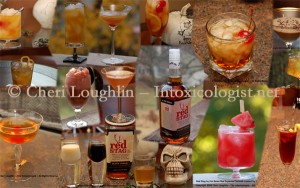 Red Stag by Jim Beam may have gone off the beaten track of classic style bourbon, but reaches to the roots of bourbon heritage by infusing fruit flavor into the bottle in the same way other spirit lovers infuse fruits and botanicals into their beloved bottles.  American bourbon lovers were placing bourbon and fruit in mason jars long before Red Stag by Jim Beam ever hit the front page of any review column.  Jim Beam just took the guess work of infusion out of the equation.  This in turn places two flavor ingredients in one bottle leaving one less component to the recipe.
Regarding the thought process behind simpler recipe creation, Armando Zapata, Beam Global's National Tequila Ambassador, said, "Never be too hip for the room."   That equates to flavorful drinks don't always require forty-seven ingredients layered to perfection.  It could be as simple as Red Stag and Lemonade or Red Stag and Ginger Ale.
Not all consumers visit Speakeasy style cocktail bars or entertain with swanky style martinis at the ring of five o'clock happy hour.  Many visit a local pub, casual bar they've become familiar with for a weekly wind down drink or relax in the comfort of their own home with a few friends while watching the ball game.  Simple is good.  But the 'Wow!' factor is in only needing one or two more ingredients for a cocktail that will really rock the soul Kid Rock style.
Bernie Lubbers, Whiskey Professor, captured the essence of melding long held tradition while embracing the flavor of a new generation of bourbon lovers.  His answer to those who question the thought process behind the creation of Red Stag by Jim Beam; "They didn't make it [Red Stag by Jim Beam] for me and they didn't make it for you."  Red Stag by Jim Beam ideally has been created for those who want a little diversion from tradition while continuing with the love of bourbon.  This flavorful infusion has also brought a new generation of bourbon lovers to the bar rail in much the same way contemporary gins have drawn in a new crowd of gin lovers.
What Jim Beam does make is something for everyone. As Fred Noe, Jim Beam Family Distiller, aptly pointed out, "If you can't find a Beam bourbon you like, you just don't like bourbon."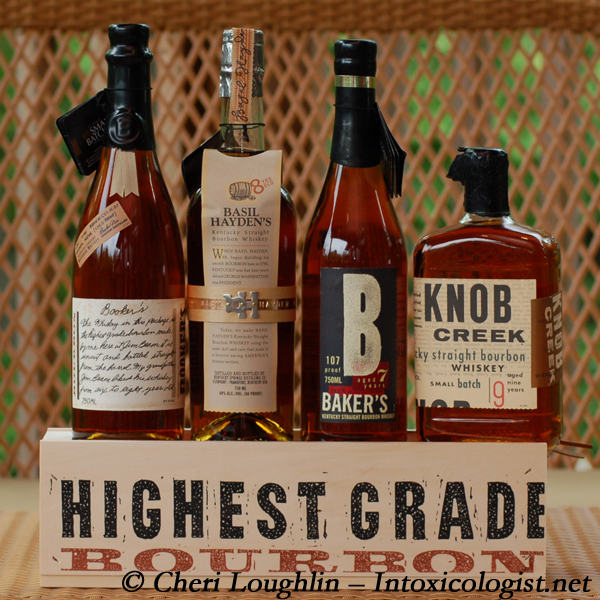 There are many bourbons to choose from in the Beam family line. There are the Small Batch Bourbons with Knob Creek, Basil Hayden's, Booker's and Bakers.  Click the link for description and tasting notes on each.  There are also the Jim Beam family of favorites to choose from; Jim Beam 4 year and Jim Beam 7 year, Jim Beam Choice 5 year and the one Fred Noe points out as the best value, Jim Beam Black aged 8 years.  Jim Beam Black works fabulously in a Bourbon Bloody Mary by the way.
Find Jim Beam Bourbon on Facebook.  Find Red Stag by Jim Beam on Facebook.
Subscribe to the monthly Newsletter
All content ©2015 Cheri Loughlin, The Intoxicologist. All Rights Reserved. Chat with Cheri @Intoxicologist on Twitter and facebook.com/Intoxicologist
Cheri Loughlin is the Omaha writer and photographer behind www.intoxicologist.net and author of Cocktails with a Tryst: An Affair with Mixology and Seduction. You can email Cheri with comments and questions at str8upcocktails at gmail.com.
Celebrating Bourbon Heritage Month with New Perspective on Entertaining