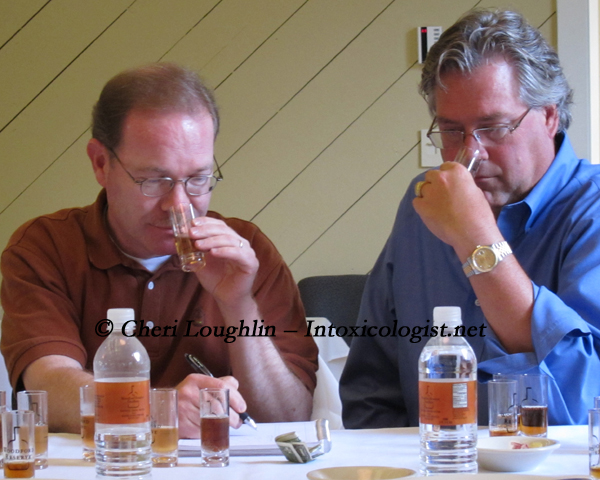 While visiting the Woodford Reserve Distillery in September of this year, Master Distiller Chris Morris and resident Chef, Ouita Michel, led a discussion of how flavors make their mark on the palate.  There was also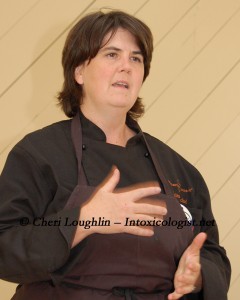 discussion on the right and wrong way to taste with personal opinions earmarking the discussion.
Chef Ouita pointed out that we are not born with a sense of how flavors carry through to description in food in drinks.  It is by creating palate memories through repeated taste and tasting many varieties of flavors that our memory creates a data base of words, flavors and tastes to call upon as descriptors. There are also certain flavors that enhance particular elements in other foods or drinks.  An example is how properly balanced salty country ham excellently enhances the maple flavor in the Woodford Reserve Master's Collection Maple Wood Finish.  Salt harmonizes with sweet.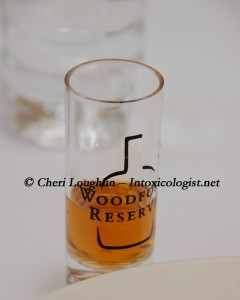 Since there is discussion from time to time on the subject of how to taste or enjoy whiskey (neat, with water or on the rocks), it was particularly refreshing to hear a distiller, Chris Morris, comment, "No one's wrong. You taste the way you prefer."
To the flip side Chef Ouita said, "I think it is one dimensional to taste the spirit alone." Her preference is to taste the spirit, taste with water and experience the spirit in conjunction with other foods to help create an echo for the memory to pull upon in the future.
A final thought on tasting; "One taste [of a spirit] is a snapshot. It's not the movie." – Chris Morris
In my opinion that means if you think there are spirits out there, whiskey or others, that just don't suit your taste preference, try another within the category.  Don't let one spirit sway your opinion.  Aged spirits vary by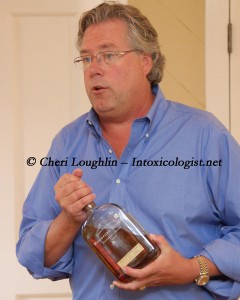 year, spirits vary by brand and recipes and each can take on new flavor depending upon the cocktail recipe and mixers you decide to combine the spirit with for an end result.
Speaking of cocktails, flavors and mixers…
Tim Laird, affectionately referred to as the Chief Entertaining Officer at Woodford Reserve Distillery, put together an informal cocktail challenge for the press attending the tour this same day.  The table contained spirits, fruits and mixers which highlighted some of the flavors within Woodford Reserve Bourbon.  We were let loose to take out best shot at creating something unique.  The recipe below was my submission.
Praline Pecan Pie – created by Cheri Loughlin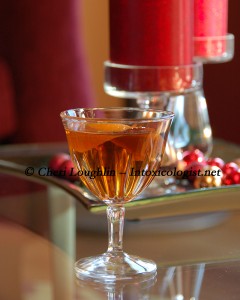 2 measures Woodford Reserve Bourbon
1/2 measure Martini & Rossi Sweet Vermouth
1/4 to 1/2 measure Praline Pecan Liqueur
2 to 3 dashes Angostura Bitters
Freshly Zested Orange Twist
Place liquid ingredients in cocktail shaker with ice. Shake or strain according to your preference. Strain into chilled cocktail glass. Garnish with fresh zest of orange twist.
This is my take on an after dinner southern dessert style Manhattan.  It's full and lush while staying true to Woodford's base flavor.  Aroma of orange zest captures the nose and plays on into the warming nature of sweetened pecans. Bitters give just the right hint of spice.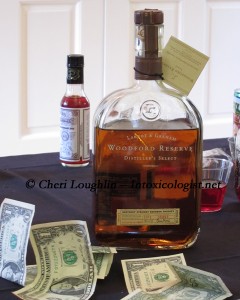 By the way, this cocktail won the friendly competition, though my money was on The Imbiber, Dan Dunn, as a shoe in as most popular drink of choice.  He masterfully crafted a winning combination of popular ingredients; bourbon and cola. Definitely a winning combination for refreshment by many standards.
The Woodford Reserve Bourbon trip was sponsored in full by Brown-Forman.
Twitter, Facebook, StumbleUpon – str8upcocktails @ gmail.com – ©2012 Cheri Loughlin-The Intoxicologist, All Rights Reserved. All opinions, reviews and spirits' coverage are the personal opinion and decision of Cheri Loughlin.
Tasting & Mingling Flavors: Woodford Reserve Bourbon