For those of you who don't know, today is National Peanut Day  Rather than partake of this favorite party time snack from a jar, why not take a delicious savory sip from a glass?  Perhaps the curvaceous, seductive bottle of Castries Peanut Rum Crème will lure you in for delectable sipping.  If you have already sampled Castries you know exactly why it is so alluring.  If not, you are missing out on something rather divine, decadent and all around delicious!
You won't find peanut butter flavor of this sensual feel and quality in any other liqueur on the market.  Castries Peanut Rum Crème brings the rich heritage, energy and sensual indulgence of St. Lucia with it in flavor and bottle design.  Sipping Castries is a taste extravaganza on the palate.  Of course it tastes like peanuts, but the balance of buttery softness is supreme.  This is not like dipping a finger in a jar of peanut butter type flavor.  It is wispy softness with delicate peanut flavor wrapped in silky cream.  There are definite hints of the Madagascar vanilla blended with the St. Lucian rum that lend toward an almost caramel feel.  Castries Peanut Rum Crème's luscious flavor transcends taste, escorting one to a place of indulgence, seduction and exotic pleasure.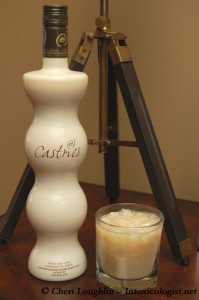 The Phantom
2 ounces Castries Peanut Rum Crème
1 ounce Hennessy Cognac
Combine over ice in a rocks glass. Stir.  Add fresh grated Nutmeg.
Castries and cognac blend together rather nicely here.  The richness of both complement each other well in this creamy concoction, but with this ratio it came off a little too sweet for my taste.  Perhaps the key would be an evening of ratios instead – 1.5 ounces Castries to 1.5 ounces Hennessy.  This allows the Castries to still shine through while taking the edge off the sweet.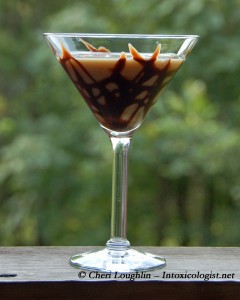 Peanut Butter Cup
2 ounces Castries Peanut Rum Crème
1 ounce Godiva Chocolate Liqueur
1 ounce Vanilla Vodka
Combine liquids in cocktail shaker with ice. Shake to blend and chill. Strain into chilled martini glass. For added pizzazz, line chilled martini glass with chocolate syrup before pouring liquid into the glass.
This Peanut Butter Cup is definitely not for the faint of heart. Peanut richness runs throughout with a thread of chocolaty goodness. The theme of sweetness unquestionably lies within, but I was thoroughly surprised it was not sticky, gooey burn style since the sugar content is rather high in this particular cocktail. One Peanut Butter Cup drink will suffice for me, but then again straight gin or vodka martinis are usually what I call dessert.
Castries Peanut Rum Crème Official Tasting Notes
Color – Warm to pale nutty brown
Aroma – Natural peanut brittle, butter roasted peanuts, and brown spice
Taste – Full bodied palette that starts with strong notes of creamy peanut butter then fades into subtle spicy notes of cinnamon and brown sugar and finishes with a breath of fine aged rum
Castries Peanut Rum Crème retails for approximately $30 making this seductive spirit an affordable indulgence for on the rocks or mixable sipping.
Find The Intoxicologist on Twitter, Facebook, StumbleUpon or Email: str8upcocktails@gmail.com. Copyright 2010 Cheri Loughlin – The Intoxicologist – All Rights Reserved
Flavorful Seduction for the Price of Peanuts