Readers often ask for Spanish inspired cocktails or those with wine as starting point.  Sangria is the 'go to' drink for quick fixes, but there are always more options to present to the table.  Wine is significant in its flavoring and warming in its tone.  When using red wine in mixed drinks as is traditional in Spanish inspired cocktails, wine adds a sense of daring or boldness to the glass by the richness of color.
Tinto de Verano is a refreshing drink similar to Sangria.  However, there are fewer ingredients in this wine based mixed drink making it much easier and quicker to put together.  Tinto de Verano translates to red wine of summer.  In some regions of Spain it is common for locals to drink Tinto de Verano while tourists drink sangria.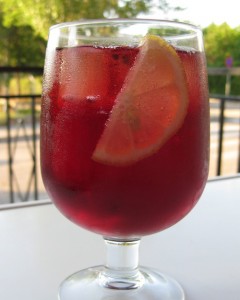 Tinto de Verano
1/2 cup red wine
1/2 cup Sprite or 7-Up
Slice of Lemon
Place three or four cubes of ice in wine goblet or highball glass.  Add red wine.  Top with Sprite.  Garnish with lemon slice.
Agua de Valencia is a pitcher drink served in a broad mouthed cocktail glass.  Constante Gil from the bar Café Madrid de Valencia in the city of Valencia, Spain, served the Agua de Valencia for the first time in 1959.  Although it was popular within the small group of locals that frequented the bar, it was not until the 1970s that the Agua de Valencia became more widely known and grew in popularity.  Although the recipe below may not be the original recipe, it is a common one and rather tasty.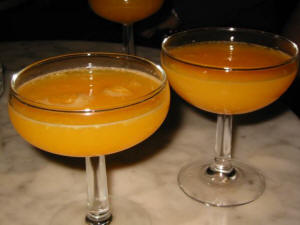 Agua de Valencia
1/4 liter Cava Spanish Champagne
3/4 liter Orange Juice
1 deciliter Cointreau
50 grams sugar
Combine all ingredients in a pitcher.  Stir.  Chill until ready to serve.  Serve cold, with or without ice according to preference.
Zurracapote is also similar to Sangria.  It is made from red wine and mixed fruit such as peaches and lemons with sugar and cinnamon added.  This mixture is then traditionally steeped for several days.  Some recipes call for additional alcohol or juices to be added during the steeping process.  The result is a mild to medium alcoholic wine based drink similar in nature to Sangria.  The Zurracapote is usually prepared in large batches for local fiestas in La Rioja and Navarre.  There are probably as many variations to the recipe as there are those who wish to consume it.  However there is one below to begin your journey of experimentation.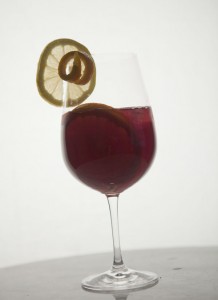 Zurracapote
2 pints Red Wine
9 ounces Dried Peaches
3-1/2 ounces Raisins
3-1/2 ounces Dried Plums
7 ounces Sugar
1 Cinnamon Stick
Lemon Peel
Leave the dried fruits to soak in water for two hours.  Pour the red wine into a saucepan; add sugar, cinnamon and lemon peel.  Heat the wine mixture until it comes to a gentle boiling point.  Remove from the heat and stir continuously.  Drain the dried fruits very carefully and add to the wine mixture.  Cover the saucepan with the lid and return to heat to a gentle boil for 15 minutes.  Remove from heat after 15 minutes are up.  Zurracapote may be served hot or cold according to personal preference
Sherry is a fortified wine from Jerez, Spain.  It is called "Vino de Jerez."  Sherry is different from other wines in that it is fortified with brandy after fermentation.  All natural Sherries are dry.  Fino means "fine" in Spanish.  Fino Sherry is the driest and palest of all traditional varieties of Sherry.  Below are a few Sherry based cocktails.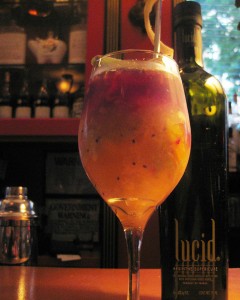 Brazil Cocktail
1-1/2 ounce Fino Sherry
1-1/2 ounce Dry Vermouth
1/4 teaspoon Anise Liqueur
1 Dash Bitters
Place all ingredients in mixing glass with ice.  Stir to completely chill.  Strain into a chilled cocktail glass.
Jerez Cocktail
2 ounces Fino Sherry
1 teaspoon Peach Brandy
1 teaspoon Cointreau
Combine liquids in mixing glass with ice.  Stir to chill.  Strain into rocks glass over fresh ice.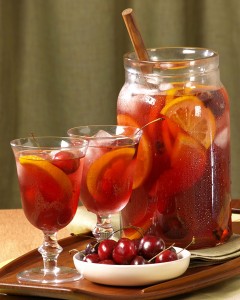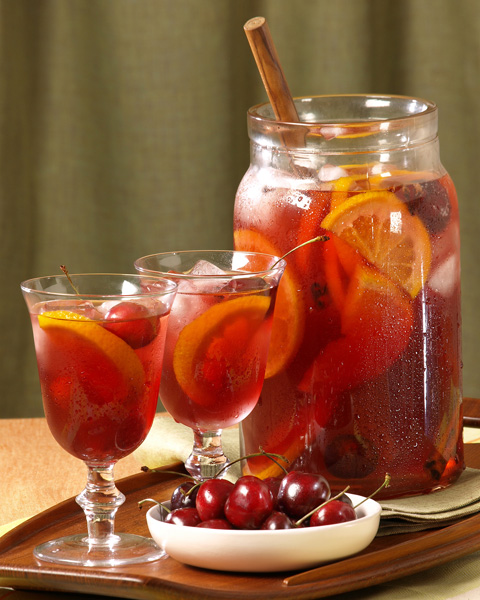 Balm Cocktail
2 ounces Sherry
3/4 ounces Fresh Orange Juice
1/2 ounce Cointreau
2 dashes Angostura Bitters
2 slices Oranges
Flamed Orange Peel Garnish
Muddle oranges in bottom of mixing glass.  Add remaining liquid ingredients and ice.  Shake to blend and chill.  Strain into a chilled cocktail glass.  Garnish with flamed orange peel.
Since we are talking wine, we cannot forget the most famous of all Spanish drinks made from red wine; Sangria.  Sangria is made with red wine, fruit juices, sparkling soft drinks, sugar and whole fruit chunks.  Often liqueurs are added to the combination as well as spices.  As with all great tasting mixed drinks, you must start with a good base.  Begin with a good wine and the freshest of fruits.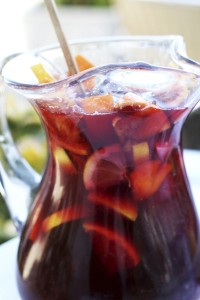 Sangria
2 bottles full bodied Spanish Dry Red Wine
1/3 cup Fresh Squeezed Orange Juice
1/4 cup Grand Marnier
2 Tablespoons Sugar
2 cups Club Soda
Orange Slices
Lemon Slices
Tart Green Apple – Sliced
Peaches or Nectarines – Sliced
Mix wine, orange juice, Grand Marnier and sugar together in a large pitcher.  Cover and refrigerate for several hours or overnight.  Just before serving add in club soda and ice cubes.  Sever cold and garnish with slices of fruit.  If serving out of a punch bowl, float garnish fruit on top of Sangria in the punch bowl.
The following recipes were found in a press release from Hilton Hotels some time ago.  Mixologist Tony Abou-Ganim created these cocktails specifically for Hilton.  Tony's specialty cocktails have been featured in Vanity Fair, Wine Enthusiast, Fortune, Wine Spectator, The New York Times Magazine and Nightclub & Bar among others.  Tony is also The Modern Mixologist.  While the press release is out of date, you can still make these delicious recipes at home with Tony Abou-Ganim to thank.
The Barcelona
3 ounces chilled dry white wine
1 ounce Bombay Sapphire Gin
1/2 ounce Grand Marnier
1/2 ounce Elderflower syrup
1 ounce Fresh Lemon Juice
1 ounce Freshly Squeezed Orange Juice
Slices of Fresh Lemons, Oranges and Strawberries
Chilled Sprite
Add to large wine glass slices of fresh fruit (lemons, oranges and strawberries), pour in fresh squeezed lemon and orange juice, add elderflower syrup, dry white wine, Bombay Gin, Grand Mariner and Sprite. Add ice and garnish with a fan of sliced strawberries and a sprig of mint.
Sao Paolo Samba
2 ounces Absolut Citron or Absolut Mandarin
1/2 Muddled Fresh Lime, quartered
1 ounce Simple Syrup
Seasonal fresh fruits
Cut lime into quarters. Add lime, seasonal fruit and simple syrup into mixing glass and muddle ingredients together. Transfer ingredients into tin filled 2/3 full with ice. Shake vigorously 8 to 10 times. Pour into highball glass and serve.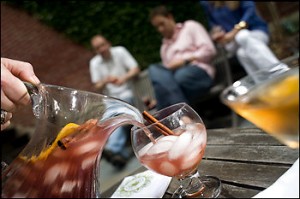 The Road to Hana
1-1/2 ounce Captain Morgan Spiced Rum
1/2 ounce Myers's Rum
1/2 ounce Hiram Walker Triple Sec
1 ounce Fresh Lemon Juice
1-1/2 ounce Pineapple Juice
1-1/2 ounce Fresh Orange Juice
1/2 ounce Orgeat Syrup
Pour pineapple, orange and lemon juice into glass. Add remaining ingredients except the Myers's Rum to glass. Transfer ingredients into tin filled 2/3 full with ice. Shake vigorously 8 to 10 times. Strain into highball glass and float Myers's Rum. Garnish with pineapple spear, orange and lemon slice.
There are other mixed drink recipes that have a wine base or Spanish influence in the mix: Borgona (cold red wine topped with strawberries), Jote (red wine with cola), Navegado (heated red wine with slices of orange and sugar), Pisco Sour (pisco, lemon juice, sugar, egg white), Piscola (pisco with cola and ice), Ponche la Romana (champagne with pineapple ice cream), Ronpon (Rum with milk, cinnamon, coffee and sugar), and Vaina(port wine and sugar) to name only a few.  The influence of Spain is far reaching.  You will find Spanish inspired cocktails the world over.  There are also Spanish inspired Mojitos, Margaritas and Cosmos.  The possibilities are as limitless as the imagination.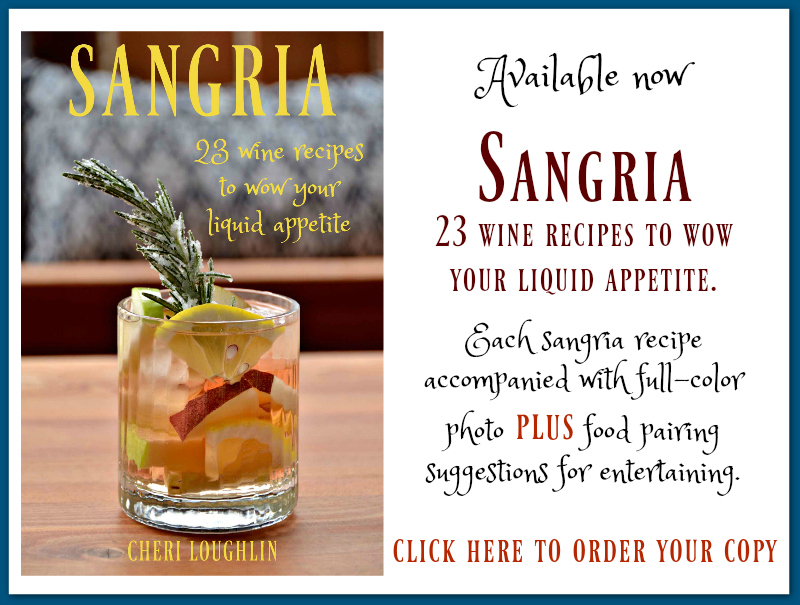 Twitter
,
Facebook
,
StumbleUpon
– str8upcocktails @ gmail.com – ©2012 Cheri Loughlin-The Intoxicologist, All Rights Reserved. All opinions, reviews and spirits' coverage are the personal opinion and decision of Cheri Loughlin.
Wine, Sangrias & Spanish Inspired Cocktails