In a market of overcrowded vodka shelves seeking placement in the hands of consumers, bottle design has become almost as important as the liquid luxury housed within its walls.  Vision Vodka CEO David Moritz has a design history that includes iconic statuettes immediately recognizable to a majority of households in the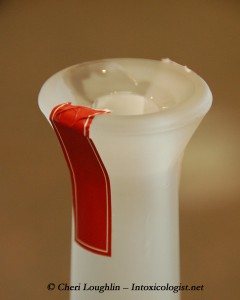 United States.  According to media material Vision Vodka's minimalistic clean packaging reflects the quality and purity of the vodka.  Mode Design Group crafted the bottle in a way described as being created 'from the inside out.'  If they had designed a bottle that popped the cork out for the consumer, it might have been convenient for luxurious living.  This is an incredibly difficult bottle to open with recessed opening and tight squeeze between stopper and bottle lip.  Anyone with partial fingernails or larger fingers could have difficulty grasping the top.  Even the nimblest of fingers have a tricky time getting a grasp around this lid; great for child-proofing!  I had to resort to a small knife to finally pry the top off the bottle.
Once the top is popped the liquid flows for the true test of whether the visionary bottle and its contents live up to the claim of luxury living at affordable pricing ($30).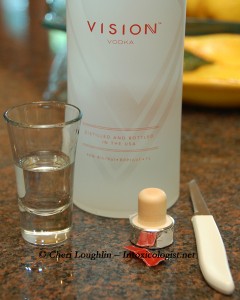 Vision Vodka Tasted Neat
Aroma: Barely there, slight burn with notes of almond.
Taste: Thick, medium burn, softness, heavy weighted, vanilla notes in the background, bit milky in the aftertaste.
Sampled in a martini with Noilly Prat vermouth wash the vodka acquired a slight metallic taste.  Not the most satisfying.  With the slight thickness in body of Vision Vodka, this spirit benefits when sipped on the rocks.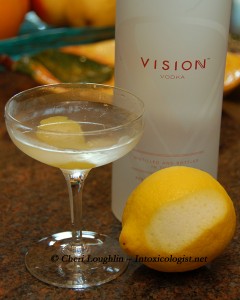 Luxury living is all a matter of taste creating quite a problem for vodkas within the $30 range.  If the bottle doesn't catch a consumer's eye it just might go unnoticed with dust beginning to settle on the bottle rather than fingers.  To be quite honest Vision Vodka would only capture my eye on a shelf because I notice something new.  The power of appeal for repurchase is all in the taste.  Vision Vodka's taste remains quite similar to many brands of vodka of equal and lesser price range making it less than memorable. 
Vision Vodka sample for review courtesy R. Couri Hay Creative Public Relations.  All opinions, reviews and spirits' coverage contained within are the personal opinion and decision of Cheri Loughlin, The Intoxicologist.
High resolution digital photo downloads are available for liquor brands, cocktail menu creation use and individual use by following the link: Classic Martinis 1
Find The Intoxicologist on Twitter, Facebook, StumbleUpon or Email: str8upcocktails@gmail.com – Copyright 2010 Cheri Loughlin – The Intoxicologist – All Rights Reserved
Vision Vodka: Designing Luxury