In honor of girlish figures, rows of light and diet fruit juices and an eye to keeping it simple the Raspberry Ringer drink recipe made its way to the cocktail glass one happy hour evening (and a few more since then I might add).  Delicious choices lining the cocktail bar do not always have to be filled with fresh lemon, lime, muddled fruit or layered with liqueurs and sparkling sodas to satiate the palate with fulfillment.  Sometimes all it requires is simplicity, a splash of flavor and additional display of charming garnish to capture the senses.  Instantly the cocktail glass has gone beyond simple non-descript lower calorie juice to spunky mixer for happy hour without the guilt.  Fashionable, flavorful, no muss.
Raspberry Ringer Low Calorie Drink Recipe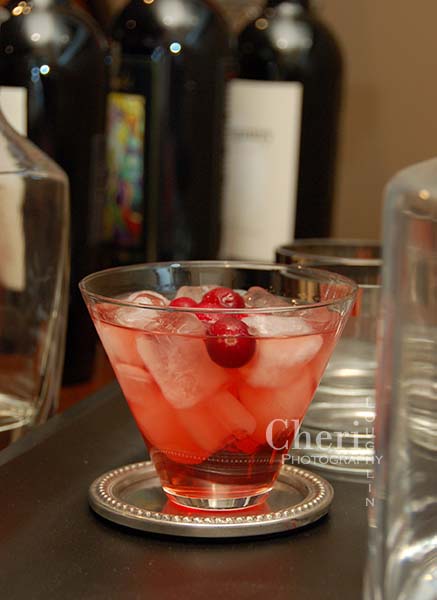 Raspberry Ringer – recipe by Cheri Loughlin, The Intoxicologist
1-1/4 ounce Vox Raspberry Vodka
2 ounces Ocean Spray Light Cranberry Juice
5 frozen Cranberries Garnish
Combine over fresh ice in a cocktail glass.  Garnish with frozen cranberries floated on top.  Slowly sip with a straw to savor every drop.
Apple Trace Teenie Low Calorie Bourbon Cocktail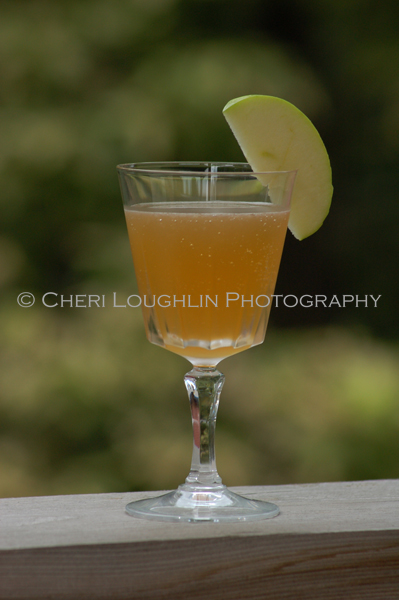 For those who want a little bourbon cocktail without all the calories, the Apple Trace Teenie might be in order.  Light vanilla apple with Buffalo Trace Bourbon notes in the background.  The 'sugar free' flavor comes through a little too much for me with the gentleness of the apple, so skip the DaVinci Vanilla syrup if sweetness isn't a necessary factor for you.  Enjoy the simple lilting of the apple tart instead.
Apple Trace Teenie – recipe by Cheri Loughlin, The Intoxicologist
1-1/2 ounce Buffalo Trace Bourbon
3/4 ounce Apple Juice
1 Lime Wedge Squeezed
1/4 ounce DaVinci Vanilla Sugar Free Syrup
Granny Apple Slice Garnish
Combine liquid ingredients in a cocktail shaker with ice.  Shake to blend and chill.  Strain into a cocktail glass.  Garnish with apple slice.  Approximately 120.5 calories (not including garnish)
Mocha Berry Teenie Low Calorie Cocktail Recipe
When the house is filled with edible delectables and it seems there is nothing to mix with your favorite spirit, there is always something low-calorie cocktail friendly stored within the refrigerator or pantry. Coffee Mate and Cappuccino drinks make lovely on the spot mixers for on the fly deliciously satisfying cocktails.
Mocha Berry Teenie – recipe by Cheri Loughlin, The Intoxicologist
2 ounces Bolthouse Farms Mocha Cappuccino
1 ounce Coffee Mate Chocolate Raspberry
1 ounce Bacardi Superior Rum
Combine ingredients in a cocktail shaker with ice.  Shake to blend and chill.  Strain into a martini glass.  Garnish with one raspberry if desired.  Total calories: 144.5
The rum brings more notes of mocha and cappuccino out over the chocolate raspberry.  The drink is worthy of taking one's time sipping for maximum pleasure.  If vodka is your preferred base spirit over rum, by all means switch it out in the drink recipe, but go for quality.  42Below Vodka or Stoli would be great choices since they both carry weight and character in the body.
Ruby Weekdays Low Calorie Drink Recipe
Over on The Intoxicologist Facebook page Barbara Winters recommended a cocktail based upon what days of the week one chooses to consume a cocktail:  "Monday – Thursday" it is all about Absolut.  Barbara's assessment of the cocktail, "Yummy! (hick-up!)" – Intoxicologist Notation: Barbara didn't give a name for her cocktail creation or measurements, so I've taken the liberty at the good old fashioned American try at building and naming it. This is an excellent choice cocktail for relaxing at the end of the day.  It is light and fruity on taste without weighing one down on caloric intake.  Since it is a long drink it is also filling, leaving one with a fuller feeling after a single cocktail.
Ruby Weekdays
1-1/4 ounce Absolut Vodka
3 ounces Light Ruby Red Grapefruit Juice
Splash of 7-Up (or Diet 7-Up)
Build ingredients in a highball glass over ice adding 7-Up last. Stir & serve.  If one were to use Diet 7-Up this cocktail would be lower in calorie overall.  The vodka weighs in at approximately 92 calories, grapefruit juice at 15 calories and Diet 7-Up at zero making Ruby Weekdays a 107 calorie cocktail – perfect for lower calorie weekday consumption.  Take this cocktail idea a step further by playing with your favorite Absolut flavor, light fruit juice and diet 7-Up or diet tonic water.
All content ©2010 Cheri Loughlin, The Intoxicologist. All Rights Reserved. Chat with Cheri @Intoxicologist on Twitter and facebook.com/Intoxicologist or str8upcocktails@gmail.com
Easy & Flavorful Lower Calorie Drinks for the Holidays