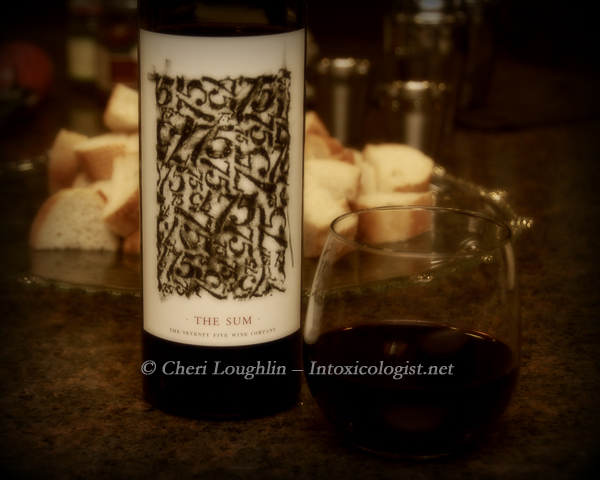 There are those times when deep thought and reflection come into play; Holiday dinners when everyone discusses what they are thankful for and plans for the year ahead, small groupings of close friends chatting about world events and discussions between two people in quiet spaces in intimate settings. It's always lovely to share an interesting bottle of wine, but even more so to share one that contributes to the conversation.
The Sum 2008
Notes of chocolate cherry vanilla. Certain roundness in the third to fifth sip. This wine doesn't jump out with boldness immediately. It warms to the senses, priming the palate for the flavors to come. Contains hints of spice, but does not overwhelm. Not too sweet. Not super lush. Definitely not thin. It is the sum of the entirety of the whole so to speak. Appropriate to the name, isn't it?!
Which brings me to The Sum's thought provoking nature.
What or who are we? What will the sum total of our being equal at the end of the day, end of the week, end of the year and end of our days? Do we make a mark or are we just taking up space with a glass in our hand?
Make a difference. Add something to the sum total of life's experience by the end of the day.
The Sumis a cabernet based red wine blend originating from Napa Valley retailing for approximately $20.
Cheri Loughlin is a leading cocktail and photography resource for beverage companies, event planners, businesses and individuals. High resolution cocktail and beverage stock photography images are available in downloadable digital format in the newly redesigned Stock Photography Gallery at www.cheriloughlin.com.
Twitter, Facebook, StumbleUpon – str8upcocktails @ gmail.com – ©2012 Cheri Loughlin-The Intoxicologist, All Rights Reserved. All opinions, reviews and spirits' coverage are the personal opinion and decision of Cheri Loughlin.
The Sum: Thought Provoking Wine