For gift giving occasions I usually go in search of interesting wine labels for friends and family members. In past years I've given "Fourplay," "Zinfatuation," "Ménage a trios," and any number of wines with labels giving the illusion of seduction for Valentine's Day. Another year my search led to three easy labels as they sat in wire bins in the ever popular Target family shopping center. Yes, how romantic. Not so much. Then again for what it is worth my opinion of Valentine's Day is this one special day a year should be multiplied by 365 (with the exception of leap year) and reenacted every day rather than only once a year. Our special someone should know how very special they are without all the stress and pressure Valentine's Day places upon us to come up with something so extraordinary that says, "I love you," when in fact it should be spoken each day whether in whispered breathlessness or in raucous outbursts of joyousness. The cynic in me rears her candid head yet again!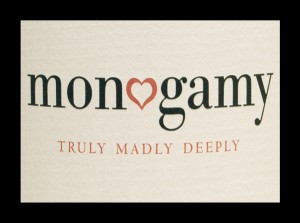 The three wines I chanced upon for Valentine's Day were PromisQous, Interlude and Monogamy. Since each remains unopened for the moment, I cannot give a personal opinion on taste. However, in this instance the experience is more about the label as much as Valentine's Day should be more about the ambiance and thought than the ultimate gift itself. Right?!
PromisQous – Read the label. It's quite cute. In reference to people, we all come from many backgrounds, likes and dislikes. No matter how many people we ultimately dated, we all eyed a few more than we ever ended up with. Thus, the PromisQous thought or two has passed through many a mind whether carried out in reality or not. How fitting this wine materializes in time for Valentine's Day. PromisQous is a red table wine blend as it takes from a little of this and that and mixes to become one wine of many samplings.
Interlude – The moment between dating and relationship. The Interlude. It is that time we experience great mental incapacity. Our friends think we have lost a grip on real life. Everything that flows from our tongue seems to speak of our lover and how utterly fascinating and wonderful they happen to be. Nothing in the world could possibly be remotely imperfect about their entire personality…until we reach the state of…
Monogamy. Bland? Plain? Ordinary? Never! According to this label Monogamy means "truly madly deeply." Could it be so? Of course. Again, as the label plainly states one reaches this point after considering options and discovering likes and dislikes. How fitting Monogamy is a Cabernet Sauvignon which typically contains a deeper, richer more meaningful rounded out feel on the palate; satisfying in a broader sense.
Each of these wines retailed for $10 to $12.  With their witty labeling they are sure to create lots of interesting banter on Valentine's Day.  Look for these labels or others with creative flair at a liquor store near you.
 Cheri Loughlin is a leading cocktail and photography resource for beverage companies, event planners, businesses and individuals. High resolution cocktail and beverage stock photography images are available in downloadable digital format in the newly redesigned Stock Photography Gallery at www.cheriloughlin.com.
Twitter, Facebook, StumbleUpon – str8upcocktails @ gmail.com – ©2011 Cheri Loughlin-The Intoxicologist, All Rights Reserved. All opinions, reviews and spirits' coverage are the personal opinion and decision of Cheri Loughlin.
Let the Wine & Conversation Flow