There is no doubt people love Three Olives Vodka. There are plenty of flavors for every taste preference, fun recipes for shots, shooters and cocktails and then there are the parties and contests that the brand builds up through its various social media sites. Three Olives Vodka makes going out fun, friendly and often it's a blast from the past with forward thinking futuristic liquidity involved.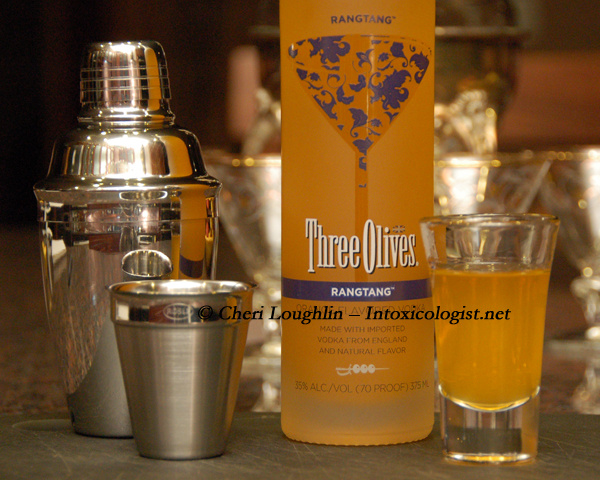 While some brands stick to a handful of flavors to quench the thirst of the masses, Three Olives has gone on to continually introduce new flavors to the market. Unfortunately launching new-fangled flavors regularly sometimes means hitting the high note of taste excellence just might go by the wayside.  Three Olives Rantang is one such flavor that misses the bar standard of taste.
Three Olives Rangtang Tasting
35% Alcohol. 70 Proof.
Color: Slight pale orange. Perhaps it is name suggestion, but this reminds me of actual Tang from days of youth – color only at this point since aroma and taste have yet to come into play.
Aroma: Orange, but not as pronounced as thought it would be. Chalky, sweet tartish. Artificial sweet smell. Thins in aroma of orange and becomes more sweet.
Taste: Over the top sweet for even flavored vodka in my opinion. Slight burn. Definite artificial taste whether flavor is natural or not. Thin orange, strong, sweet. Powdery finish.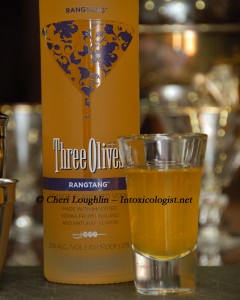 Best feature about this Three Olives flavor: The bottle packaging with its lovely martini logo in purple contrasted against the orange liquid. Recipes for Rangtang include a straight shot served chilled and a mix of Rangtang with lemon-lime soda. Hardly original, hardly creative; but it will make someone shoot it fast or cover the powdery artificial taste as much as possible so they can take another round and enjoy the party a while longer.
Fun notation: Tang was originally marketed in 1957 as an orange-flavored breakfast drink.  It was powdered with a sweet and tangy flavor.  Years later NASA used Tang to flavor water which had a funny aftertaste. It wasn't until NASA took Tang to outer space that the powdered concoction took off in sales. Just goes to show – sometimes a product's success begins with marketing.
Something Three Olives usually does well with its flavors is bring back memories. There is always a blast from the past whether it is recalling stacking root beer float mugs at the local A&W drive-in, playing board games while sipping a Grape Nehi or seeing how many wads of bubble gum it would take to blow the largest bubble. This time Rangtang reminds me of pulling a can of Tang from the cabinet and scooping the powdery substance into a variety of liquids just to see what it might taste like mixed with different things. The taste; always orangy, always powdery, but I was an inquisitive Intoxicologist from the start.
Three Olives Rangtang Vodka sample for review courtesy representatives of Special Ops Media.  All opinions, reviews and spirits' coverage contained within are the personal opinion and decision of Cheri Loughlin, The Intoxicologist.
Find The Intoxicologist on Twitter, Facebook, StumbleUpon or Email: str8upcocktails@gmail.com
www.discus.org – Distilled Spirits Council of the United States
Copyright 2010 Cheri Loughlin – The Intoxicologist – All Rights Reserved
Rangtang Vodka Leaves Powdery Tang Impression