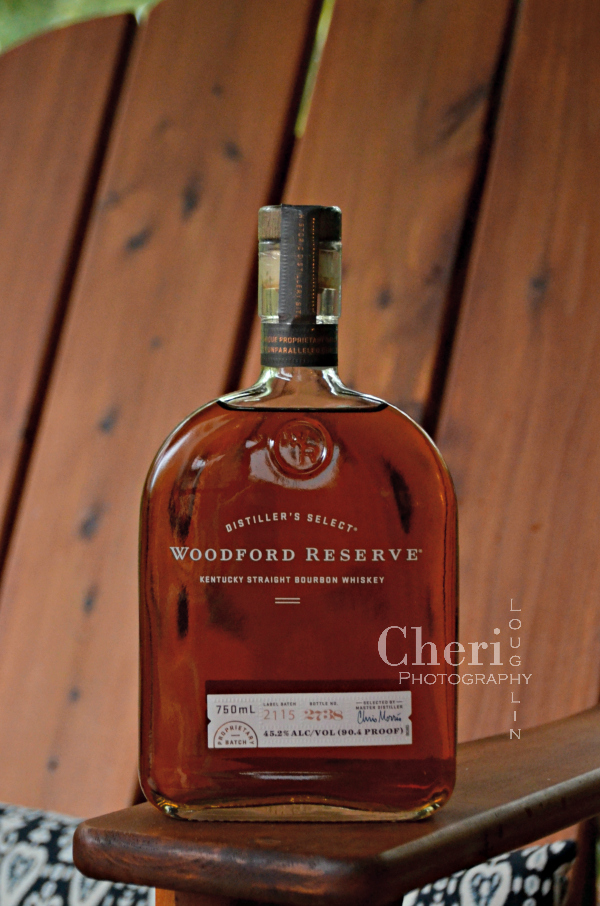 Woodford Reserve Bourbon always makes me think of pecans. So much so, I created the Praline Pecan Pie Manhattan style drink with Woodford years ago. It is more of a dessert style drink, but not nearly as sweet as dessert.
By the way, if you haven't tried the Woodford Reserve Double Oaked expression, stop what you are doing and go get a bottle. I'll wait right here. Seriously, it's worth the extra trip to the store.
Woodford Reserve provided by brand representatives. All photos and opinions are my own unless otherwise stated.
Woodford Reserve Review
90.4 proof – 45.2% alcohol by volume | $42 price point
Available nationwide and online for select states
www.woodfordreserve.com
@WoodfordReserve on facebook, twitter, youtube, instagram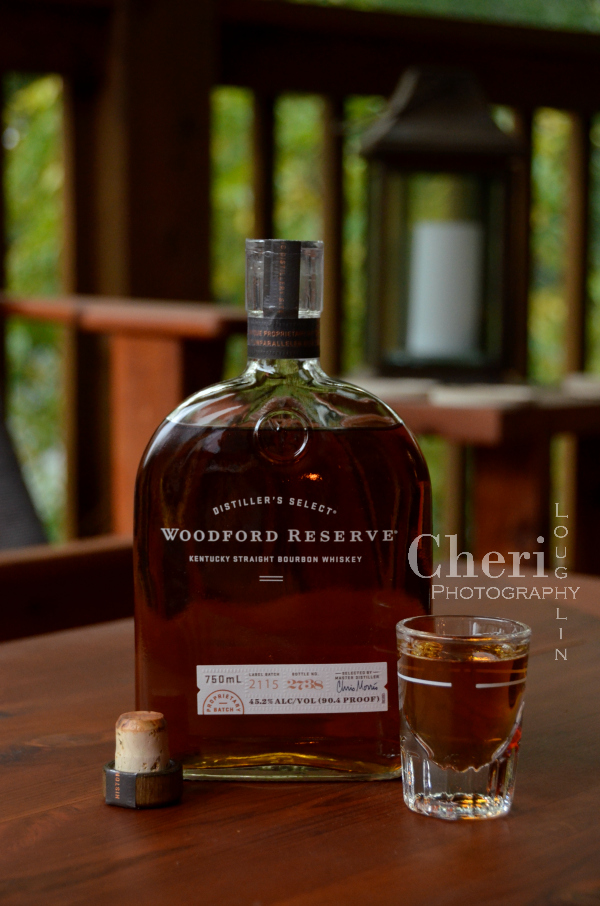 First Impressions: The bottle shape reminds me a little of an upside-down horseshoe or the rounded shape of a horse barn door. The back label states there are 200 detectable flavor notes in this spirit. It would be pretty amazing to be able to sniff out even half that amount!
Color: Amber with gold flecks
Aroma: I'm losing the battle trying to detect all 200 flavor notes, but I do smell some of these: pecan, cherry, maple, vanilla, light baking spice, light brown sugar and banana peel.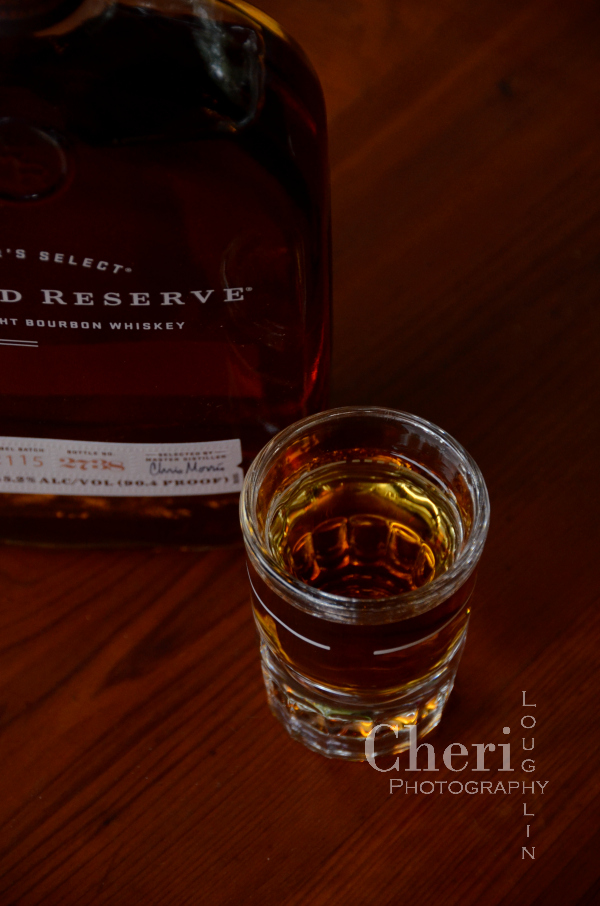 Tasted Neat: There is some burn on the tongue. I pick up cherry, maple and honey flavors with very little sweetness. This is somewhat chewy.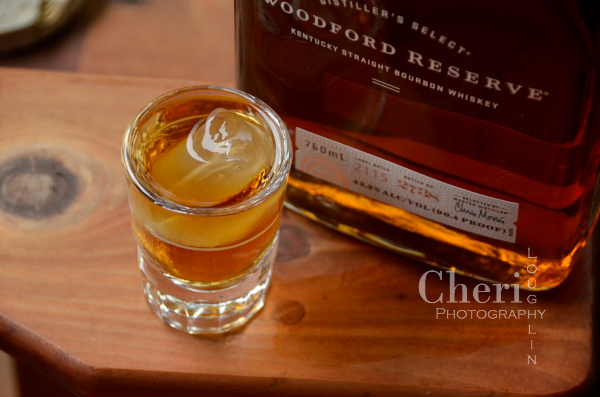 Tasted with Ice: The aroma opens up a little more with some woody notes. It is a little less chewy with ice and the burn goes away almost entirely. There is a mix of cherry, pecan and maple with good mouthfeel. This is an easy sip as is. The color mellows to more gold than amber with the ice.
Overall Impressions: This is an excellent premium sipping spirit at an equally excellent price point. It is light on the tongue with a lovely lingering finish. The more I sip on it the more flavors peek out. There are hints of coffee, dark chocolate and perhaps almond paste.
Butterscotch Sandie Cocktail Recipe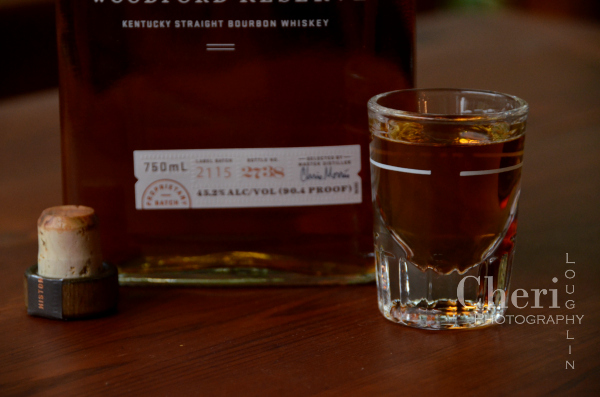 Like the Praline Pecan Pie cocktail referenced at the beginning, this recipe is also a treat. It kind of reminds me of butterscotch candies, without so much sweetness. When I was little, my mom had Brach's butterscotch disk candies in her purse and pockets all the time. They were my favorite as a kid. The plastic wrapper was kind of noisy, so she started carrying butterscotch Lifesavers instead. They just weren't the same, but that didn't stop this candy loving kid from eating them.
But back to the cocktail! There is also a little bit of Pecan Sandie cookie flavor in here with the buttery, nutty notes. You know, like those Keebler Elf shortbread cookies. Mmm… those are good! Anyway, this drink finishes out with a hint of coffee in the final taste. For lack of a better name, I decided to call this a Butterscotch Sandie. Drink up and enjoy!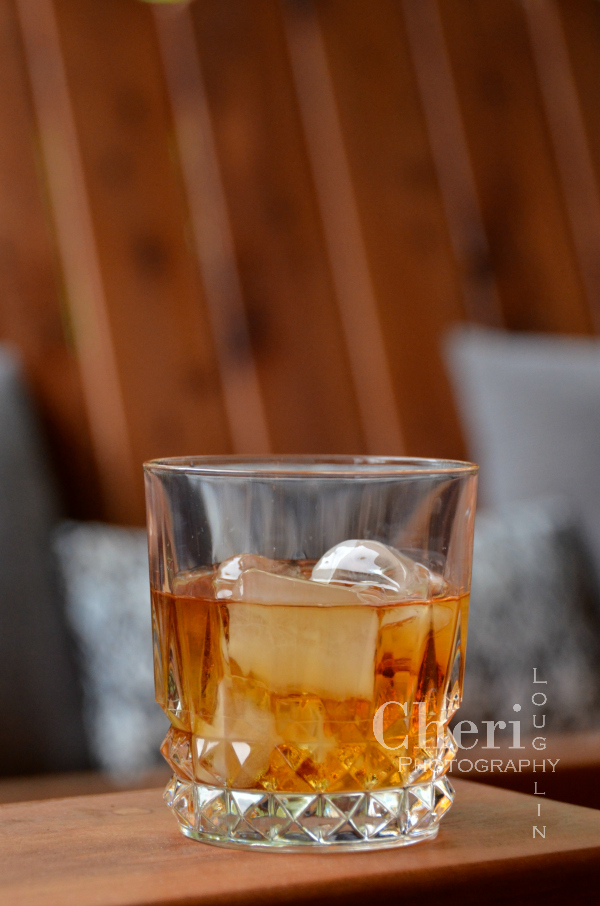 Butterscotch Sandie – recipe by Cheri Loughlin
2 ounces Woodford Reserve Bourbon
1/3 ounce (2 teaspoons) Cherry Brandy
1/4 ounce Frangelico Hazelnut Liqueur
1/4 ounce Butterscotch Schnapps
Place ice in a rocks glass. Add all liquid ingredients. Stir.
Subscribe to the Newsletter
All content ©2017 Cheri Loughlin, The Intoxicologist. All Rights Reserved. Chat with Cheri @TheIntoxicologist on Instagram and facebook.com/Intoxicologist
Cheri Loughlin is the Omaha writer and photographer behind www.intoxicologist.net. Email Cheri with comments and questions at str8upcocktails at gmail.com.
Woodford Reserve Kentucky Straight Bourbon Whiskey Review