It takes seven to ten years for a pistachio tree to grow before harvest, but it only takes a few moments to whip up this nutty little cocktail number in honor of the happy little nut. Though the pistachio harvest takes place in September there are two wintry days in question honoring the mighty little pistachio. Foodimentary's website refers to January 26 as National Pistachio Day while Holiday Insights mentions February 26 as a good time to get a little nutty. Why not both?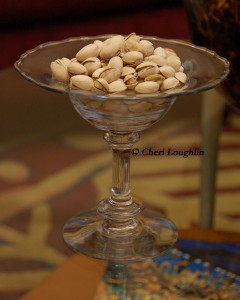 Café Pistachio
1-1/2 ounce Bourbon
3/4 ounce Coffee Liqueur
1 ounce Half & Half
1/2 ounce Amoretti Crema di Pistachio
Ground Pistachios Sprinkles & Orange Twist Garnish
Combine liquids in cocktail shaker with ice. Shake to blend and chill. Strain into chilled cocktail glass. Garnish with light sprinkling of finely ground pistachios and fresh orange twist. This may also be served in large rocks glass over fresh ice if desired.
Notation: Pistachio flavor also pairs nicely with Chardonnay and Italian Red Wine.
Twitter, Facebook, StumbleUpon – str8upcocktails @ gmail.com – ©2012 Cheri Loughlin-The Intoxicologist, All Rights Reserved. All opinions, reviews and spirits' coverage are the personal opinion and decision of Cheri Loughlin.
Celebrate National Pistachio Day with a Cocktail