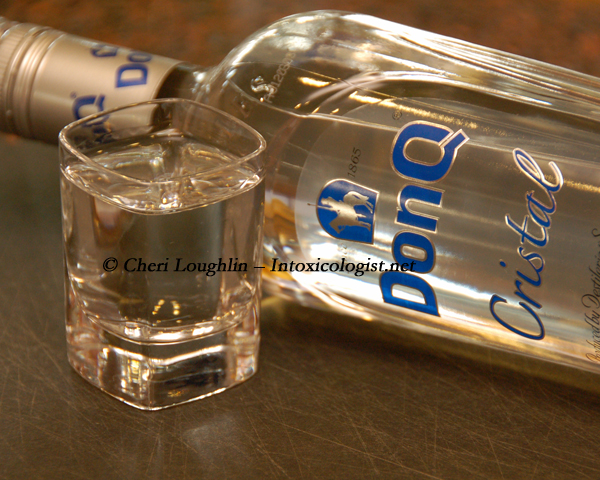 DonQ Cristal Rum Tasting
Aroma: Upon opening the bottle an immediate sharp alcohol scent. After pouring in tasting glass allowing to sit a moment, the initial aroma dissipates. Vanilla, chocolate/mocha appear. Crystal clear.
Taste: Burn on the tongue tasted neat, but not astringently so. Definite notes of mocha leaning more toward coffee expressions. Slight drying in back of throat. Is quite nice sipped on the rocks with orange twist.
Boadas Cocktail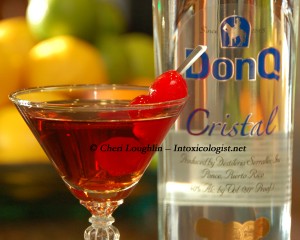 1 ounce White Rum
1 ounce Dubonnet Rouge
1 ounce Orange Curacao
Maraschino Cherry Garnish
Place liquids in cocktail shaker with ice. Stir to chill. Strain into cocktail glass. Garnish with skewered maraschino cherries.
Lovely. Simple, flavorful cocktail. Dubonnet Rouge picks up hints of chocolate/coffee in the DonQ Cristal. Sweet cocktail, but not overly so. Dubonnet gives the wash of pleasantry to balance the sweetness. This cocktail would perhaps benefit by substituting Grand Marnier in exchange for the Orange Curacao. Grand Marnier would play well with its delightful hints of orange and chocolate. However, the Boadas Cocktail is a classic and fabulous exactly as is. Notation: Terrific history of the Boadas Cocktail, Miguel Boadas and the Boadas in Barcelona, where it originated and why. Read the Article in The Sunday Times by Chris Haslam
Usually sample cocktails are a dime a dozen with a sip and toss thought behind each as the review process proceeds. However, this cocktail recipe is a definite keeper as is DonQ Cristal for on the rocks pour and shake 'em up fun.
High resolution digital photo downloads are available for brand, cocktail menu creation use and individual use at www.cheriloughlin.com within the Beverages category.
DonQ Cristal Rum sample for review courtesy representatives of DonQ Rum. All opinions, reviews and spirits' coverage contained within are the personal opinion and decision of Cheri Loughlin, The Intoxicologist.
Find The Intoxicologist on Twitter, Facebook, StumbleUpon or Email: str8upcocktails@gmail.com – Copyright 2011 Cheri Loughlin – The Intoxicologist – All Rights Reserved
DonQ Rum Shakes Up Smooth Classic Cocktail