Though there are many layers of ingredients in this particular tropical themed frozen drink, the flavors blend together subtly with mango shining through primary. Coconut and banana flicker through slightly for bits of zing here and there. The true kick is the luscious dark rum float that taunts the senses. Will you savor slowly while sipping or swirl it in right away?
Mango Tango – created by Cheri Loughlin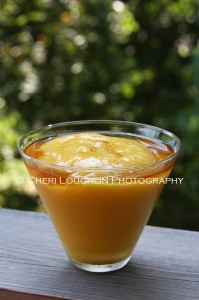 1 ounce Coconut Rum
1 ounce Mango Rum
1-1/2 cup Frozen Mango
3/4 cup Frozen Pineapple
1 ounce Banana Nectar
1 ounce Cream of Coconut
1 ounce Dark Rum
Place all ingredients except dark rum in blender. Puree until completely smooth. Divide evenly between two decorative cocktail glasses. Top each with 1/2 ounce dark rum.
High resolution digital photo downloads are available for brand, cocktail menu creation use and individual use at www.cheriloughlin.com within the Beverages category.
Find The Intoxicologist on Twitter, Facebook, StumbleUpon or Email: str8upcocktails@gmail.com – Copyright 2011 Cheri Loughlin – The Intoxicologist – All Rights Reserved – All opinions, reviews and spirits' coverage contained within are the personal opinion and decision of Cheri Loughlin, The Intoxicologist