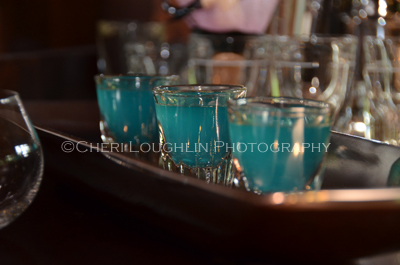 It's Girls Night Out and you and the ladies just want time to mix it up alone. Trouble is, there's a small cluster of men at the bar who just won't take no for an answer despite your polite refusals of no interaction. A round of Blue Balls Shots will send them a bold message loud and clear. But don't give all the fun away. These popular shot drinks are super tasty. Save a round for the girls, too!
Blue Balls Shot Recipe
Blue Balls Shot
1 ounce Blue Curacao
1 ounce Coconut Rum
1 ounce Peach Schnapps
1 ounce Lemon Juice
Combine liquids in cocktail shaker with ice. Shake to blend and chill. Strain into multiple shot glass. Serve with "U and Ur Hand" by Pink playing loudly in the background.
Rather sweet concoction with sweet tartness candy similarity. Barely there hint of coconut. Great hint of peach and coconut aroma.
Subscribe to the monthly Newsletter
All content ©2015 Cheri Loughlin, The https://intoxicologist.net/contact/newsletter/Intoxicologist. All Rights Reserved. Chat with Cheri @theintoxicologist on Instagramand facebook.com/Intoxicologist