The versatility of vodka usually translates well as blank canvas for creating cocktails. Vodkas do vary in taste and viscosity, but they usually remain true to the "colorless, odorless, tasteless" description attached to them. This is ideal for crisp clean martinis and cocktails, but sometimes a little more depth and roll of the tongue lushness is desired when mixing and tasting. This is where it could be beneficial to substitute rum for vodka in some cocktails. This exchange also renders well when mixing with flavored vodkas and rums. If you're a rum person but the recipe calls for vodka, change it up for experimental purposes.
DonQ Limon Rum Tasting Notes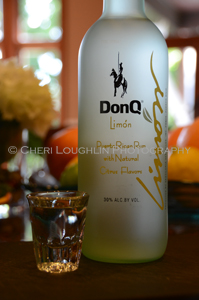 30% Alcohol. 60 Proof.
Aroma: Lemony, but not the waxy "lemon Pledge" sort of scent that can often be attributed to some lemon vodkas, rums and lemoncellos. What you will find here is something closer to fresh, clean lemon feel without any biting, astringent edge.
Taste: Lemon with orange back. Hint of peel. Some sweetness. A little bite on the back end when sampled neat, but completely inoffensive.
It seems DonQ Limon would mix well with simple mixers such as sweet tea, watermelon juice, club soda with splash of simple syrup or even Sprite or 7-UP served on the rocks. However it also blends rather creatively with other mixers when taken a few steps further.
Limon Ginger Sour – created by Cheri Loughlin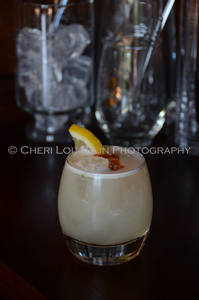 2 measures DonQ Limon Rum
3/4 measure Ginger Liqueur
1/2 measure Lemon Juice
Egg White
3 dashes Angostura Bitters
Lemon Slice Garnish
Combine egg and liquids except bitters in cocktail shaker with ice. Shake thoroughly until frothy. Strain into rocks glass over fresh ice. Add bitters to the top. Garnish with lemon slice.
Omit the egg white if it really turns you off, but don't leave the party without sampling this version of the traditional Sour. It's summery, light, airy and difficult to put down once the first sip washes across the palate. Simply divine.
Cheri Loughlin is a leading cocktail and photography resource for beverage companies, event planners, businesses and individuals. High resolution cocktail and beverage stock photography images are available in downloadable digital format in the newly redesigned Stock Photography Gallery at www.cheriloughlin.com.
Twitter, Facebook, StumbleUpon – str8upcocktails @ gmail.com – ©2012 Cheri Loughlin-The Intoxicologist, All Rights Reserved. All opinions, reviews and spirits' coverage are the personal opinion and decision of Cheri Loughlin.
DonQ Limon sample provided by representatives of DonQ Rum.